Asphalt & Concrete Decals that stick to pavement & sidewalks. These specially formulated aluminum foil based floor graphics decal can be applied to and form to uneven and rough surfaces.
The innovative coating provides excellent anti-skid performance under wet and dry conditions.Lasts up to 6 months under normal pedestrian traffic.Made in the USA!
Contact Us For A Quote
Floor Graphics that make the world a better place!
Our aluminum based floor decal is totally green and can be recycled with normal aluminum at recycling centers.
Our Asphalt & Concrete Decals let you place ads and way-finding where you could not before. Perfect for events to direct traffic or promote a sponsor's brand. Ideal for marking race routes and route arrows. Direct bikers, runners and walkers thru your event route and mark special areas. Use in Warehouses to direct vendors and employees to products for restocking.
Floor Graphics that Stick to Asphalt, Brick, Concrete, Pavement, Sidewalk and Tile Surfaces.
Our aluminum foil based vinyl is designed especially for concrete and asphalt surfaces. This product is superior to other products as it so much easier to apply and remove.
With an exceptional exterior average life of 6 months under normal foot traffic for outdoor floor graphics, our aluminum floor decals hold up very well under foot traffic and when used under vehicle traffic that has a minimal amount of turning on the surface. It has a crystal textured surface making it slip resistant in both wet and dry conditions.
Asphalt & Concrete Decals install in minutes, requiring vigorous sweeping the surface to remove all dust and rocks. Power wash the surface and allow to dry before installing to ensure proper adhesion to the surface. Simply, peel and stick. You can use a rubber roller to help adhere the decal to the surface and you can immediately walk or drive on.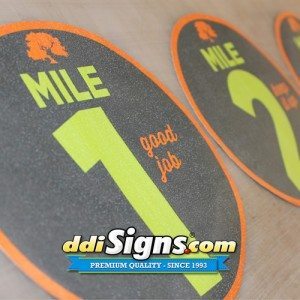 Here is a close up of our Aluminum Floor Graphics. These were used at a running event. They placed them along the race path to let runners know what mile they were at. Also provided words of encouragement to the participant.
These decals work great on University sidewalks. The "Heads Up" Asphalt decal was produced for a school to bring awareness to not texting when crossing the street. Click here to see more uses for our Floor Decals >
Our Aluminum Foil Based Floor Graphics Decals are ideal for:
Outdoor Events
Sports Venues
Outdoor Pavement Decals
Outdoor Way-finding Floor Graphics
Floor Ads and Graphics
Directional Floor Graphics
Unique Branding Solution
Pool Surface Decals – in and around pools
Wall Graphics and Murals
Concrete Pole Graphics
Brick Wall Graphics
Building Graphics
Special Event Pavement Decals
Sports Arena Decals and Signs
Step Graphics and Ads
Warehouse Decals and Wayfinding
Parking Lot Directional Decals
Asphalt Decals and Wayfinding
Shopping Center and Mall Floor Directional Decals
Compassionate about protecting the environment
We are  always looking at new and innovation signage solutions. Take a step in the right direction and let our sign experts help you with your next "Asphalt & Concrete Decals" project. Call us at 757-593-8580 or email us at [email protected]