Customized Surfboard Graphics
Why surf on a plain board. Glide thru the waves on a surfboard with custom graphics that reflect your personality. Or maybe you want to decorate your beach house or office with a surfboard wall hanger. We can provide complete boards or just the graphics for you to glass.
Custom Inlays & Surfboard Graphics
High quality graphics printed on a special fabric creating unique Surfboard graphic designs. Full size surfboard inlay prints or just partial inlays. Customized with your designs or our graphic designers can create custom design for you. Ideal for unique advertising campaigns promoting your brand. We can make one print or hundreds.
Get stoked! check out our gallery of Custom Surfboard Graphics >
Printed in high resolution with vibrantly colored inks. We use a special fabric that becomes transparent when glassed. We also print custom graphics for surfboard makers.
Carolina Brewery Sky Blue boards were produced by Gale Force Glassing. Custom printed surfboard inlays by DDI Signs.
Digitally printed graphics for surfboards. Full board prints and inlays.
Do you shape your own boards but are not good at hand painting your designs? We print Custom Surfboard Graphics & Inlays for surfboard manufacturers.  We can provide complete surfboard graphics or partial inlays.
Designs are created on a computer then printed out to the proper size of your surfboard.
Pacifico OBX Pro boards were made by Wave Riding Vehicles. Custom printed surfboard inlays by DDI Signs.
If you want to do something unique and original for your custom surfboard, try a fabric custom surfboard graphic inlay. We can print any design you provide or create a custom design.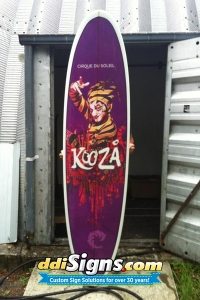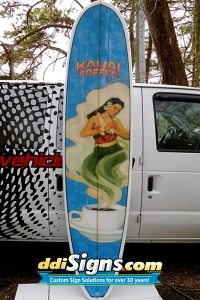 The above Cirque Du Soleil & Kauai Coffee custom surfboard inlays were produced for Wave Riding Vehicles , they shaped and glassed the board. They are an internationally know manufacturer of high quality surfboards.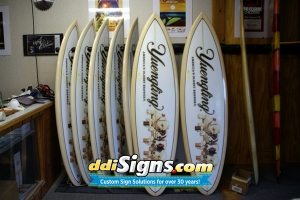 These Yuengling Beer surfboards shown are an innovative advertising solution. These boards were made by Gale Force Glassing and Murray Ross Surfboards, Custom printed fabric inlays by DDI Signs. The boards are hung in bars and restaurants for a unique brand promotion.
With custom printed graphics there are no limits to your designs or colors.
Located in Kill Devils Hills, North Carolina an area known as the Outer Banks on the East Coast. A prime spot for surfing! We have created custom surfboard graphics for top board manufacturers, professional surfers and Corporations.
GET IN THE CURL
Dude, we are stoked to quote your surfboard graphic project, complete our online form today. Bro, if you have files shoot them to us thru our  submit files page.
Here are some more of our custom surfboard graphics & custom inlays.
Hang ten perusing our Gallery of Custom Surfboard Graphics >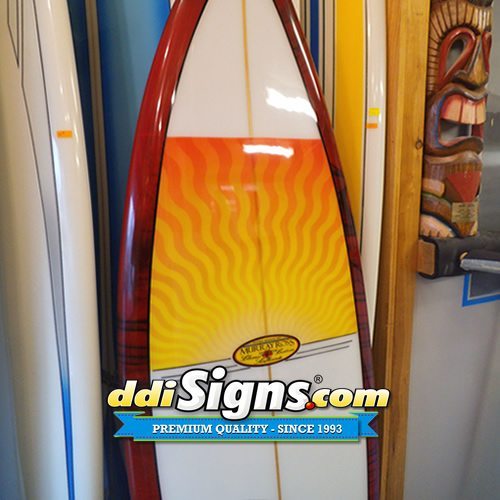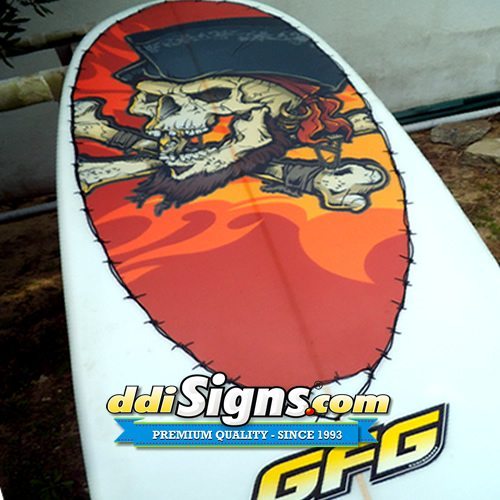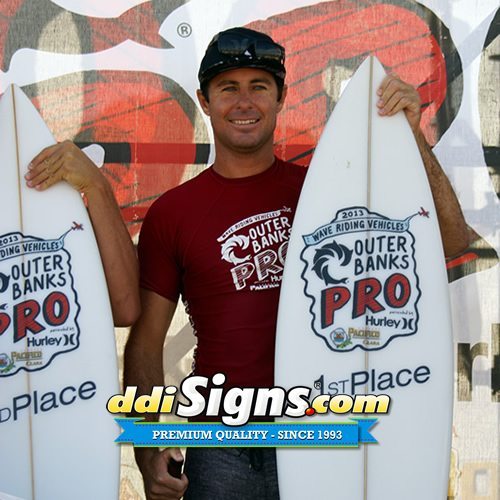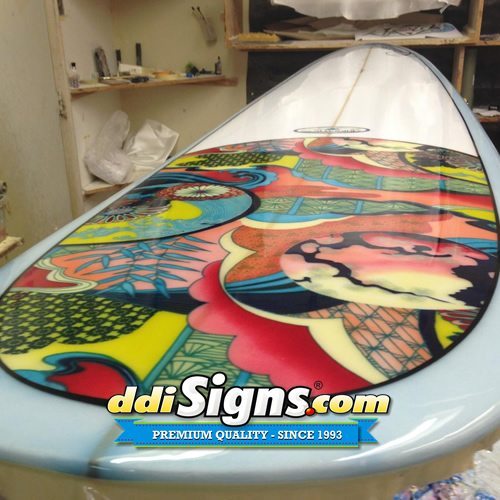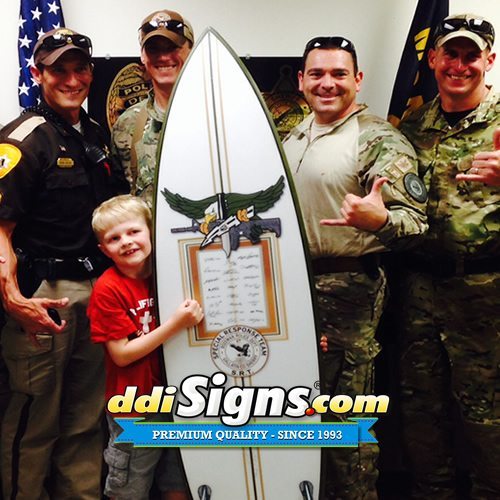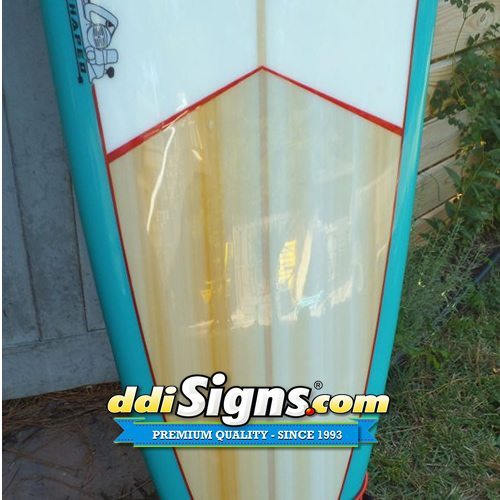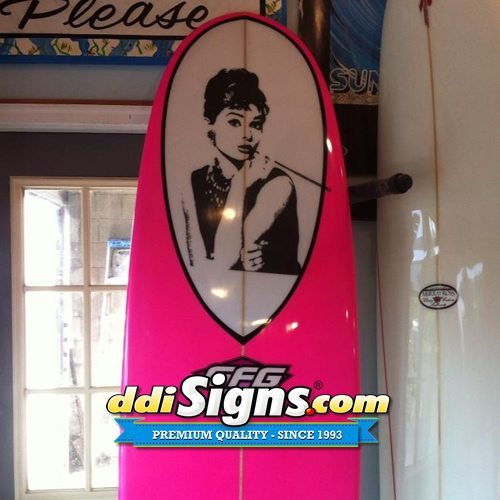 Please see our Submit Files page for complete file guidelines>
We prefer VECTOR files – Adobe Illustrator Ai, EPS or Corel Draw.
All files must have fonts converted to outlines.
Properly converted vector files are preferred because there is no image degradation when enlarged.
* If raster/bitmap images are submitted please make sure our resolution and file guidelines are followed.
Website images are not acceptable.