Custom Digitally Printed Outdoor Floor Graphics
DDI Signs ® has been providing premium quality floor graphic and decals for over 20 years. Our outdoor floor graphics are large format digitally printed and can be custom cut to any shape.
Outdoor Special Event Floor Graphics
Outdoor Special Event Floor Graphics are used for Sidewalk Decals , Street Graphics,  Pavement Decal, Asphalt Decal.
Unique advertising for special events!

DDI Signs ® Custom Digitally Printed Sidewalk Floor Graphics – Street Graphics – Sidewalk Decal – Pavement Decal – Asphalt Decal – Outdoor Floor Graphics.
Concrete & Sidewalk Decals
DDI Signs ® now offers Custom Digitally Printed Sidewalk Floor Graphics. Decals are 3.4 Mil Vinyl with a 5 Mil UL rated over laminate. Our Street Graphics have an aggressive adhesive that adheres to sidewalks, streets and some wall surface. Up to 3 months of exterior life. For larger decals, panels are tiled in up to 52″ in width. More info….
 KEY FEATURES:
Premium Quality Adhesive Vinyl.
UL Approved Slip Resistant Over Laminate.
Digitally Printed – Vivid Colors – Vibrant Floor Graphics.
High Resolution – Photographic Quality Images.
No Color Limitation – Full Color Digitally Printed.
Custom Cut to Shapes – Contour Cut, Die Cut to any shape.
Easy to Install – Applies to Variety of Surfaces.
No Limit on Quantities or Size.
Larger Floor Decals are Tiled in Panels for installing in sections.
Perfect for Wayfinding Sign and Directional Applications
Aluminum Sidewalk, Concrete and Asphalt Decals
If you need a more durable Eco-friendly outdoor floor graphic solution, check out our Aluminum Foil based decals >
Below is a photo of this material. A university used this design to alert students that are texting to look up and pay attention. They can be contour cut like our other floor graphics. Easy to install and remove. Best of all they can be recycled.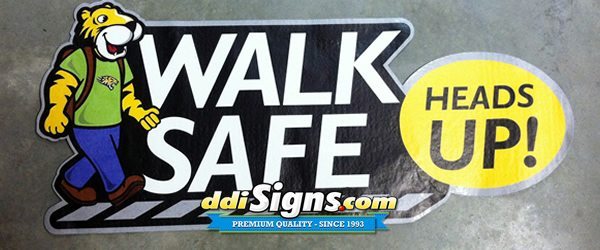 Please see our Submit Files page for complete file guidelines.
We prefer VECTOR files – Adobe Illustrator Ai, EPS or Corel Draw.
All files must have fonts converted to outlines.
Properly converted vector files are preferred because there is no image degradation when enlarged.
* If raster/bitmap images are submitted please make sure our resolution and file guidelines are followed.
Website images are not acceptable.