A new spin on Frosted Window Decals
Take our premium frosted vinyl and add color. In addition, create a truly unique window graphic. Use a combination of printed and non-printed etch vinyl then contour cut to letters or logos or graphics.
Custom Printed Frosted Decals for Windows, Glass Doors, and Mirrors
At DDI Signs we are always on the hunt for new and innovative ways to create signage. Well, we took etched vinyl and printed on it. The result is window logos and graphics that sparkle when light hits it. In addition, the frosted decals remain translucent creating beautiful lighting effects thru the signage. Imagine being able to print logos with fades or even photographs.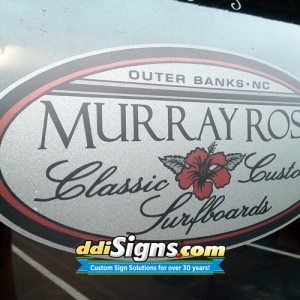 Let your creative juices run wild with the combinations or uses for Printed Frosted Decals. Like custom printed graphics to be placed on a mirror as a border. Below is an example of a photograph printed on to six inch wide strips installed as a border. We printed black ink onto the frosted decal creating multiple shades of shimmering grays.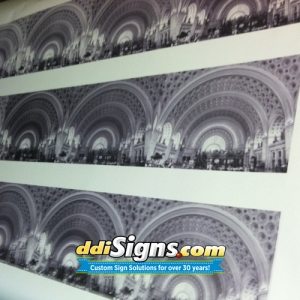 Customize & Suited To Your Needs
Our design team is ready create a custom solution in an innovative way. We tailor our services to help make your signage extraordinary.
Unleash Your Inner Creativity With DDI Signs
At DDI Signs, our window graphics, decals and signage push the boundaries of traditional advertising to command the attention that you seek.
To contact our team regarding your upcoming project, fill out our online form or call DDI Signs at 757.593.8580 today.
FILE TYPE NEEDED FOR CUTTING YOUR PRINTED FROSTED DECALS
To cut your graphics we need Vector line files. All fonts need to be converted to outlines examples are:
Adobe Illustrator AI Vector line file
EPS Vector line file
Corel Draw CDR Vector line file
Adobe PDF Vector line file
You can submit files to us thru our Dropbox here >