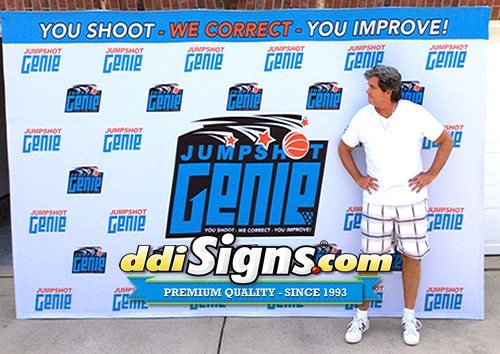 What does your backdrop banner say about your business?
DDI Signs ® – Your Large Format Backdrop Banner Specialist!
Why Professionals Choose DDI Signs Pop Up Display with Block Out Fabric
If you care about your business image you should choose your branding partners carefully. At DDI Signs we believe in providing the highest quality displays and professional design. Below are some things to consider when choosing a backdrop banner provider and why DDI Signs backdrop banners are an industry preferred choice.
Block Out Banner Material
We have updated our best-selling Pop Up Displays using our New Block Out Fabric Material. This provides a superior backdrop display with a Non-Glare Matte finish and No Light Shine Thru.
The banner fabric is attached to the display with hook and loop for a no-wrinkle display. Banners can be easily changed out and the stand reused.
Dye Sublimation Printing Process
Our banners are printed using Dye Sublimation. High resolution images with vibrant colors. Dye Sublimation is the preferred printing process for fabrics.
 High-Quality Pop Up Stand Made in the USA!
Not all Pop Up Displays are created equal. There are a lot of low quality, cheap knockoffs of our display. Our Pop Up Displays outlast the competition because they are made from high-quality materials. Our locking connectors are made of metal not plastic. We offer replacement parts is your stand is damaged. We also offer a full line of accessories like travel cases, lights and custom configurations.
Professional Graphic Designs
We have been providing Pop Up Backdrop Banners for over 30 years. Our designers know how to create a design that will project your brand in a professional manner.
It is not about just slapping some logos on the banner. You have to consider the following:
How will the display be used?
Where will it be displayed?
The distance viewers will be from the setup?
All of these things affect the design of the banner. If you are using the backdrop banner for TV Media Press Conferences you would design the banner different than for a Trade Show.
The size and placement of logos and text are very important. If you are just doing close up shots with the backdrop you want to figure out how many people will be in the shot and based on the logo adjust the size and placement so the logo is clear and readable.
If you need a backdrop banner that can be used for different purposes then we suggest a design like a photo above of a job we did for Jumpshot Genie. With this design, it is versatile enough to use in all kinds of display setups.
More info on our Pop Up Displays
Our Banner Stands are Made In the USA!
Pop Up Banner Stand Display
Pop Up Banner Stand – Collapsible Banner Stand Display
NEW! High-Quality Block Out Fabric

Pop Up Banner Stands are ideal for larger displays and more professional finished look. Our most popular Banner Stand for Travel and Trade Show Displays. Used for Retail Displays, Media Backdrop Banners and Step and Repeat Banner Backdrops.
Displays a Tension or Stretchable Fabric Banner.
The Frame is composed of Quads or sections with cross supports that allow the banner stand to collapse into a smaller size for transporting and storage.
The Fabric Banner can be left on the stand when collapsed for storage.
The Fabric Banner attaches to the frame perimeter with Velcro Hook and Loop.
Banner is easily changed out so stand can be used for different events.
Fabric Banner Graphics can be wrapped around the sides.
Fabric Banner Graphics can be completely wrapped around the frame for a double sided display and tower displays.
Light kits are available to create a Lighted Pop-Up Display.
Pop Up Banner Stands can be connected to create a  Super Wide Pop Up Display.
Contact Us about your next Backdrop Banner project:
DDI Signs ® 
P.O. Box 9
Kill Devil Hills, NC 27948
email: [email protected]

or call us at 757-593-8580