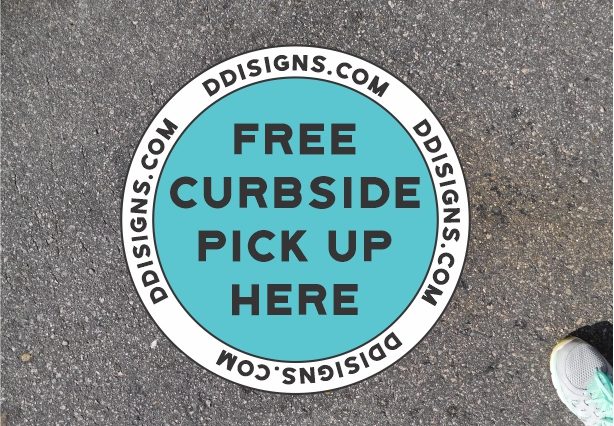 Social Distancing and Healthy Retail Solutions
DDI Signs offers Covid 19 safety Social Distancing precaution signage for workplace, schools and businesses. Please view the options below, we can customize Shield Guards with your logo or message. Hand Sanitizer and Disinfecting Wipe Stands available.
Healthy Retail Signage Solutions
For distancing and curbside pickup, we offer removable customized Heavy Duty Sidewalk decals. For indoor floor social distancing graphics and directional signage, we have a removable vinyl decal with UL approved slip resistant laminate. These graphics can be customized with your logo and branding. We also offer carpet, tabletop, parking lot, entrance and exit door graphics as well.
Click on the links below to find more detail information on our asphalt decals, carpet stickers and tabletop signage. Keep your customers and employees safe and healthy. We offer many other signage products that can help your business succeed in this challenging environment we live in today.
https://www.ddisigns.com/products/aluminum-asphalt-concrete-decals/
https://www.ddisigns.com/products/carpet-floor-graphic-decals/
Tabletop Custom Decals and QR code Stickers
Place our tabletop decals in front of your customers. Menus and easy ordering with QR scan codes offers a safe way for patrons to place orders.
https://www.ddisigns.com/products/custom-table-top-decals-graphics/
Please send us an email with desired product information and we will promptly provide you with a quote or additional information to help you make the proper choice of signs. Thank you and stay safe!