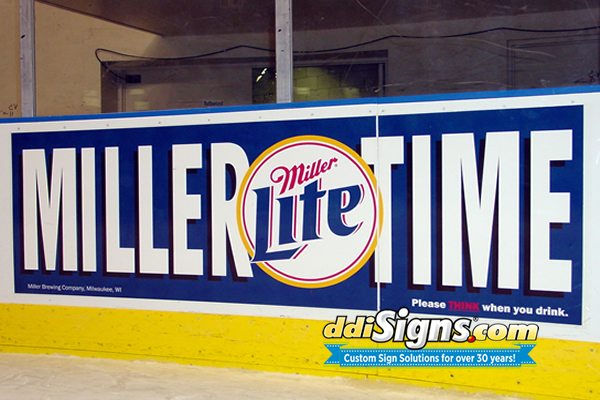 New and Improved Dasher Board Decals for Ice Rinks!
DasherAds™ Dasher Board Decals with Armor Shield Protection.
The Dasher Board Decals that the Pros use!
What is the difference between our "Armor Shield" dasher board decals and our competitors?
You can not just use any kind of vinyl or overlaminate for dasher board decals. With the harsh conditions in an ice rink if you do not use the proper materials the dasher board decals will fall off or fail. Some have tried cheap vinyl that ended up coming off in sheets, especially when a skate hits it. Others have tried Floor Graphic or PVC overlaminates that crack and peel away from the vinyl because of the cold, moist conditions.
We use high-quality materials that we have tested and are proven to last. Our Dasher Decals are specially manufactured ice rink graphics for use in Hockey Rinks, Ice Arenas, and Ice-Skating Rinks. We have been providing Dasher Board Decals for over 20 years. Below is what makes our decals superior to the competition.
Dasher Board Decal Features
Armor Shield Protection – 12 mils flexible overlaminate with a gloss finish.
Cold Temperature Adhesive – Specifically formulated to adhere to your dasher boards under the harshest conditions. Durable dasher media that sticks!
Conformable Premium Vinyl – Our vinyl expands and contracts to form to the dasher boards. Will not crack or tear like other dasher decals made with inferior materials that freeze and become brittle when exposed to cold temperatures.
High-Resolution Printing – DDI Signs® cares about the way your ice rink looks, we do not print our dasher decals in draft mode. We can print photo quality images.
Vivid Colors with Waterproof Eco Inks – We digitally print your dasher ads decals using high-quality inks that provide vivid, brilliant colors. Our inks are eco-friendly.
No color limitations – Our ads are full color digitally printed dasher ads. We can match Pantone colors for accurate reproduction of logos and brand coloring.
No Quantity Limitations – We can print one ad or thousands. We do offer discounts on larger quantities.
Don't settle for low quality, cheap knockoffs of our DasherAds™ dasher board decals – Buy Direct!
Click here for more info on our DasherAds Decals with Armor Sheild >
"Making Your Visions Come To Ice!" 
DDI Signs® ice rink products are preferred by ice making and curling rink professional's worldwide. Offering a proprietary line of ink-jet printed ice media and ice arena advertising that has been developed by DDI Signs® and is specifically designed for the hockey and curling ice maker. We use state of the art large format digital equipment and the highest quality materials to provide you with excellent image resolution and vibrant colors. Contact us today at [email protected] or phone 757-593-8580