Aluminum Easy Graphic Gripper Bars.
Sleek Aluminum case, graphics are easily changed out. This system offers great performance for a hanging displays.
Used for Retail POP Displays, Hanging Signs, Store Displays, Event Displays and Custom Signage.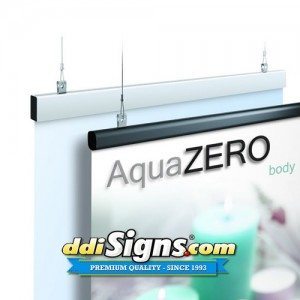 Aluminum Hanging Graphic Bar
Hanging Graphic Bar for displaying rigid media from the ceiling. Two part system with plastic snap gripper that slides into beautiful aluminum banner rail, finish with endcaps.
Grip graphics up to 3/32″ (.093″) thick.

Our Easy Graphic Gripper Bars offer a sleek graphic hanging system. Available in Rectangular, Rectangular Long, Oval and Oval Long.
Features of our Aluminum Easy Graphic Gripper Bars:
Beautifully finished aluminum case-gripper.
Simply insert graphic (rigid material only).
No pockets or graphic end treatment required.
Reusable, ideal for large signage.
Handsome textured matte black end caps.
Hanging Graphic Bars available in 4 Shapes
DDI Signs® offers several styles of Banner and Graphic Hanging Displays. Ingeniously designed Banner Rail Snap Graphic Grippers give your graphics a bold, clean finished look. There durable aluminum case construction is ideal for holding wider graphics without any bowing or curling.
Click here for DDI Signs Hanging Graphic Bar Hardware PDF catalog >
Sold as a kit – top and bottom cross bar and 2 universal clips. Available in Satin Silver or Matte Black
Easy Graphic Grippers – Aluminum Oval Case
EA11 – 18″ Length – 1″ h Aluminum Oval Case
EA12 – 22″ Length – 1″ h Aluminum Oval Case
EA13 – 24″ Length – 1″ h Aluminum Oval Case
EA14 – 28″ Length – 1″ h Aluminum Oval Case
EA15 – 36″ Length – 1″ h Aluminum Oval Case
EA16 – 48″ Length – 1″ h Aluminum Oval Case
EA17 – 60″ Length – 1″ h Aluminum Oval Case
EA18 – 72″ Length – 1″ h Aluminum Oval Case
EA19 – 96″ Length – 1″ h Aluminum Oval Case
Easy Graphic Grippers – Aluminum Rectangular Case
EA21 – 18″ Length – 1″ h Aluminum Rectangular Case
EA22 – 22″ Length – 1″ h Aluminum Rectangular Case
EA23 – 24″ Length – 1″ h Aluminum Rectangular Case
EA24 – 28″ Length – 1″ h Aluminum Rectangular Case
EA25 – 36″ Length – 1″ h Aluminum Rectangular Case
EA26 – 48″ Length – 1″ h Aluminum Rectangular Case
EA27 – 60″ Length – 1″ h Aluminum Rectangular Case
EA28 – 72″ Length – 1″ h Aluminum Rectangular Case
EA29 – 96″ Length – 1″ h Aluminum Rectangular Case
Easy Graphic Grippers – Aluminum Oval Case
EA31 – 18″ Length – 1-1/2″ h Aluminum Oval Case
EA32 – 22″ Length – 1-1/2″ h Aluminum Oval Long Case
EA33 – 24″ Length – 1-1/2″ h Aluminum Oval Long Case
EA34 – 28″ Length – 1-1/2″ h Aluminum Oval Long Case
EA35 – 36″ Length – 1-1/2″ h Aluminum Oval Long Case
EA36 – 48″ Length – 1-1/2″ h Aluminum Oval Long Case
EA37 – 60″ Length – 1-1/2″ h Aluminum Oval Long Case
EA38 – 72″ Length – 1-1/2″ h Aluminum Oval Long Case
EA39 – 96″ Length – 1-1/2″ h Aluminum Oval Long Case
Easy Graphic Grippers – Aluminum Rectangular Long Case
EA41 – 18″ Length – 1-1/2″ h Aluminum Rectangular Long Case
EA42 – 22″ Length – 1-1/2″ h Aluminum Rectangular Long Case
EA43 – 24″ Length – 1-1/2″ h Aluminum Rectangular Long Case
EA44 – 28″ Length – 1-1/2″ h Aluminum Rectangular Long Case
EA45 – 36″ Length – 1-1/2″ h Aluminum Rectangular Long Case
EA46 – 48″ Length – 1-1/2″ h Aluminum Rectangular Long Case
EA47 – 60″ Length – 1-1/2″ h Aluminum Rectangular Long Case
EA48 – 72″ Length – 1-1/2″ h Aluminum Rectangular Long Case
EA49 – 96″ Length – 1-1/2″ h Aluminum Rectangular Long Case