Custom Printing of Backlit Materials for Lighted Signs.
DDI Signs® offers high resolution custom backlit printing. We can print on several kinds of materials for indoor and outdoor applications.
Some of the materials we can print  on are translucent adhesive vinyl, polyester backlit films, backlit flex face banners, duratrans and rigid styrene materials. Our back-lit prints can be used in our full line of Lighted Signs and Lighted Snap Frames.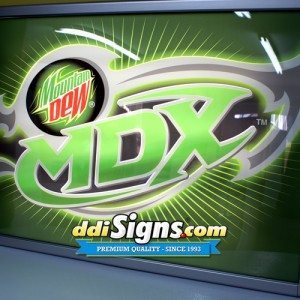 DDI Signs® Backlit Printing Examples
These Lighted Sign graphics for our Round Rotating Signs are printed on a special Backlit Poly Film. Graphics are easily changed out. Our Backlit Poly Film is used in most of our interior lighted signs and snap frames
Adhesive  Backlit Floor Graphics. This backlit decal was installed over an existing tv set a lighted floor to create a unique and high impact lighted displays.
Backlit Adhesive Vinyl
Translucent Vinyl
Backlit Polyester Film
Flex Face for Lighted Signs
Please see our Submit Files page for complete file guidelines.
We prefer VECTOR files – Adobe Illustrator Ai, EPS or Corel Draw.
All files must have fonts converted to outlines.
Properly converted vector files are preferred because there is no image degradation when enlarged.
* If raster/bitmap images are submitted please make sure our resolution and file guidelines are followed.
Website images are not acceptable.