Custom Banners for displaying in Fitness Centers and Gymnasiums
DDI Signs can produce custom banners that are high quality digitally printed. Display motivational messages or photos.
We print on several kinds of banner materials like Vinyl, Fabric, and Mesh.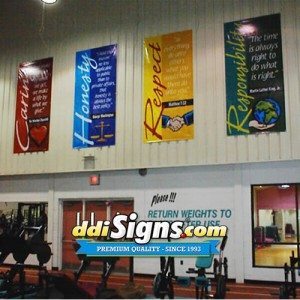 Gym Motivational Banners for Fitness Centers and Schools
Custom Banners Made for Fitness Centers to Hang in Gymnasiums and Workout Rooms. Motivational Banners & Wall Graphics.

DDI Signs provides custom gym motivational banners and displays for schools and Fitness Centers. We have several wall mounting systems and hardware that make banner change outs easy. If your banner has grommets, you can use our Banner Track System for a professionally sleek look. We also have many Banner Rails and Hanging Hardware and free-standing Banner Displays.
Pole Mounted Banner are a great way to welcome your members to their gym. Motivate visitors with positive messages and images.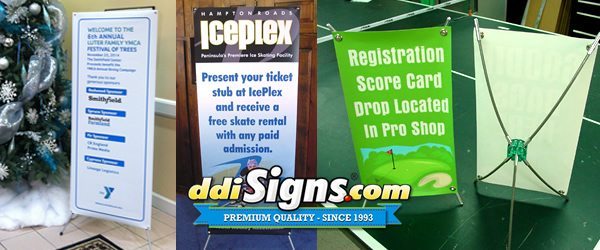 Our Tripod X Banner stands are perfect for Fitness Center Lobbies. Easily change out the banner graphics and is light weight so is easy to move around to create unique displays. Affordable display option with a professional look.
We are Banner and Graphic Specialists!
Motivate your members with beautiful banner graphics for your facility.
Contact our banner and sign experts today with your gym or fitness center graphic needs. DDI Signs can help make your facility stand out from the crowd.