Why should you choose Original IceFab ® Fabric In Ice Logos?

We developed IceFab Fabric In Ice Logos after years of hand painting ice graphics and hockey team logos. Using our old school knowledge and state of the art equipment we came up with a way to print and freeze logos and ads into the ice. Saving ice rink makers hours of installation time.
IceFab® Fabric eliminates the need to purchase ice paint and ice stencils for installing ice logos. Also, saves hours of intensive and costly labor. Our arena ice logos are easy to install and remove. Best of all, you now can put detail graphics and photographic images in the ice that could not be painted.
We understand deadlines and ship Nationwide. For larger logos that are printed in tiled panels we stay under 8′ in height to save you on shipping costs.
We are the Original IceFab® Under Ice Logo Company – Innovative Ice Rink Product Solutions!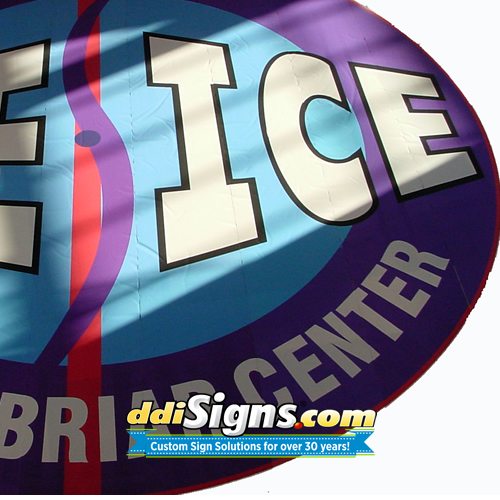 Original Reusable Under Ice Ads and Ice Rink graphics. No need for Ice Paint or Ice Stencil!
Proven Innovation. Proven Product!
Many print providers claim to be able to provide IceFab® Ice Inlays, often at a lower cost. Why should you risk an install failure which could end up costing thousands of dollars to repair?
IceFab® Fabric Ice Graphics are only available from DDI Signs®. If you are looking for a high quality, professional in ice logo then IceFab ® Fabric is for you.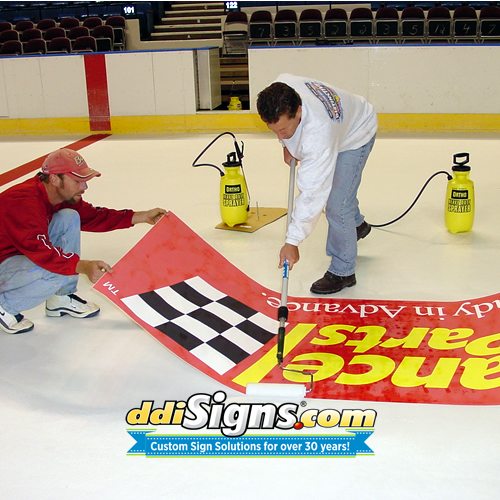 Key features: Ice Rink Professionals prefer Original IceFab ® Fabric Ice Logos:
REUSABLE Fabric Ice Logos.
Saves hours of labor.
Cost effective – eliminates ice paint & ice stencils.
Easy to install – instructions included.
Absorbent fabric becomes semi-transparent when wet.
Blends into the white ice paint base color.
Tear and crease-resistant fabric.
Thin ice media that forms to the ice surface.
Re-positional and reusable.
Superior photographic image detail.
Vibrant colors and no color limitations.
Detailed fades and image effects that cannot be painted.
Digitally printed ink-jet ice fabric.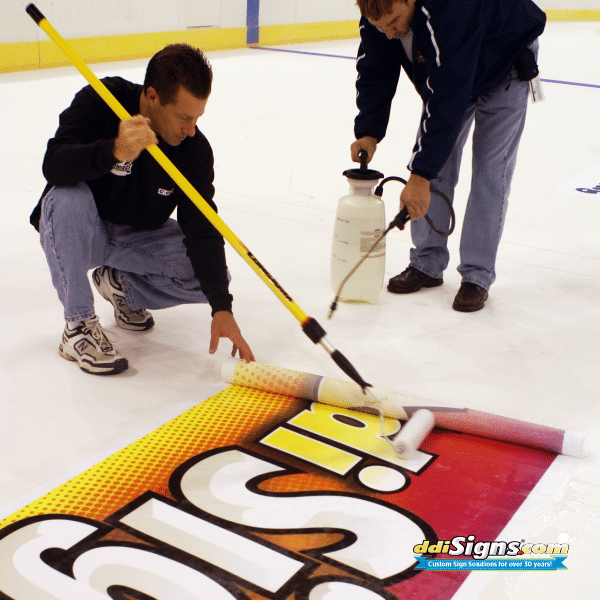 Original IceFab ® Fabric Ice Logos are only available from DDI Signs®.
Do not settle for cheap knockoffs made from inferior fabric. At DDI Signs ® we take pride in the way your rink looks and will continue to look at new and innovative ways to save ice rinks and arenas money and time. Also, we spent years researching and developing our product, resulting in the best fabric ice graphic available.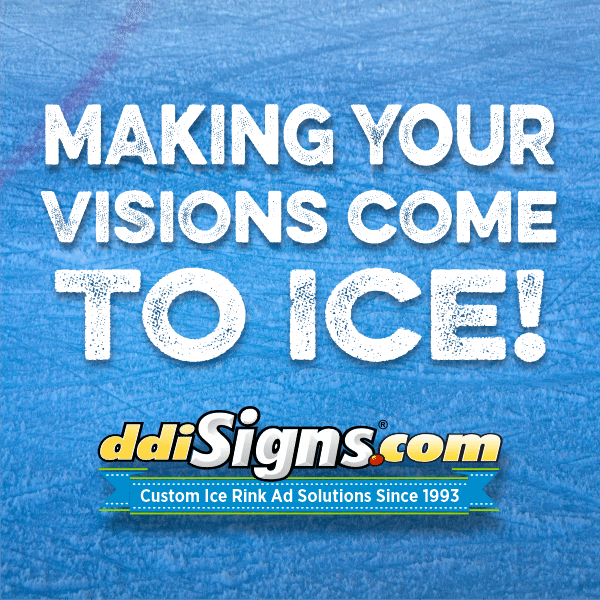 Dasher Board Decal Solutions:
In Ice Logo Solutions:
At DDI Signs® we are "Not Your Typical Sign Company!"