Indoor Wall Super Slim Snap Frame Sign and Poster Display
Front loading for easy change outs, great for way-finding office signage and architectural signage. Create professional Retail POP displays, restaurant signs, movie theater posters displays and hotel lobby
Super slim profile focuses attention your graphics not the display.
Snap frames ship fully assembled.
Satin Silver or Matte Black Finish.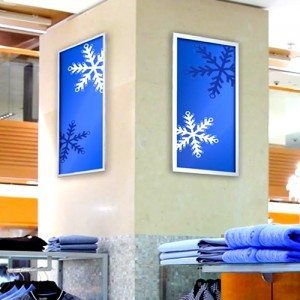 Indoor Super Slim Snap Frames Graphic and Sign Display
Features:
Slim Aluminum rails, 3/4″ wide, 1/2″ deep
Mitered corners
Matte anodized finishes
Accepts substrates up to 1/32″ thick
Styrene backing included
Brackets for vertical or horizontal mounting
Wall hangers provided
Mount vertically or horizontally
Choice of Clear or Matte lens included
Strong spring loaded
-S Satin Silver, -B Matte Black
*Silver costs less than black
-C Clear or -M Matte lens
Super Slim Snap Frame Sizes
Please indicate if you want the Snap Frames with or without graphics.
SUP01·B 8" x 10" Black
SUP01·S 8" x 10" Silver
SUP02·B 8-1/2" x 11" Black
SUP02·S 8-1/2" x 11" Silver
SUP03·B 11" x 14" Black
SUP03·S 11" x 14" Silver
SUP3.5·B 11″ x 17″ Black
SUP3.5·S 11″ x 17″ Silver
SUP04·B 14″ x 22″ Black
SUP04·S 14″ x 22″ Silver
SUP05·B 16″ x 20″ Black
SUP05·S 16″ x 20″ Silver
SUP06·B 20" x 24" Black
SUP06·S 20″ x 24″ Silver
SUP07·B 22″ x 28″ Black
SUP07·S 22″ x 28″ Silver
SUP08·B 24″ x 30″ Black
SUP08·S 24″ x 30″ Silver
SUP09·B 24″ x 36″ Black
SUP09·S 24″ x 36″ Silver