Professionally designed and printed banners branded with your logo.
Our designers know how to effectively display your business or brand to get maximum exposure at media events.
Additionally, we have a large selection of imprinted backdrop displays and options to suit your need.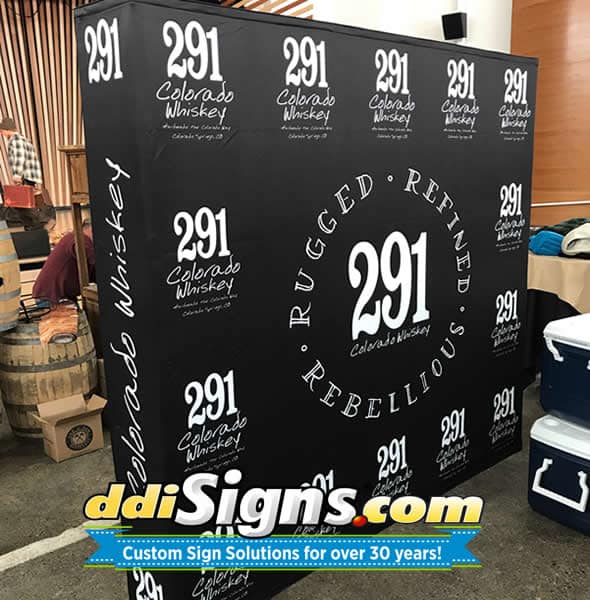 Custom Logo Branded and Step & Repeat Banner Printing for over 30 years!
DDI Signs has been providing exceptional logo branded banners and backdrop printing for years. Businesses, Corporations, School, Sports Teams and the Movie & Music Industry to name a few, have trusted us with their brand promotion.
Logo Branded Banners & Backdrops
Professional Quality displays made in the USA!
DDI Signs ® offers Repeatz™ imprinted banners with your trade mark, emblem, or logo prominently placed. Additionally, these custom backdrop banner displays are portable, allowing you to travel with them.
Sometimes referred to as a "Step and Repeat" or "Media Backdrop", our stepped logo banners offer an exceptional way to promote your company logotype and spotlight your brand. Also, Musicians and Celebrities use them for meet and greets. Because they are made in the USA!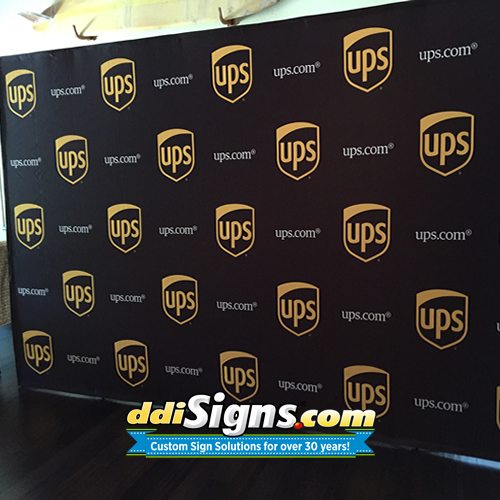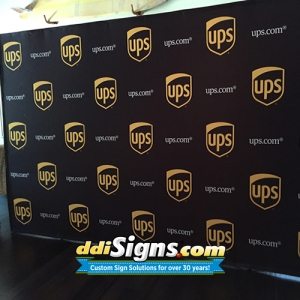 Click here to see who trusts us with their image and backdrop branding >
Fabric Banners with Brand Logos, also with a Step and Repeated Pattern
Press Conference & Media Backdrops made simple
We can imprint your logo on several kinds of fabric materials. Also, our logo branded banners are produced using Dye Sublimation printers. This method results in high definition graphics with vibrant colors. Finally, our print technicians can match your brand colors for consistent marketing.
Some of our more popular displays are our Fabric Flat Walls, our Telescoping Banner Stands, and our Pop Up Banner Displays.  Additionally, we have a large selection of other fabrics and vinyl materials available.
Vinyl & Mesh Banners with Brand Logos
Splash your logo all over our high-quality vinyl and mesh banner materials. We offer several weights of vinyl and mesh to fit your project. Also, our backdrop banners are printed using state of the art Solvent Inkjet Printers for added durability. Our heavy duty banner stretching frames work great for large building and wall banners. Additionally, they offer the ability to change graphics easily.
Large Selection of Stands for Displaying Logo Banners
Fabric Flat Wall Stepped Backdrop
8′ high x up to 30′ wide.
Standard sizes 8′ x 8′, 8′ x 10′, 8′ x 20′

10′ high up to 30′ wide.

Standard sizes 10′ x 10′, 10′ x 12′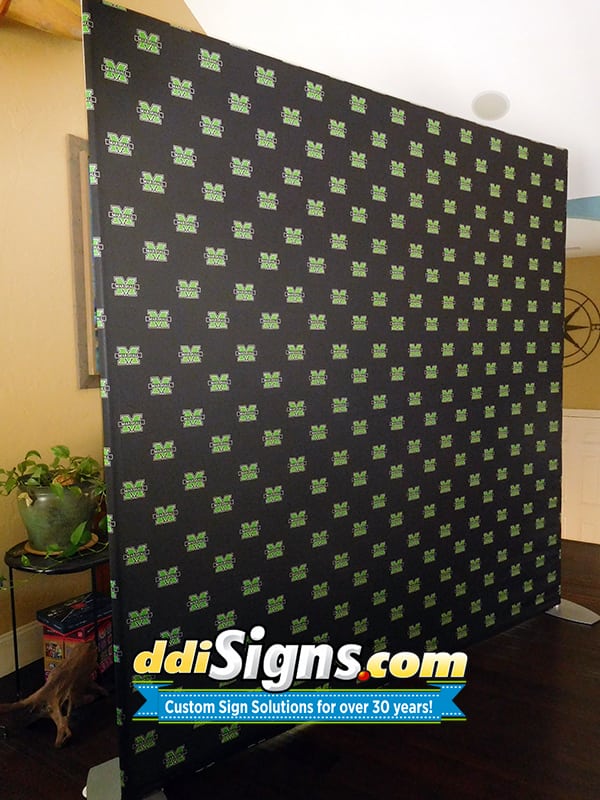 Our Fabric Flat Walls offer the ease of assembly with Swage Button Connections. Also available in . Fabric Banner is pillow case sewn with industrial zipper. Simple and durable design. Finally, vibrant dye sublimation printing.
Click here for more info about our
Straight Wall Tension Fabric Wall >
Pop Up Fabric Banner Displays
Sizes up to 12′ high x 25′ wide
Expandable display that collapses into a compact size. Many sizes available up to 25′ wide. Additionally displays can be connected. Travel and airline check-able cases. Also high-quality fabric block out material.
Click here for more info about our Pop Up Fabric Banner Stand >
Telescoping Banner Stands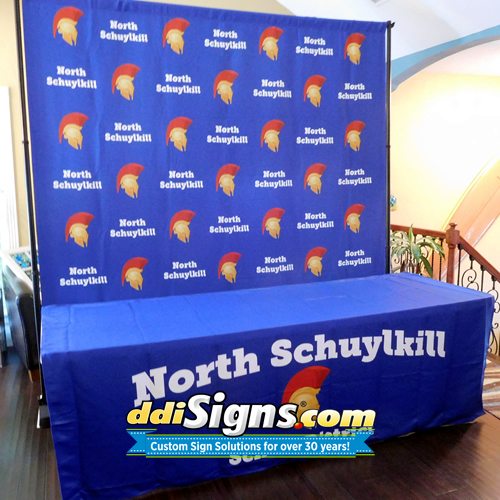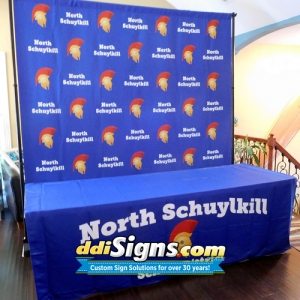 Innovative banner stands that consist of poles that are adjustable for displaying banners of different size. Also, you can display Fabric or Vinyl banners with ease. Additionally, the stand breaks down and fits in compact carry case. Finally, available in several sizes and custom super sized stands.
Click here for more info about our Telescoping Banner Stands >
Retractable Stands for Displaying Vinyl Banners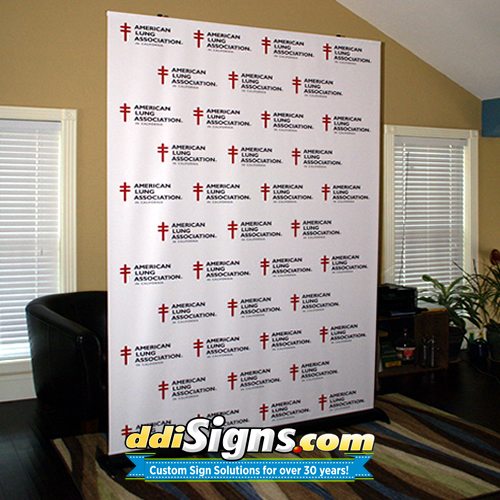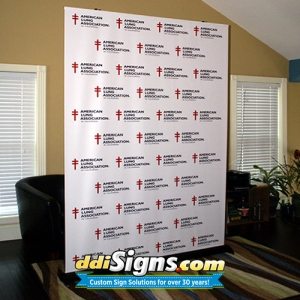 Vinyl banner retracts into the base of the stand for travel and protected storage. Also, we have several backdrop sizes available.
Click here for more info about our Retractable Banner Stands >
Tension Fabric Pillowcase Mounted Banners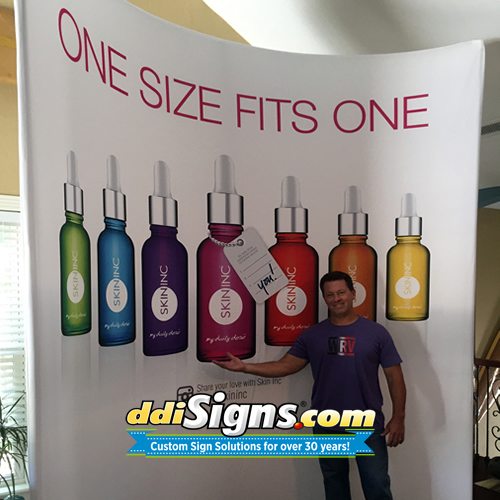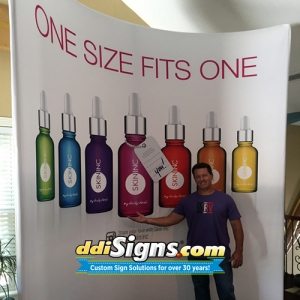 Ingenious designed stand that display a fabric banner that slides over the stand like a pillowcase. Also, a industrial zipper secures the banner. Allowing for a drum tight fit, wrinkle free back wall.
Curved Wall Tension Fabric Pillowcase Banners >
Wave Wall Tension Fabric Display >
You are not limited to the above display stands for your logo branded banners. Also, we have a large selection of displays that will allow you to promote your brand professionally. See all of our displays here >
Partner with DDI Signs to promote your brand
We can be contacted thru our online form here or we can also be reached by phone at 757-593-8580.