Why do community and outdoor ice rinks prefer DasherAds™ Outdoor Ice Rink Ads?
The main reason is that DDI Signs is the original dasher decal and ice rink advertising company. Our Outdoor Ice Rink Ads stick and stay under the toughest conditions. Our Dasher Ads Extreme decals have a 12 mil extra tough over laminate for added protection. Our products have been tested and proven to work on outdoor ice rinks dasher boards.
Our Outdoor Ice Rink Ads can be displayed on the inside and outside of seasonal ice rinks. Generate ad revenue by placing sponsor ads around your rink. Raise funds to help run your rink or support your community.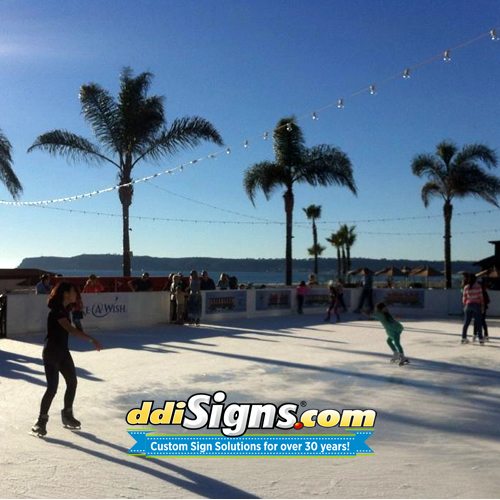 DasherAds Pro Decal Features:
High quality dasher ads solution. Works great for seasonal ice-skating rinks. Can be placed on the inside and outside of the skating rink. Custom sizes available.
GLOSS CONFORMABLE PROTECTIVE OVERLAMINATE

PREMIUM CONFORMABLE VINYL

HIGH-TACK COLD TEMPERATURE ADHESIVE

HIGH-RESOLUTION PRINTING

VIBRANT INK COLORS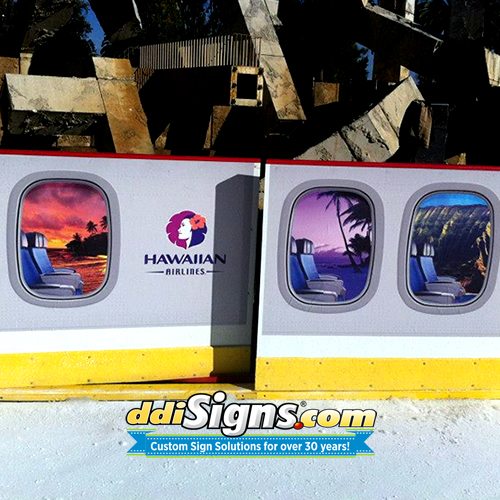 DasherAds with Armor Shield Features:
If you need added protecting but do not want to mess with Polycarbonate Panels, we offer our DasherAds with Armour Shield protection. This is a 12mil adhesive laminate that is combined with our Pro decal. Easily clean puck marks and resists skate blade damage. Ideal for player boxes that take added abuse.
12 Mil OVERLAMINATE

PRO DasherAds Material

HIGH-TACK COLD TEMPERATURE ADHESIVE

HIGH-RESOLUTION PRINTING

VIBRANT INK COLORS
Our Dasher Board Decals are digitally printed so most importantly there are no color limitations additionally we can match Pantone colors if needed.
No minimum quantities, you can order 1 or 100. We do offer discounts for larger quantities or complete ice rink packages.
Don't settle for low quality, cheap knockoffs of DasherAds™ advertising decals – Buy Direct!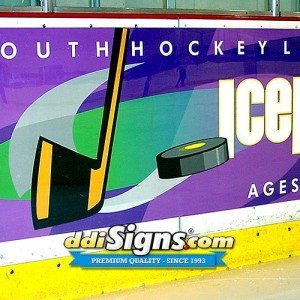 Outdoor Ice Rink Dasher Ad Decals  available sizes:
Our outdoor dasher board advertising decals are custom made so if you need a different size just let us know and we would be glad to give you a quote.
Standard Sizes:
30″ x 48″, 30″ x 72″, 30″ x 96″, 30″ x 120″, 30″ x 144″, 30″ x 192″
"Making Your Visions Come To Ice"™
Contact our Ice Rink Specialists for a quote on your dasher board graphics project. Shoot us an email to [email protected] , fill out our online form, or call us at 757-593-8580
At DDI Signs® we are "Not Your Typical Sign Company!"