Banner Stand is a versatile display that can be used to hang signs or banners.
Perfect for retail use and point of purchase displays.
Easily change graphics. Display options for One or Two Banners.
Display can be single or double sided.
Made in the USA!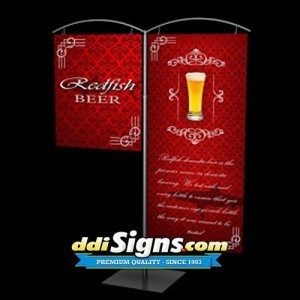 Quest Banner Stand or Sign Stand
Versatile Retail Display holds banners or signs.
Quest Banner Stand displays can be used for Point of Purchase displays with the product stacked under the sign. Also is ideal for Auto Showrooms, Grocery Stores and Retail settings. Can be configured with single or double hanging hardware. Display stand can be single or double sided. Holds several kinds of sign materials. Simply needs holes or grommets to hang banners and signs. Optional dowel kits or Snap graphic gripper bars available.
Quest Banner Stands or Sign Stands are perfect for many retail applications
Telescopic aluminum tube. Opens up to 7′ high.
Graphic maximum area is 24″ wide x 72″ high.
Can display several kinds of materials or banners.
Trouble free lock for quick height adjustments.
All metal unit-welded top. Built to last.
Quick easy 2 minute assembly.
Handsome satin silver or matte black finishes.
Custom made versions available.
For graphics with holes or grommets.
Single Units feature offset 12″ Square Shovel Base. Can fit under merchandise.
Double Units have centered, 16″ Square Base.
Dowel kits for pole pocket banners.
Snap bar kit with hooks available for clean hanging option.
Click here for more info on our Quest Stands  >
Fast, dependable Nationwide Shipping
What Banner Materials do we print on?
If you need us to produce the banners for you, please indicate this when requesting quote. We can print on several kinds of materials.
We recommend:
12 oz. Super Smooth Vinyl Block Out Banner which can also be printed double sided.
or
Our Block Out Fabric Banner which can also be printed double sided.
Our Quest Banner Stands are perfect for:
Auto Showroom Display
Store POP Displays
Restaurant Signage
Hospital Lobby Stand
Hotel Lobby Signs
Museum Exhibit Signs
Movie Theater Stands
Retail Store Signage
Gas Station Signage
Office Lobby Stand
Book Signings
and Much More!