Rounded Corner Snap Frames
Beautiful molded radius corners with aluminum extruded straight section.  Snap frames for high end display of signage, photos, posters and graphics.
Double Sided Snap Frames can be special ordered.
Holds graphics up to 1/8″ thick.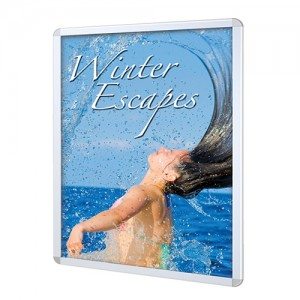 Easy Open Radius Snap Frames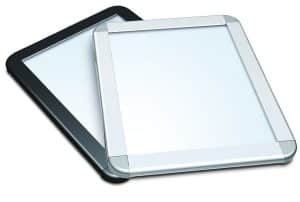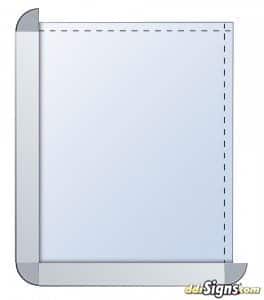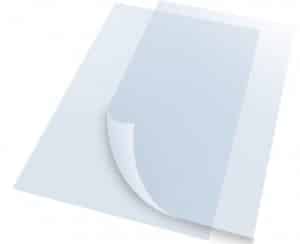 Features:
Aluminum frames, 1-1/4″ wide, 9/16″ deep
Accepts substrates up to 1/8″ thick
Semi-rigid plastic backing
Clear or Matte overlay lens included
Vertical or horizontal mounting slots
Four wall screws and anchors
Beautiful molded radius corners
Spring loaded – secure graphic insertion
-S Satin Silver -B Matte Black
*Silver cost less than black
Lens:-C Clear -M Matte
Double Sided special order frames are available
Live area: 3/8″ margin covered on all sides
Radius Snap Frames accept substrates up to 1/8″ thick, whereas our mitered units accept substrates only up to 1/32″
Please indicate vertical or horizontal for proper hanger placement
Bulk Components: Snap Frame extrusions are available in long lengths with components bulk packed
Please indicate if you need graphics to go with the snap frames.
EO1S 8" x 10" Satin Silver Aluminum semi-rigid plastic
EO1B 8" x 10" Matte Black Aluminum semi-rigid plastic
EO2B 8-1/2" x 11" Matte Black Aluminum semi-rigid plastic
EO2S 8-1/2" x 11" Satin Silver Aluminum semi-rigid plastic
EO3B 11" x 14" Matte Black Aluminum semi-rigid plastic
EO3S 11" x 14" Satin Silver Aluminum semi-rigid plastic
EO3.5B 11" x 17" Matte Black Aluminum semi-rigid plastic
EO3.5S 11" x 17" Satin Silver Aluminum semi-rigid plastic
EO4B 14" x 22" Matte Black Aluminum semi-rigid plastic
EO4S 14" x 22" Satin Silver Aluminum semi-rigid plastic
EO5B 16" x 20" Matte Black Aluminum semi-rigid plastic
EO5S 16" x 20" Satin Silver Aluminum semi-rigid plastic
EO6B 20" x 24" Matte Black Aluminum semi-rigid plastic
EO6S 20" x 24" Satin Silver Aluminum semi-rigid plastic
EO7B 22" x 28" Matte Black Aluminum semi-rigid plastic
EO7S 22" x 28" Satin Silver Aluminum semi-rigid plastic
EO8B 24" x 30" Matte Black Aluminum semi-rigid plastic
EO8S 24" x 30" Satin Silver Aluminum semi-rigid plastic
EO9B 24" x 36" Matte Black Aluminum semi-rigid plastic
EO9S 24" x 36" Satin Silver Aluminum semi-rigid plastic
EO10B 30" x 40" Matte Black Aluminum semi-rigid plastic
EO10S 30" x 40" Satin Silver Aluminum semi-rigid plastic
EO11B 36" x 48" Matte Black Aluminum semi-rigid plastic
EO11S 36" x 48" Satin Silver Aluminum semi-rigid plastic