Why choose DDI Signs® for your In Ice Logo Stencils?

We are the Original IceFab® Under Ice Logo Company – Innovative Ice Rink Product Solutions!

We have been producing IceFab ® Ice Logo Stencils since 1993. Using our old school knowledge and state of the art equipment we produce high quality ice rink products made for ice rink specialists by ice rink specialists!
IceFab® under ice logo stencils are easy to use, making ice painting a breeze. Our ice logo stencils are reusable, high quality paper pounce patterns.
DDI Signs ® has years of experience in the design, production and installation of in-ice logos and sports logos. Offering the most comprehensive line of rink painting products including ink-jet printed ice stencils for hand-painted logos. We use the latest technologies and equipment to provide you with the cleanest and sharpest paper pounce patterns available.
NOT cheap Brown Kraft paper like our competitors!
DDI Signs ® custom in-ice digital stencils are premium paper pounce patterns that are reusable and made from a high quality pounce paper.
60″ wide tiled panels for larger logos.
Digitally printed logos and ads.
Printed with a grid for alignment.
 A proof for approval before printing.
Chalk bag included.
Logo and layout design services are available

Who uses our Ice Logo Stencils?
Ice Rink Specialists, Rink Managers, Hockey Teams and more!
Preferred by:
Professional and Minor League Hockey Teams.
Ice Skating Rinks and Arenas.
Universities, Colleges, High Schools.
Community Ice Rinks.
Sports Complexes and Arenas.
Portable Ice Rinks.
Outdoor Ice Rinks and Seasonal Rinks.
Shopping Mall Ice Rinks.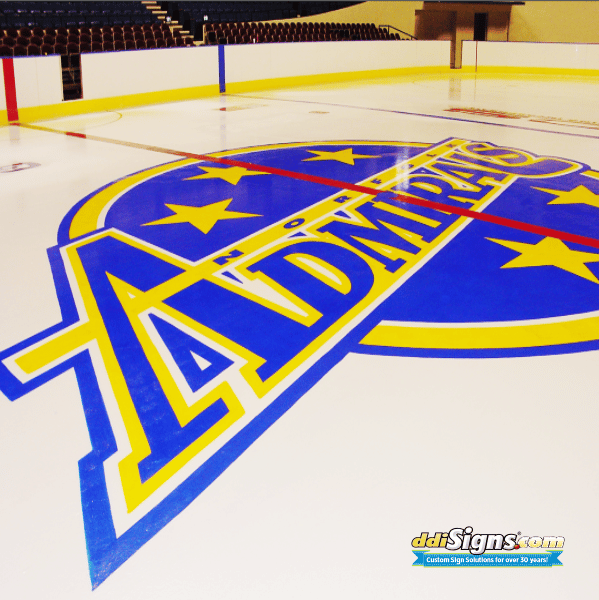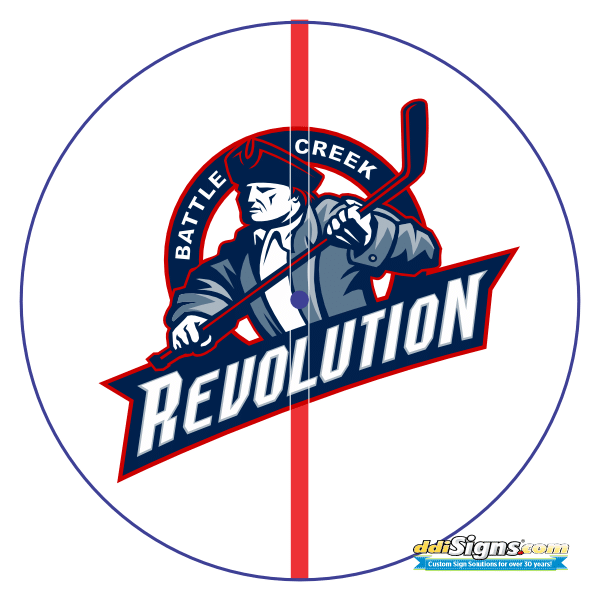 Fast Nationwide Shipping
We understand the tight deadlines that the ice rink industry faces and have proven that we can stand up to the challenge. Quick turnaround with reliable Nationwide Shipping.
DDI Signs ® is a leader in providing innovative and creative solutions to the Sports Industry. Offering a complete line of products specifically designed for in ice logos, sports floor logo markings and basketball court graphics.
Making Your Visions Come To Ice
We are always looking at new and innovation signage solutions. Take a skate in the right direction and let our sign experts help you with your next "ice rink signage" project. Call us at 757-593-8580 or email us at [email protected]
What kind of files do we need to produce your signs?
If you are submitting your own artwork for us to produce your signs, we prefer to receive them as VECTOR LINE FILES. This file type offers the highest resolution for large graphics.
All files must have all fonts converted to outlines. Please see our Submit Files page for more details on submission guidelines.
If you are unsure if you have the correct file or need professional design services please contact us and we will help.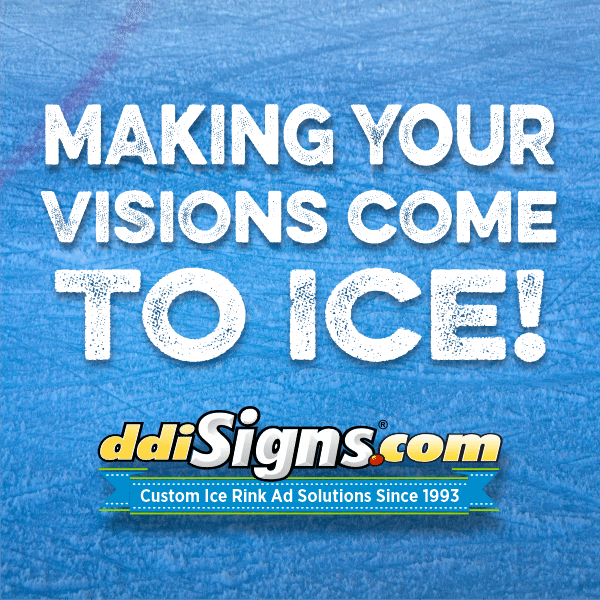 Dasher Board Decal Solutions:
In Ice Logo Solutions:
At DDI Signs® we are "Not Your Typical Sign Company!"