Snap Frame A-Frame Easily Change out Graphics
Suitable for indoor or outdoor use. Front loading of graphics with snap frames for easy change out of graphics.
Double sided a-frame display with heavy duty supports and rubber non skid bumpers.
Fully Assembled. Colors Available in Satin Silver or Matte Black.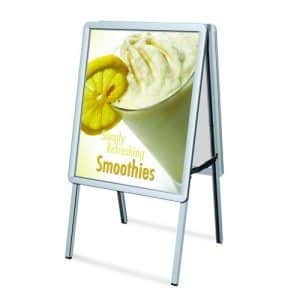 Easy Open Snap Frame A-Frame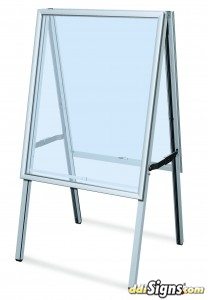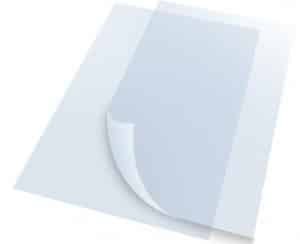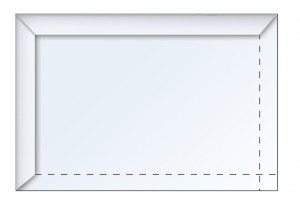 ULTRA CONVENIENT – FRONT LOADING.
Easy-Open Snap Frames.
Clear or matte lenses included atop a styrene backer.
Non-skid rubber bumpers.
Heavy duty support stays.
44-1/2" h Closed, 43" Open.
All units are double sided.
Fully assembled.
Suitable for outdoor use.
Note: Radius Snap frames accept substrates up to 1/8″ thick, whereas Mitered units accept substrates only up to 1/32″.
Color
-S Satin Silver or -B Matte Black**
**Black Units are more costly than Silver.
Lens*
-C Clear or -M Matte
*Does not affect price.
Sizes Available for our Easy Open Snap Frame A Frame Sign
Please indicate if you want the Snap Frames with or without graphics.
AME22B 22″ x 28″ Matte Black Mitered Corners
AME22S 22 x 28″ Satin Silver Mitered Corners
AME24B 24″ x 36″ Matte Black Mitered Corners
AME24S 24″ x 36″ Satin Silver Mitered Corners
AEO22·B 22″ x 28″ Matte Black Radius Corners
AEO22·S 22″ x 28″ Satin Silver Radius Corners
AEO24·B 24″ x 36″ Matte Black Radius Corners
AEO24·S 24″ x 36″ Satin Silver Radius Corners