Digitally Printed Special Event Banners
We offer high quality digitally printed special event vinyl banners.  Several kinds of vinyl materials for indoor or outdoor use like Mesh Stage and Building Banners to Heavy Duty reinforced Vinyl. Our vinyl banners can be finished off with pole pockets or grommets.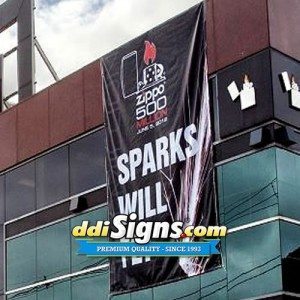 High-Quality Printing of Special Event Vinyl Banners
Your Vinyl Banner Specialists for over 30 years!
DDI Signs® offers custom special event vinyl banners and works with Event Planners to provide custom graphics for your special event. We can provide custom signage for Corporate Events, Media Events, Sports Events, Movie Premiers, Film Festivals, Red Carpet Events and any other kind of event you may have.
We offer high-quality digital printed banners on several kinds of vinyl materials. Let us know what your banner project is going to be used for and we will suggest the best vinyl banner material to use and best display method for a professional look.
13oz. Scrim Vinyl Banner
15oz Smooth Blockout Vinyl Banner
22oz Smooth Blockout Vinyl Banner
Mesh Vinyl Banner Materials
DDI Signs® offers exterior banners for display on boulevard poles. Great for special events and promotions. Available in a variety of materials depending on your needs, whether it's a one-time event or long-term displays. Custom sizes available up to Grand format sizes for display on buildings, billboards, and truck side advertising.
Blockout banners have complete opacity and can be printed on both sides. Back of Blockout banner is slightly more textured than the front and has a quality color match from front to back.
Our vinyl banners can be used with our Telescoping Banner Stands, Retractable Banner Stands, Portable Banner Stands, X Banner Stands, Banner Track System, Tension Wall Frame and our Banner Rails.
Please see our Submit Files page for complete file guidelines.
We prefer VECTOR files – Adobe Illustrator Ai, EPS or Corel Draw.
All files must have fonts converted to outlines.
Properly converted vector files are preferred because there is no image degradation when enlarged.
* If raster/bitmap images are submitted please make sure our resolution and file guidelines are followed.