Short Term Window Advertising
Specially design vinyl film that is design to adhere to most clean, smooth windows.
Available in Clear and White. Graphics are digitally printed for brilliant window graphics.
Great way to promote a sale or special event without the hassle of removing adhesive residue.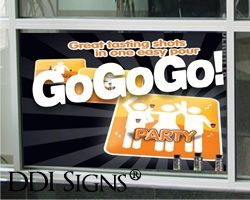 Static Cling Window Decals
Static cling vinyl is a 7.0 mil highly plasticized vinyl film.
Static cling is available in either clear or white.
This product is designed for window decals, temporary product markings, point of purchase displays and protective masking.
Substrates Static cling vinyl is designed for temporary application to glass.
Temperature Ranges Minimum application 40°F.
The surface must be clean, smooth and as close to room temperature as possible. Cold surfaces reduce the bond of the vinyl.
Small decals may be applied dry.
Large decals should be applied by wetting the substrate and the decal with glass cleaner. Use a roller to smooth the decal onto the substrate.
May be used for temporary applications to exterior glass, up to 3 months. Temperature, wind and rain may limit the bond of static cling vinyl on exterior windows.
Clear static cling can yellow with prolonged exposure to UV radiation.
Please see our Submit Files page for complete file guidelines.
We prefer VECTOR files – Adobe Illustrator Ai, EPS or Corel Draw.
All files must have fonts converted to outlines.
Properly converted vector files are preferred because there is no image degradation when enlarged.
* If raster/bitmap images are submitted please make sure our resolution and file guidelines are followed.