"Step and Repeat" pattern is the duplication, staggered spacing and arrangement of logos, text or objects. The design can be produced using just one logo or several logos and or objects that create a "Step and Repeat" pattern on a Backrop Banner. Graphic designers use this process to align logos, objects, and copy in an attractive manner for signage and branding purposes by creating a wall of logos.
DDI Signs has been providing Step and Repeat Backdrops for over 30 years!
We are located in North Carolina offering fast Nationwide Shipping.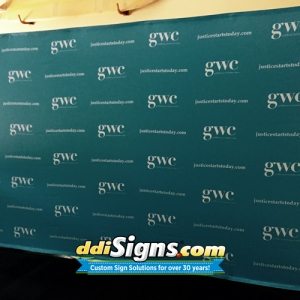 See our Gallery of Repeatz Backdrop Banner Designs >
See videos showing our Step & Repeats >
Step and Repeat Banner Display Products >
Our Repeatz™ brand step and repeat backdrops and back walls are designed specifically for media, photographic, television and retail events. Most notably, our step and repeat banners and wall graphics are displayed behind the area where a group or person. Subsequently, they walk, stand or sit in front of the display to have their photo taken or to give a television interview.
The logos and graphics are prominently visible behind the person creating a logo or brand background. Some examples of uses for step and repeat printing are musical group events, corporate media events, trade shows, tv interviews, conference backwalls, political speeches, sports team press conferences and during special events where a red carpet walkway is set up for paparazzi photo ops.
© Distinctive Designs, Inc./DDI Signs, Inc. 2009
Professional Quality displays made in the USA!
Why choose us for your Step and Repeat Backdrop Banner?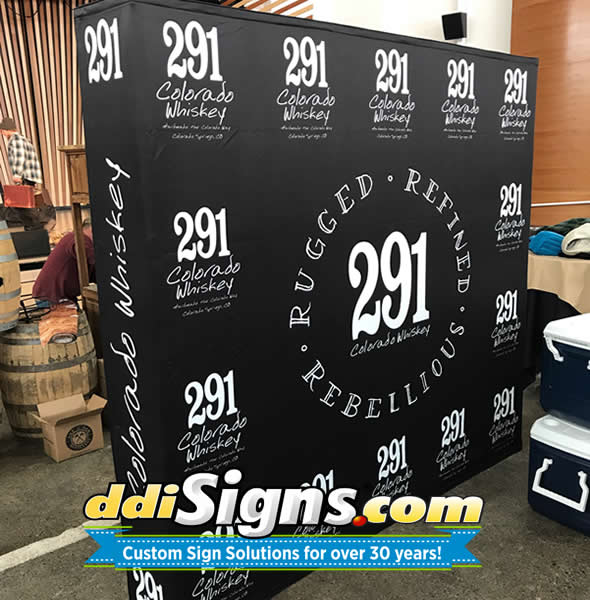 Experience and Knowledge
There are plenty of businesses that provide "step and repeat" banners and it seems like every day a new Step and Repeat business pops up online. We are one of the first companies to offer Repeated Logo Backdrop Banners, so you can rely on our experience to provide you with the best quality displays available and professional original designs.
At DDI Signs we have over 30 years experience in the Sign Business and Display Industry and we are extremely knowledgeable in the proper materials and hardware that should be used for your step and repeat backdrop. We stay up to date on the latest in materials, technology, software, hardware and equipment so you get the best in the industry when you choose us.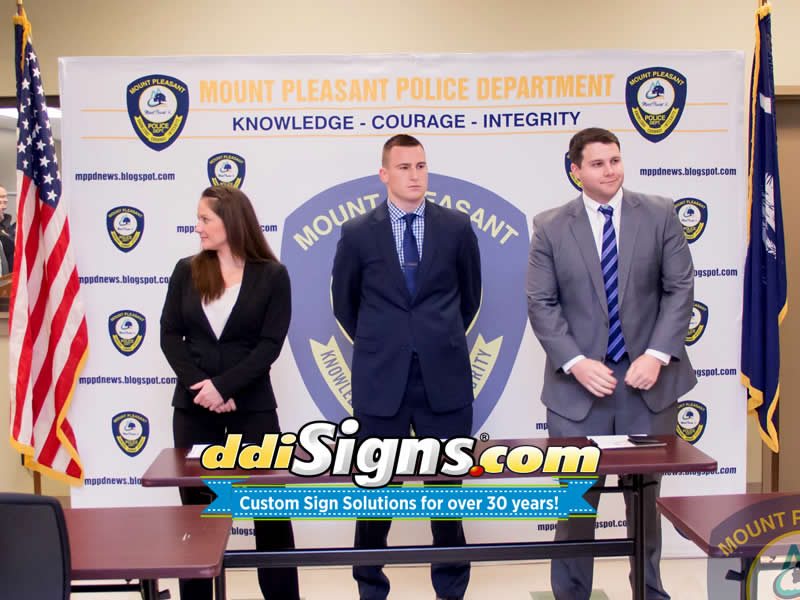 Understand Deadlines – Nationwide Shipping
We understand the tight deadlines that the industry faces and have proven that we can stand up to the challenge. Subsequently, we can offer quick reliable shipping Nationwide. Additionally, we ship Nationwide East Coast to the West Coast. New York NY, Washington DC, Los Angeles California and anywhere in between.
Unfortunately,  their are rare cases when we can not produce your project by your deadline. Therefore as a result we will be upfront with you and tell you we not can produce it. Additionally, we will not lead you on just to get the sale. Importantly we ship FedEx and FedEx Freight. If desired we can ship using your FedEx or UPS account.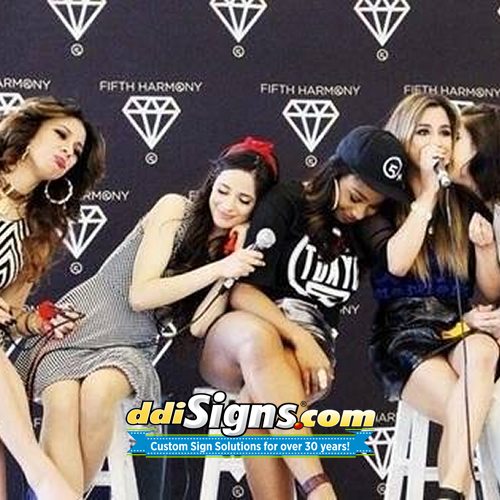 Premium Quality Products – Made in the USA!
Repeatz™ brand step and repeat media backdrops are custom made and produced using only high-quality materials and display hardware that is manufactured in the United States. We care about the way your brand and image is projected after all that reflects on our business. We test all of our hardware and materials for quality.
Unlike our competitors, we are not going to sell you a banner and banner stand that is only meant for indoor use for an outdoor display. Or a banner stand that you can not even use once because it is made from cheap materials.
Affordable Pricing – No Gimmicks or Hidden Charges
We firmly believe in the saying "You get what you pay for!"
This is why we offer several affordable options and alternatives to fit your budget. We offer high-quality products at a reasonable price. You can always find a cheaper price elsewhere, but remember we do not cut corners and we do not sacrifice quality or offer inferior products.
We do not put out ridiculous offers to lure you to our website. Most importantly we pride ourselves on providing our customers with a creative and original designs and products.
Our graphics are digitally printed in full color so there are no color limitations. Likewise, we do not have a limit on the number of logos you use in your step and repeat backdrop banner. Notably, other companies charge extra for more than one color or if you have more than two logos.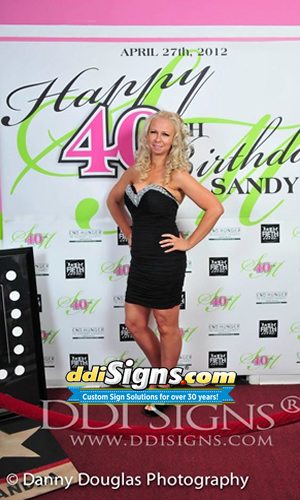 Professional Design Services – Original Designs
Our graphic designers have over 25 years of experience designing logos and sign designs. We know the proper way to display your brand or logo on step and repeat backdrop banner displays to offer maximum exposure.
If you provide your own files we will tell you if the files submitted are not good enough quality, we want your step and repeat banner to look perfect. We provide a proof for approval before anything is printed.
Unique Display Solutions
There is not just one way to produce a step and repeat media backdrop. Proudly, we offer several unique solutions for your press conference and special events needs. Moreover, we will continue to look at new and innovative ways to emphasize your brand. Most importantly we are not limited to one or two kinds of displays, why should you be? Finally, if you do not see what you are looking for on our website, email us and we will do our best to find it.
Who Purchases Our Quality Displays
The corporate, retail, schools, sports teams, small business, media, television, event and film industries have depended on us to provide them with premium quality step and repeat backdrop banner media display solutions.
Our Premium Quality Step and Repeat Backdrop Banners can be used for:
Event Backdrop Banner
Press Conferences
Step and Repeat Banner
Media Backdrop
Retail POP Banner
Media Back Wall
Trade Show Back Wall
Interview Backdrop
Media Banner & Displays
Music & Concert Shows
Parties & Corporate Events
Press Release Photos
Graphic Back Wall
Paparazzi Backdrops
Press Backdrop
Stage Backdrops
Photo Op's
Athlete Head Shots
Concerts
Band Banners
Retail promotions
Event Walls
Film Festivals
Movie Premiers
Red Carpet Events
Charity Events
Sports Press Conferences
Sporting Events
Red Carpet Backdrops
Celebrity Photo Backdrops
Book Signings
and Much More!
Our Custom Step and Repeat Banners are used by:
Sports Teams
Musicians and Bands
Universities and Colleges
High Schools
Sports Arenas and Venues
Theater and Stage Companies
Restaurants and Food Industry
Wine and Spirits Industry
Casinos and Gaming
Hotels and Lodging
Celebrity Press Interview
Municipalities and Government
Corporations and Business
Entertainment Industry
Record and Music Industry
Movie Companies
Television Shows
Retail Stores and Shops
Special Event Industry
Marketing and Ad Agencies
DDI specializes in providing  premium quality "step and repeats" displays for Movie and Television Industry, Universities, Musicians and Bands, Corporations, Sports Teams, Event Companies, Small Businesses and Non-Profit Organizations. Our custom step and repeat graphics offer a unique way to promote your company logo and spotlight your brand.
Attention to Details
SEAMLESS BANNERS
We offer proper finishing for your display depending on your stand. Unfortunately, some companies cut corners by selling all of their banners clean cut. We take the extra step of providing your banner with the proper pole pockets, hems, hook, and loop, or grommets if needed for a professional looking display. On the other hand we take the extra measure of applying a low glare liquid matte over laminate. Our banners are shipped rolled not folded. Finally, our Poplin Fabric banners are made with a premium quality fabric that provides vibrant colors.
HEAVY DUTY TELESCOPING BANNER STANDS
Our telescoping step and repeat displays are adjustable so they can be used to display several sizes of banners. Best of all our stands are MADE IN THE USA.
OTHER STEP AND REPEAT GRAPHICS
We use the same attention to detail that we do with our step and repeat banners to all of the other products we offer.
Subsequently, Repeatz™ graphics offer a unique way to display and spotlight your brand.