Banner Hanging Frame System for Vehicles, Trucks, Buses, and Trailers
Innovative aluminum frame and PVC locking rail secure your banner. Our Truck Advertising Banner Frame System is custom cut to fit the side of your truck or vehicle. Easily change out banner advertising or graphics.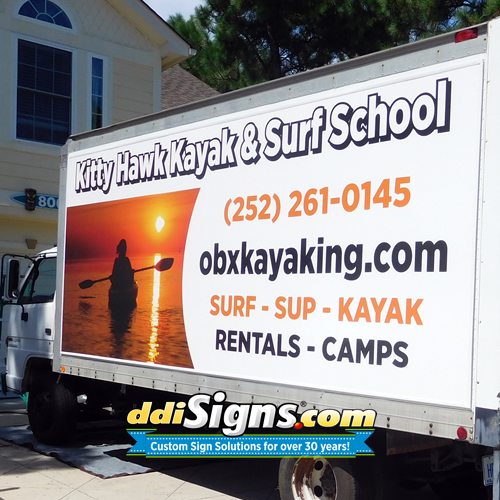 Transit Banner Stretching Frame System
Truck Advertising Banner Frame.
This is our lightest extruded aluminum rail system. We sell complete Truck Adverting Banner Frame kits which include a 13 oz. scrim banner printed at high resolution with UV Lamination and custom frame. If you print your own banners we sell the frames separately as well.
Truck Advertising Banner Frame Features:

Stretch banners into place using PVC locking strips.
PVC locking strips create a finished look on the face of the frame.
Custom cut to irregularly shaped sides of vehicles.
Mounting hardware is hidden.
Easily change out banners.
Close up of the extruded aluminum and the channel for the PVC locking rail. The arrow indicates a groove for installing screws.
Easily install our Truck Advertising Banner Frame System with a variety of mounting hardware.
Banner installed with white PVC locking rail. Most notably, the system holds the banner securely in addition to creating a clean finished appearance.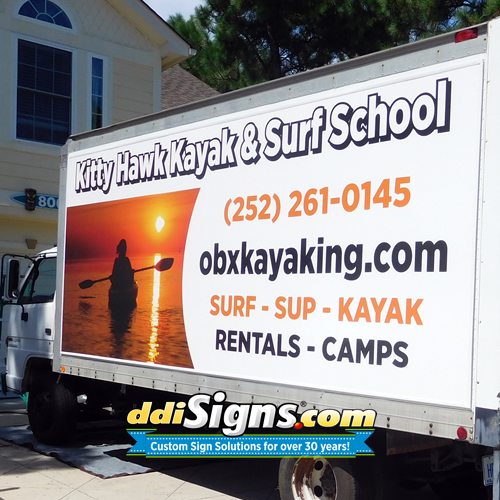 Locking PVC Rails offer drum tight banners
Available in White or Clear
Innovative locking system uses white or clear PVC strips to secure the banner without creases or sagging.
This side view shows how the PVC locking rail snaps into the frame. Rails are lightly pounded into place with a rubber hammer. Corners are miter cut with a mini hacksaw.
Drive more sales in your direction
Truck Advertising Banner Frame System drives customers to take action. Maximizing your truck advertising space.
Let the "Sign Experts" at DDI Signs help you with your next Truck Advertising Banner Frame System project. We can be reached to chat about our system or give you a quote at 1-757-593-8580, email us at [email protected] , or we have an  online contact form you can fill out.
Installation photos and close ups of our Truck Advertising Banner Frame System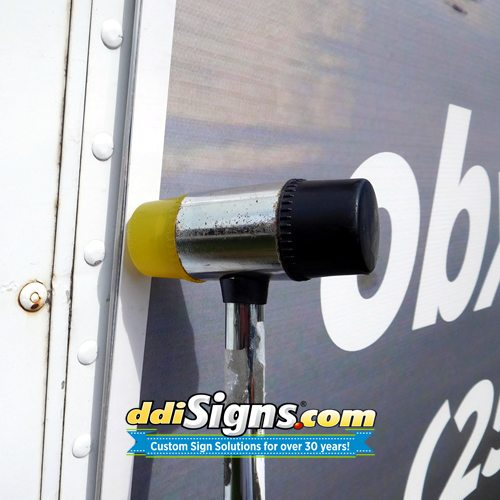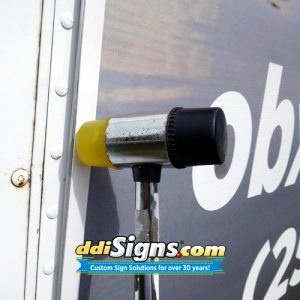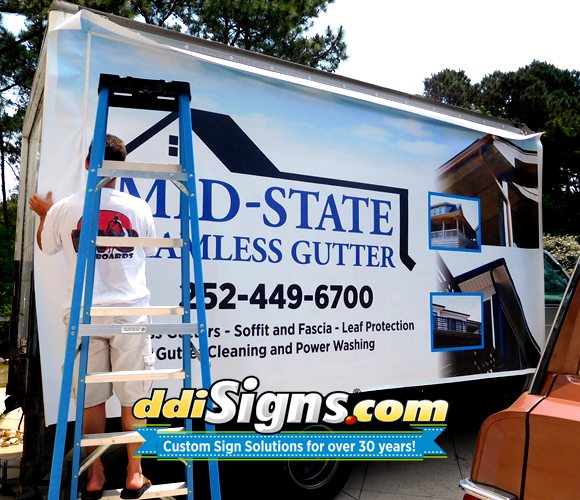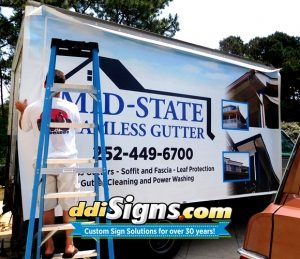 Finished jobs using our Truck Advertising Banner Frame System

Pantone Color Matching
We match to your brands Pantone Colors. As a result, your branding color is consistent. In addition , we can provide printed samples at an additional charge. Sample made on the material your banner will be produced for color matching. This ensures your banner is printed correctly the first time.
We prefer VECTOR files. Adobe Illustrator Ai, EPS or Corel Draw.
All Files Must Be Submitted in CMYK.
Pantone Colors Must Be Indicated for Color Matching.
All files must have fonts converted to outlines.
For an additional fee Printed Samples for color proofing.
See Display Product Page for Templates with correct sizing.