Floor Graphic Sticks to Asphalt, Brick, Pavement, Concrete and Tile Surfaces.
These specially formulated aluminum foil based decals can be applied to and form to uneven surfaces.
The innovative coating provides excellent anti-skid performance under wet and dry conditions.
Lasts up to a year under high pedestrian traffic.
Made in the USA!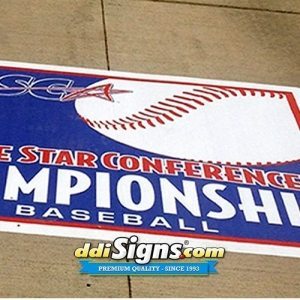 Contact Us For A Quote
Sports Floor Decal – Aluminum Foil Based Graphic for Sporting Events
The Ultimate Outdoor Decals and Sports Floor Graphics.
Wall and Floor Graphic Sticks to Asphalt, Brick, Concrete, Pavement and Tile Surfaces. Great for directing traffic at sporting events or advertising your brand a fans feet.

The above decals were used during a running event to direct people to the path the race followed. Also gave encouragement to runners as to how close they were getting to the finish line.
Our Aluminum Foil Sports Floor Decal is ideal for:
Outdoor Events
Sports Venues
Outdoor Pavement Decals
Outdoor Wayfinding Floor Graphics
Floor Ads and Graphics
Directional Floor Graphics
Unique Branding Solution
Pool Surface Decals – in and around pools
Wall Graphics and Murals
Concrete Pole Graphics
Brick Wall Graphics
Building Graphics
Special Event Pavement Decals
Sports Arena Decals and Signs
Step Graphics and Ads
This product is totally green, recycle with normal aluminum recycling centers
Our aluminum foil based vinyl is designed especially for concrete and asphalt surfaces. This product is superior to other products as it so much easier to apply and remove.
This Sports Floor Decal has an exterior average life of 6 months under extreme foot traffic such as speedways, sporting centers and events, malls etc. It holds up very well also in this time period on vehicle traffic that has a minimum amount of turning on the surface. It has a crystal textured surface making it slip resistant in both wet and dry conditions.
It installs in minutes. Requires sweeping the surface to remove all dust and rocks. We recommend power washing the surface and allow to dry before installing. Simply, peel and stick. You can use a rubber roller to help adhere the decal to the surface and you can immediately walk or drive on.
Related Sports Floor Decal Products