Banners and Backdrops for use as Wayfinding Signage
DDI Signs® can provide you with custom Wayfinding Banners for your special event or promotion. Pole banners for directing traffic are perfect for schools, cities and towns. Our banners are perfect for directing people to your event in a unique way.
These banners are ideal for parking lots and pole displays. We also offer a full line of indoor and outdoor banner stands and banner displays.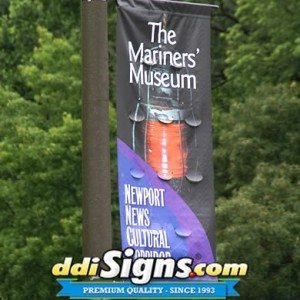 Wayfinding Banners for Directing Traffic
Banner solutions for Special Events and Wayfinding.
DDI Signs Wayfinding Banners are available from small format to grand format. Made from various materials like Scrim Vinyl Banner, Mesh Banner, Fabric Banners, Poly Banner, and Paper Banner materials.
Pole Traffic Banners are ideal for use at Special Events. Combine this with other signage like Wayfinding Floor Graphic Decals for a complete solution. We have a full line of Banner Stands and Banner Rail for interior use. Banner Track and Banner Tension Frames for exterior use.
Banner Solutions for directing traffic or promoting an event
Banners and displays for grabbing attention and directing traffic.
Retractable Banner Stand
Portable Banner Stands.
Click here for more information and PDF Catalogs of Available Banner Stand >
Pole Mounted Banners for Directing Traffic

Premium Spring-Loaded Pole Banner Double Kit for displaying wayfinding banners.
Click here for more info on our Spring Loaded Pole Banner Kit >
The patented stainless steel spring arm design bends up to 60 degrees to deflect the strongest winds, helping banners last longer.
Use this system exclusively when you are mounting banners to old wooden or steel poles as the spring arm also significantly reduces wind load on the pole.
Other available Wayfinding Sign Solutions
Backlit Signs for Wayfinding Projects >
DDI Signs ® offers custom digitally printed banners and displays that are perfect for wayfinding.They can hung or displayed on banner stands or banner rail.
Types of  banner materials that we offer are:
Types of wayfinding displays and banner stands we offer: