Routed Wayfinding Signage
Lightweight alternative to solid stone and wood routed signs.
Offers added depth and visual appeal to standard flat signs.
Beautiful entrance signs for offices, apartments, and businesses.
Does not rot like wood and is a durable sign solution.
Interior or Exterior Use.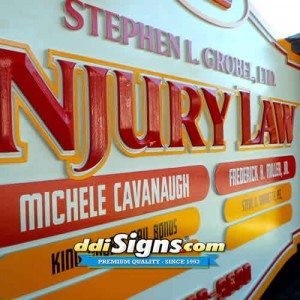 Pathfinding Routed Signs for Interior or Exterior use.
Wayfinding Routed Signs offer a dimensional aspect to create professionally looking signs with depth.
Our Pathfinding Routed Signs, Letters and Logos offer a durable option for wayfinding routed signage. Create 2 Dimensional and 3-Dimensional signage and wall logos that are unique and gives added dimension. Dimensional Letters and Logos can be individually cut then glued to surface or dimensional layers can be routed into thicker material. Our custom routed signs letters and logos offer a unique sign solution that adds depth and dimension.
Please contact us for a quote on your next Custom Wayfinding Routed Sign project.
Other available Pathfinding Routed Signs and Wayfinding Signage
Backlit Signs for Wayfinding Projects >
We Understand Deadlines.
We understand the tight deadlines that the industry faces and have proven that we can stand up to the challenge. We offer quick turnaround with reliable Nationwide Shipping.
Our Wayfinding Signs Routed are perfect  for Offices, Businesses, Grocery Stores, Restaurants, Hotels, Arenas, Schools, Movie Premiers, Retail Stores, Press Conferences, Concerts and Stage Shows, Music Venues, Trade Shows, Sporting Events, Red Carpet Events, Special Events and Retail Promotions.
We ship our wayfinding signs Nationwide.

ddiSigns.com ships Signs Nationwide from the East Coast to the West Coast. USA and Canada. We regularly ship to New York NYC, Washington DC, Virginia, North Carolina, South Carolina, Florida, Minnesota, Indiana, Iowa, Missouri, Chicago Illinois , Dallas Texas, Las Vegas Nevada, Seattle Washington, Alaska, Los Angeles California and anywhere in between.