Say "I DO" with a Repeatz TM original customized banner for your Wedding and very special occasion.
We can print from files you provide or we can design professional and unique artwork. We personalize your wedding banner with your info and colors. Our Designs are beautiful and original.
Our Custom Fabric Wedding Banners are made with high quality Fabrics that are dye sublimated printed for vibrant colors. Also, we have a large selection of display stands that are Made in the USA!
The Original Repeatz TM Branded Banners are shipped Nationwide. We are located near the beautiful beaches of the Outer Banks, North Carolina. A popular destination for Wedding Events.
Custom Fabric Wedding Banners
Professionally Designed. Dye Sublimation Printing. Vibrant Colors.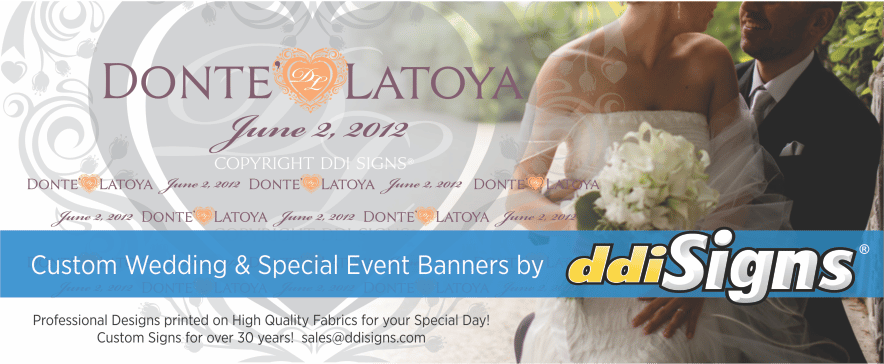 Why Choose Us?
DDI Signs has been providing our wedding banners and wedding step & repeats for over 30 years. Offering a unique blend of Old School Knowledge and Digitally Printed Innovation.
We Want Your Wedding To Be A Sucess
At DDI Signs, we home in on each and every detail to ensure that your fabric wedding banner will showcase the love you are sharing with friends and family.
We know this is a very special day and by choosing us, you are entrusting your event with a team that wants to celebrate your day just as much as you do.
Here is a link to a Gallery of some of our Repeatz Banners >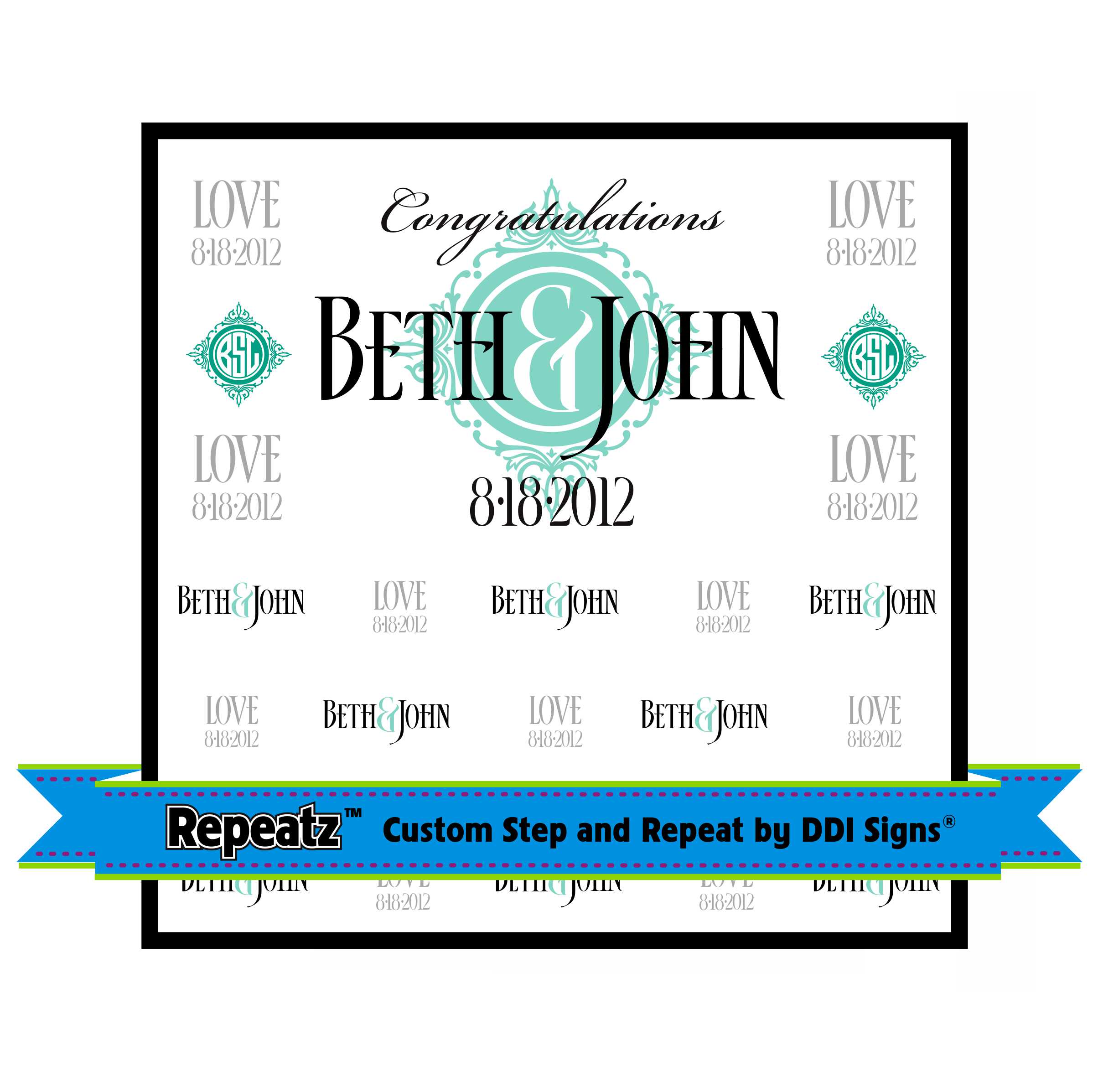 Reliable Services & Premium Products
Located in the Outer Banks of North Carolina, we ship to cities throughout the United States and Canada. Choosing FedEx, FedEx Freight, or using your FedEx or UPS account, you will have peace of mind knowing that your fabric wedding banners will arrive to meet tight deadlines.
We have been in business long enough to properly anticipate how much time it will take to complete your custom wedding banner.
To Be the Best, We Use the Best
Using only tested, high-quality fabric materials, your banner is guaranteed to look professional and extraordinary. And with the majority of our materials manufactured in the United States, your finished product will be something that any American can be proud of.
Affordable Solutions
Offering several affordable options and alternatives, we work with you to develop your high-quality banner at a price that you can afford. Although we never cut corners or use inferior products in our services, we take extra measures to give our customers creative and innovative signage at a reasonable cost.
What Sets Us Apart from the Competition?
A lot of companies out their offer similar products to our Repeatz TM Fabric Wedding Banners, but they do not care about how your banner looks, just how many they can crank out at $99 a pop.
Our graphic designers have over 30 years of design and signage experience. We care about what your banner looks like and with this kind of expertise, you can only expect the greatest results.
An actual person, a professionally trained Graphic Designer works on your wedding banner project. Why do we not have any online design software on our site? We are not about printing as much as we can as fast as we can on cheap materials. If you are submitting files our designers check to see if they are even printable.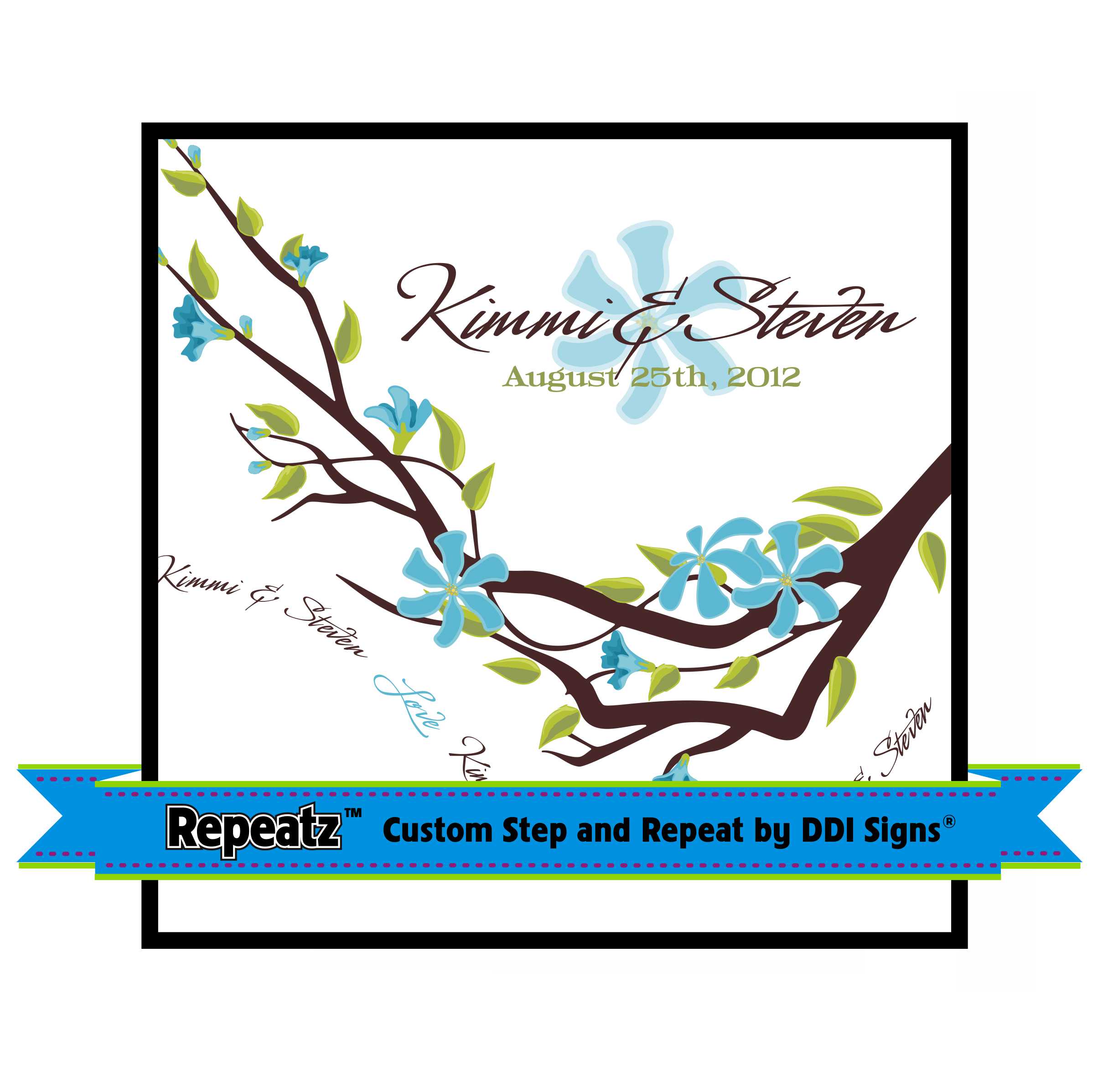 What Materials Do We Use To Make Our Fabric Wedding Banners?
Our most popular banner materials are Fabric Block Out Banner and Flag Fabric. Below is a description of both. We also can print on Sheer Fabric Materials for a Unique Backdrop.
Fabric Block Out Banner
Has a special layer of the banner that blocks any backlighting. The material is matte finish for low glare photos. Dye sublimation printed for vibrant colors and high-resolution images.
Flag Fabric Banner
Same material used to make flags. Has a semi-transparent look and the printed image can be seen on the back side. The material is matte finish for low glare photos. Dye sublimation printed for vibrant colors and high-resolution images.
What Kind Of Displays Do We Offer?
We have several kinds of Banner Hanging Hardware  to hang from the ceiling or walls. Some of our Freestanding solutions are Telescoping Adjustable Stands, Pop Up Displays, and Tension Fabric Frames.
Click here for our complete catalog of banner display products >
Making your day a special one to remember.
Our "Special Event Signage Experts" can be reached at 757-593-8580 or email us your details today for a price quote.
Please see our Submit Files page for complete file guidelines.
We prefer VECTOR files – Adobe Illustrator Ai, EPS or Corel Draw.
All files must have fonts converted to outlines.
Properly converted vector line files are preferred because there is no image degradation when enlarged.
* If raster/bitmap images are submitted please make sure our resolution and file guidelines are followed. Website images are not acceptable.