At DDI Signs® We Have Been Creating Custom Signs That Make All the Difference For Your Business Since 1993.
No matter what kind of event you are planning, an effective branding solution enhances your professional image. DDI Signs® Repeatz™ Media Backdrop Banners do that. Getting you all the exposure in a visually appealing way.
From press conference backdrops, signing day back walls, to media step & repeat banners. Best of all, proudly made in the USA! Also makes an ideal promotional centerpiece for Press Conferences, Sporting Events, Media Events and more!
Largest Media Backdrop Display Available.
8′ high x up to 30′ wide.
Standard sizes 8′ x 8′, 8′ x 10′, 8′ x 20′

10′ high up to 30′ wide.

Standard sizes 10′ x 10′, 10′ x 12′
Custom sizes also available. If you are looking for a Pop Up Backdrop or Telescoping Adjustable Stand, click on the link below and we will be glad provide a quote.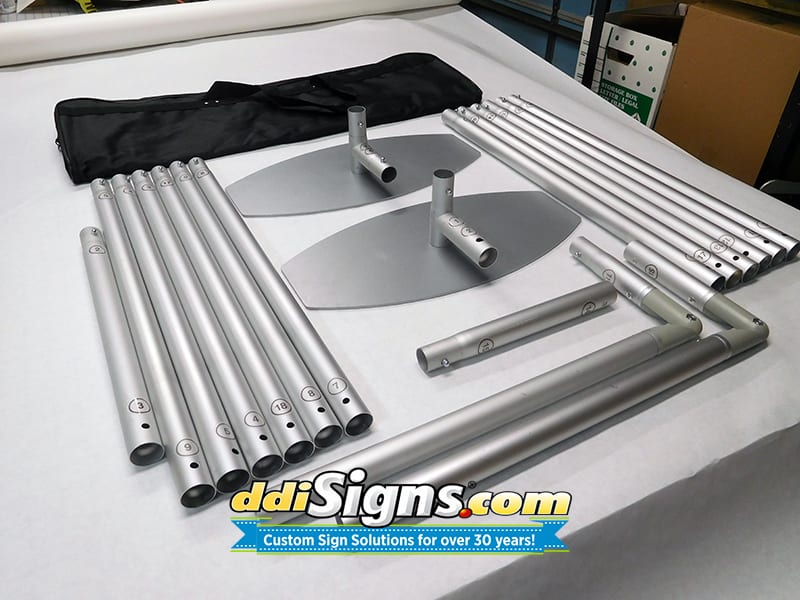 Innovative Design and Professional Graphics
We at DDI Signs are always looking for innovative solutions for our products. So we came up with our fabric flat wall. Sometimes, simple design is the way to go, and this stand is exceptional.
The aluminum frame consists of pole sections that easily slide together with swage spring connectors, resulting in a tool free set up. Heavy duty steel base feet, therefore adding weight for a sturdy display. Then the banner just slides over the frame. Finally, all you have to do is close the industrial zipper for a drum tight fit.
Simple is better!
Available sizes and what is included. Single and Double Sided printing available.
We Care About Your Branding
We know how important your image is, as part of our service our designers and print technicians will take the time to color match to your branding specs and Pantone colors. Our fabric banners a dye sublimation printed, producing vibrant colors and beautifully detailed branding. Best of all, your logo can be imprinted on both side, for double the exposure. Fill out the contact form below to order or request a quote.