Original Repeatz Press Conference Backdrops proudly made in the USA, by DDI Signs ®
Professional Banners and Backdrops for Press Conferences and Media Events.  With over 30 years of experience, you can trust DDI Signs with your brand and image. We offer a large selection of displays from Flat Media Walls to Pop Up Banner Displays. Our graphic designers know how to make your brand stand out in the crowd and on screen.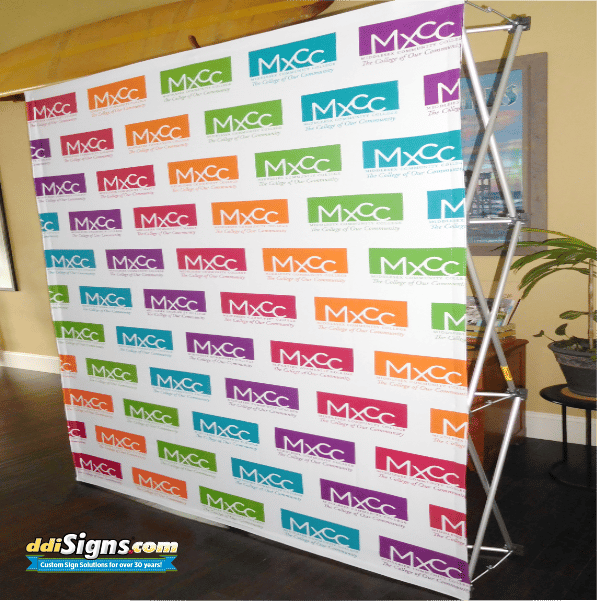 Press Conference Backdrops
Why choose DDI Signs for your custom press conference backdrops project? Because we care about your branding!
There are plenty of businesses that provide press conference banners, and it seems like every day a new business pops up online. However, we are one of the first companies to offer press conference backdrops. Therefore, you can rely on our experience to provide you with the best quality backdrops available. Most importantly, we offer professional branding and original designs.
Our REPEATZ brand custom media backdrops are made in the USA!
High-quality block out materials with a low glare finish.
Fast and dependable Nationwide Shipping.
We understand tight deadlines.
Professionally designed backdrop graphics and logo branded backwalls.
Pantone Matching of your brand or teams' colors.
Optional printed sample for color matching.
Finally, before your job is printed our designers prepare an email proof for your approval.
We offer several kinds of press conference backdrops, media event displays, banner frames and banner stands. Above all you can trust us with your project.
Fabric Flat Wall Backdrop with Swage & Spring Button. Resulting in a tool free assembly.
Our most durable and easy to put up display. Offers a thin profile with heavy duty base plates.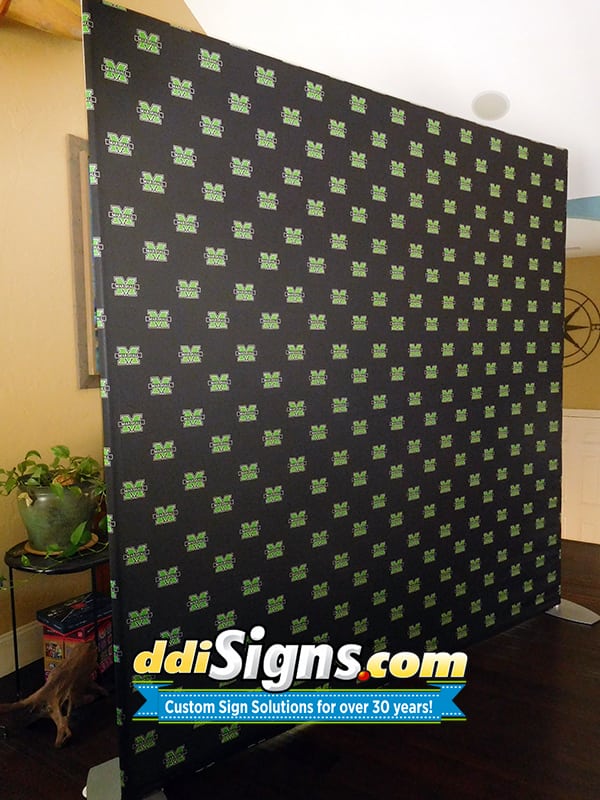 8′ high x up to 30′ wide.
Standard sizes 8′ x 8′, 8′ x 10′, 8′ x 20′

10′ high up to 30′ wide.

Standard sizes 10′ x 10′, 10′ x 12′
Our newest and most popular press conference backdrop banner available. Also, our custom backdrop is designed to be assembled without tools. Frame is heavy duty and easy to assemble. Additionally, it offers a slim professional profile. Best of all, no parts that can break.
Click here for more details about our Fabric Straight Wall Backdrops >
Pop Up Press Conference Backdrops Banner & Media Display
Multiple sizes available up to 25′ wide. Stands can be connected for larger displays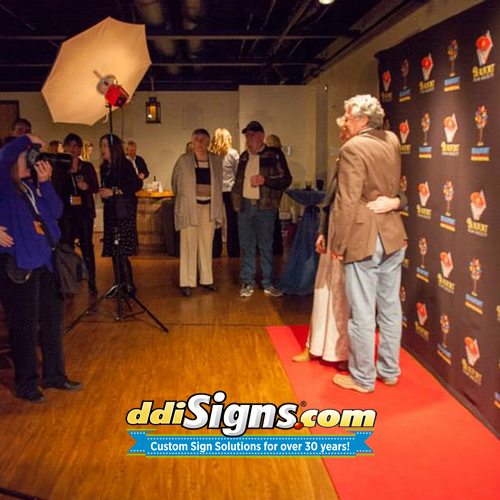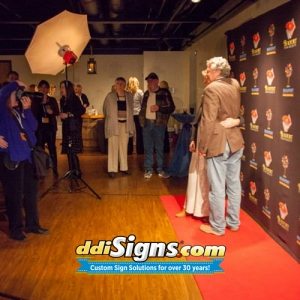 Our customers like this media backdrop display because it is easy to set up and is portable. It collapses into a compact size for travel. Additionally, an optional airline check-able case is available.
Click here for more info on our Pop Up Press Banner Backdrop Display >
Telescoping Press Banner Stand
Sizes ranging from 8′ x 8′ up to 12′ x 20′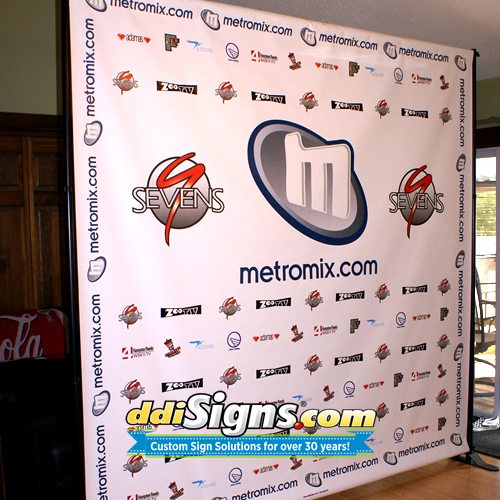 This versatile frame can display hold vinyl and fabric press banners.  Additionally, event backdrops are attached to the stand thru the pole pockets at the top and bottom of banner, resulting in a clean professional look.
Click here for more info on our Telescoping Backdrop Banner Display >
Retractable Banner Display
Sizes available 24″, 36″, 48″ and 60″ wide up to 96″ high.

Portable Retractable Banner Stands for large format displays and backdrops. Perfect for Video Conferencing Backgrounds. Made in the USA!
Click here for more info on our Retractable Banner Displays >
Press Conference Backdrops offer brand exposure!
Additionally, Sports Teams use them most notably for TV interviews. Likewise, Schools and Universities take advantage of  our media backdrops for sports, media, and press conferences.
Similarly, campaigns and candidates place our Political Backdrop Banners behind them at events and TV media appearances.
Musicians use our displays for stage backdrops with images and or band logos. Additionally, they use them for meet and greet events with fans.
Custom Branded Backdrop Banner
Contact DDI Signs for a free quote on your backdrop banner needs. We are "Sign Experts" and have been providing custom media backdrop solutions for over 30 years. We can be reached at 757-593-8580 or sa[email protected].
Go to this page for Videos of our Press Conference Backdrops in Action >
High quality media displays and signage. conference backdrops, banners, media backdrops. Also sometimes referred to as a step and repeat, backdrop banner, or media wall.
Schools use our custom press conference backdrops for media events, athletic interviews and signings, special events and conferences. Likewise, businesses use our banners to promote their brand at photo shoots and events. Finally, organizations have trusted us with their image for over 30 years!