Professional quality printing of  Repeated Logo fabric banners.
We offer high quality fabric step and repeats. Dye sublimated digitally printed banners on several kinds of fabric materials for indoor use. Our fabric banners can be finished off with pole pockets, velcro hook and loop or pillowcase banners with zippers.
Our fabric banners can be used with our Telescoping Banner Stands, Pop Up Banner Stands, Portable Banner Stands, Tension Wall Frame and our Banner Rails.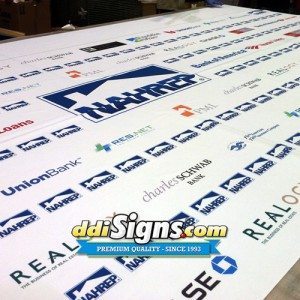 Contact Us To Order
Fabric Repeated Logo Banners
Professional quality dye sublimated printing with logos repeated and duplicated on the banner in stepped fashion. Alternating logos and or website address.
For over 30 years DDI Signs has provided our customers with the highest quality "fabric repeated logo banners" available. Offering a large selection of fabric materials and display stands to fit your project need. We use state of the art Dye Sublimation Printers which produce vibrant colors.

Fabric Banner Materials Available
The below fabric step and repeat media can be purchased with or with a stand.
Fabric Block Out Banner
Poplin Fabric Media
Tension Fabric Banner
Canvas Media
Below are some of our most popular Repeated Logo Fabric Displays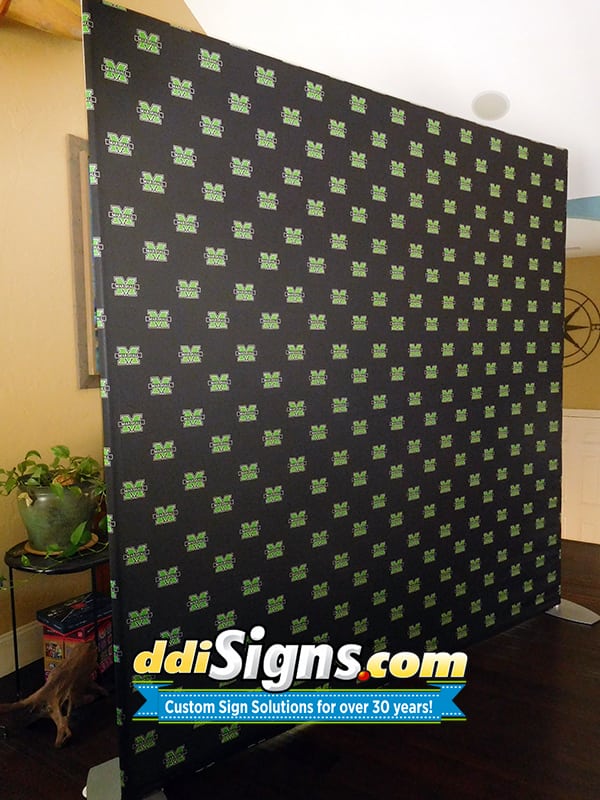 Tension Fabric Step and Repeat Backdrop Displays
We print on our Tension Poly Fabric Banner. This material has a smooth surface with a matte finish for a low glare backdrop. Light Block Out Backer Available. Pillow Case Mounted with heavy duty zipper for a clean professional display.
Tension Fabric Step & Repeat Flat Wall >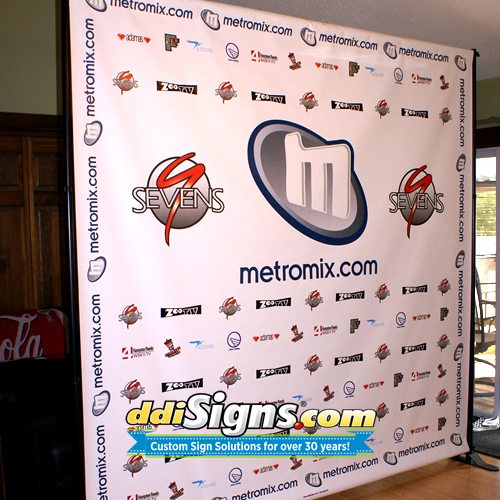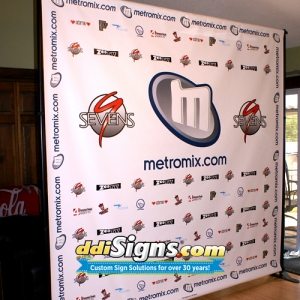 Telescoping Fabric Step and Repeat Display
Adjustable poles make this stand unique. Displays up to 20′ in width. Holds a fabric banner with pole pockets at the top and bottom. More details here >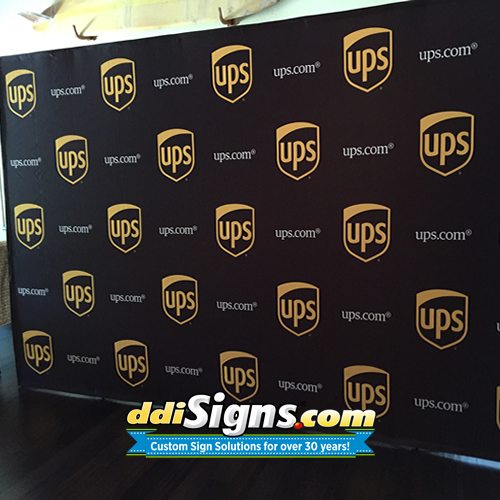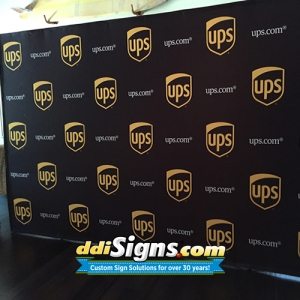 Pop Up Fabric Step and Repeat Displays
Display expands from a compact travel size and is locked into place. Fabric block out banner is Dye Sublimation printed. Velcro Hook and Loop is used to secure to display for a clean professional display. Sizes up to 20′ wide and displays can be connected for a super wide backdrop.  More details here >
Our Fabric Step and Repeat Media Backdrops are perfect for:
Event Backdrop Banner
Press Conferences
Step and Repeat Banner
Media Backdrop
Retail POP Banner
Media Back Wall
Trade Show Back Wall
Interview Backdrop
Media Banner & Displays
Music & Concert Shows
Parties & Corporate Events
Press Release Photos
Graphic Back Wall
Paparazzi Backdrops
Press Backdrop
Stage Backdrops
Photo Op's
Athlete Head Shots
Concerts
Band Banners
Retail promotions
Event Walls
Film Festivals
Movie Premiers
Red Carpet Events
Charity Events
Sports Press Conferences
Sporting Events
Red Carpet Backdrops
Celebrity Photo Backdrops
Book Signings
and Much More!
Please see our Submit Files page for complete file guidelines.
We prefer VECTOR files – Adobe Illustrator Ai, EPS or Corel Draw.
All files must have fonts converted to outlines.
Properly converted vector files are preferred because there is no image degradation when enlarged.
* If raster/bitmap images are submitted please make sure our resolution and file guidelines are followed.