Why have schools, colleges, and universities trusted us with their image for years?
It is because we only offer professional quality school media press banner displays, athletic media backdrops and school mascot backdrops.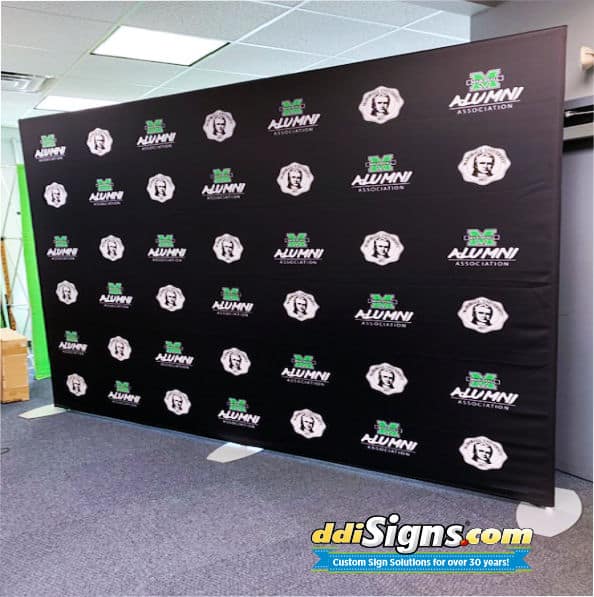 School Media Press Banner Features
Why choose DDI Signs for your School Media Press Banner Project?
We have been at this for over 30 years, therefore you can be assured that your image and branding is projected in a professional manner.
Most notably, being one of the companies to first offer mascot backdrops, school media banners, and press backdrops, you can rely on our expertise to produce your display with the utmost care.
School media backdrops that are Made in the USA!
Our print techs match your Pantone colors, keeping your branding looking consistent.
Banners are seamless and also are non-glare.
We care about your brand, so an email proof is provided before the banner is printed for approval.
Our graphic design artists are available if needed, giving you a professional and original art.
We Understand Deadlines!
Have a tight deadline?  DDI Signs realizes that sometimes you face the challenge of a tight deadline. We have a proven track record over the past 30 plus years of offering fast delivery with reliable nationwide shipping. We understand that your school media press banners need to be of the highest quality and our displays reflect your brand professionally.
Pantone Color Matching to your Brand Styles
We match to your schools Pantone Colors. We ensure your branding is consistent. For an additional fee, we can provide printed samples. Sample made on the material your banner will be produced for color matching. This ensures your banner is printed correctly the first time.
Below are some of our School Media Press Banner, Athletic Media Backdrop & Mascot Backdrop Solutions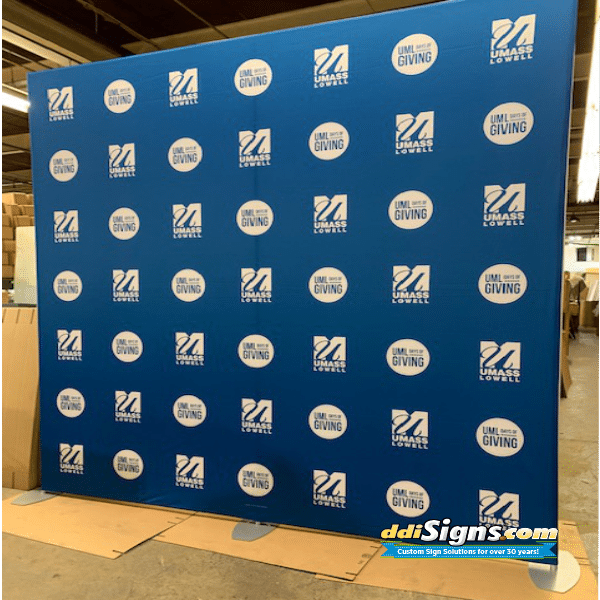 Fabric Straight Wall Mascot Backdrop Display
8′ high x up to 30′ wide.
Standard sizes 8′ x 8′, 8′ x 10′, 8′ x 20′

10′ high up to 30′ wide.

Standard sizes 10′ x 10′, 10′ x 12′
We are always looking for innovative solutions for our products. So we came up with our fabric flat wall. Sometimes, simple design is the way to go, and this stand is exceptional.
The aluminum frame consists of pole sections that easily connect with swage spring connectors, for a tool free set up. Heavy duty steel base feet, add weight for a sturdy display. Then the banner that is sewn like a pillowcase, just slides over the frame. Finally, all you have to do is close the industrial zipper for a drum tight fit.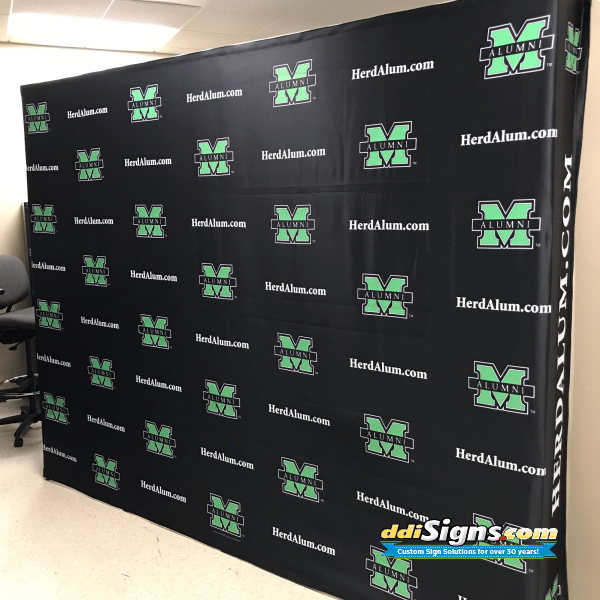 School Media Press Banner Portable Pop Up Display
Aluminum frame with metal locks. In addition, it collapses down for easy travel. Noteworthy there are absolutely no pieces to assemble. Block Out Fabric mounted with Velcro hook and loop. This is a professional display and can be configured into giant back walls.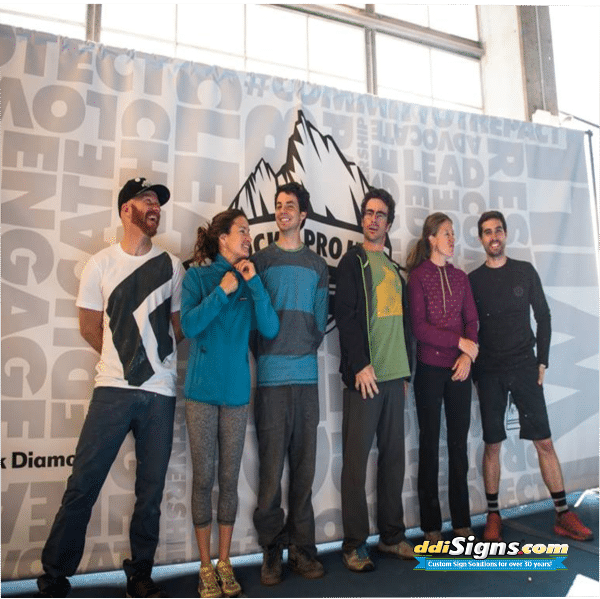 Telescoping Pole Banner Stand
Holds Fabric and Vinyl Banners with pole pockets. Disassembles into sections that fit into a travel bag. This is an economical display.  Requires more assembly time than a pop up. Standard size is 8′ x 8′ but several sizes and kits are available for larger backdrops.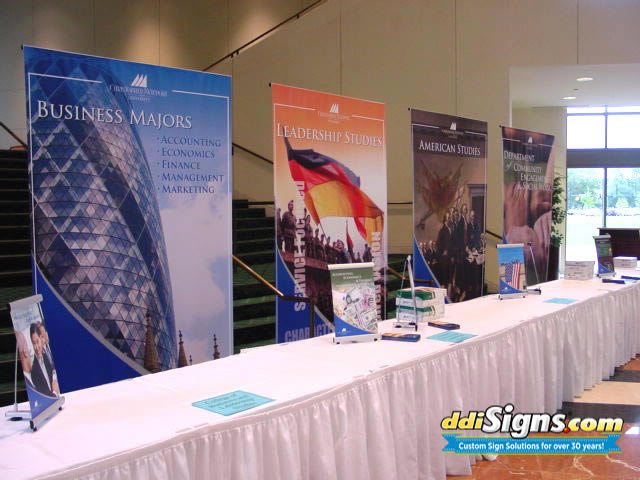 Retractable Banner Displays
Displays our 12 oz. Block Out Banner. Retracts into the aluminum base. Banner is protected and ready for travel. For smaller backdrops, however, displays can be set next to each other to create larger backdrops. Available in 60″, 48″, 36″ and 24″ wide up to 8′ Tall.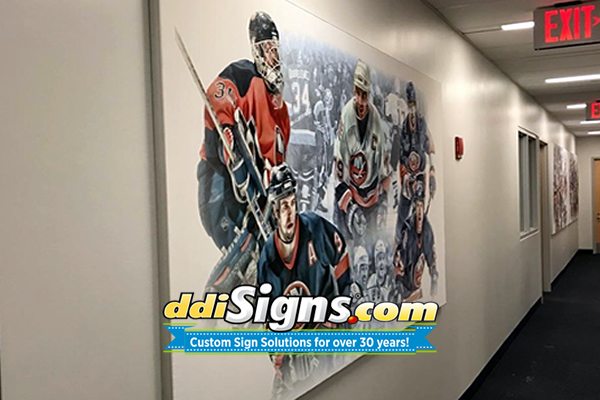 SEG Frames | Silicone Edge Fabric Banners
For a more permanent press conference backdrop display. Banner held in place with a Silicone Mount. Drum tight display. Free standing, single or double sided. Put several frames together for giant back walls.
These frames can be mounted on walls and we also have Free Standing versions.
Other School Media Press Banner Solutions
Pillowcase Fabric Banner Backwalls
Stands consist of aluminum tubing that connects together, then a fabric banner that is sewn like a pillowcase is slipped over the frame and zippered closed. Comes as Wave Wall, Straight Wall, Curved Wall, Flat Wall and Harmony Stand. More Info…
Hanging Rail and Bars Banner Track
Want to hang your School Media Press Banner from a wall or ceiling? We offer a full line of banner display hardware. Hanging press backdrops from ceilings or wall mounting for a more permanent solution.
Click on this link to see what we offer >
A lot of our Press Banner solutions are portable
DDI Signs offers several kinds of Travel Cases for our School Media Press Banner. Including Airline Check-able cases for travel. Makes storage, traveling, and shipping of the displays easily. Just let us know how you will be using your display and we will suggest the proper travel case.
What materials are used to make a School Press Conference Backdrops?
DDI Signs ® can make your TV media backdrop banner or media press wall out of several materials and depend on the way you want to display the graphics. We prefer our Fabric Block Out Material as it provides a true nonglare backdrop with vibrant colors.
Special Block Out Fabric
This material is our preferred for professional looking School Press Conference Backdrops.
We prefer this material because it is a block out banner. No light or shadows show thru the banner, can be put in front of windows. Colors pop on this fabric and it makes for a Professional School Press Conference Backdrop. It is a Wrinkle resistant fabric. This Block Out Fabric can be displayed on our Pop Up Banner Stands , Telescoping Adjustable Banner Stands ,   Hanging Rail and Bars   and Banner Track.
Smooth 12oz. Block Out Banner
Why do we use this material?
Seamless Giant School, Team & Mascot Backdrops.
Superior Print Quality.
Lighter Weight than Common Vinyl Banners.
Smooth on Both Sides.
Can be printed Double Sided.
True Block Out Banner.
Matte Low Glare Finish.
Professional Step and Repeat Display.
Does not allow light to pass thru from behind. Has a matte finish for low glare.
Can be displayed using our Telescoping Banner Stand .  Retractable Display . Hanging Rail and Bars .   Banner Track.
High-Quality Tension Fabric
Mesh Banner Materials
Ideal for larger outdoor banners.
Displayed on Buildings and Fences.
Allows air to flow thru the banner.
Universities, Colleges, and Schools have trusted us with their image. Whether you are displaying your school logo, mascot, sports team or promoting a special event you can trust DDI Signs. Contact us today using our online form. We are also available at

[email protected]

 or phone 757-593-8580
At DDI Signs® we are "Not Your Typical Sign Company!"