Aluminum Banner Track for banners and signs that have grommets.
Looking for an innovative way to hang your banners. Our versatile banner track hanging kits solve the easy change out dilemma. Also, kits are available for hanging from ceilings, slat walls, banner stands and windows. Additionally, our system is adjustable with sliding knobs that locks banners tight.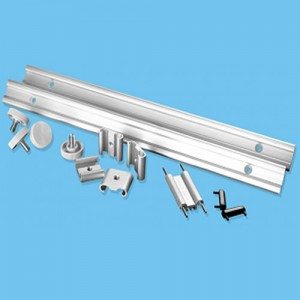 Finally, no more sagging banners with our banner track rail. Kits come in 4′ sections and can be connected for wider backdrops. Additionally, accessories are available making this one of the most versatile graphic hanging hardware around. Also, the Media Clips allow for hanging banners and signs without grommets.
Banner Track Hanging Kits
Innovative aluminum track for hanging banners and signs that have grommets
DDI Signs backdrop track is made of aluminum so it can be used to hang graphics indoors and outdoors. Additionally, it is a lightweight and non-rust solution. Sleek and professional looking rail. Resulting in a clean looking banner graphic.
Hanging banners and signs for slat walls is a breeze with a handy slat wall hook accessory. Also, hanging graphics from the ceiling is solved by using the ceiling T-bar rod parts. Media clips allow for displaying graphics without grommets and suction cups for window installations. Finally, the universal clamp allows displaying graphics on banner stands and tables.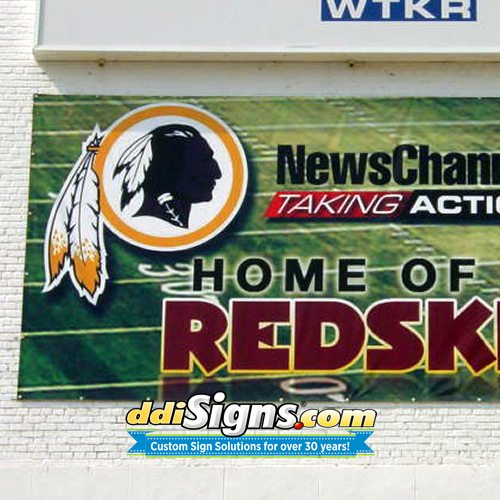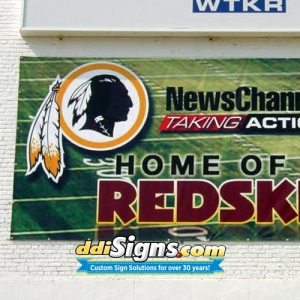 Aluminum Banner Rail Features:
Simple and ingenious way to display banners that have grommets.
Banner track system for mounting vinyl banners and signs.
Also, hang PVC, coroplast and other sign materials.
Made of aluminum in 4′ lengths that also can be connected to make the longer track.
Indoor & outdoor banner and graphic hanging.
Finally, sliding adjustable screws available for use with varying width banners.
Click here for Banner Track accessories and installation instructions >
Also, parts are available individually for creating a custom display or replacement.
Connectors for creating larger displays.
Hooks for displaying on slat walls.
Black plastic end caps for a finished look.
Universal clamps for displaying on banner stands and tables.
Suction cups for window installations.
T-bar rod for ceiling hanging solution.
90-degree super bracket for offset display.
Media clip for hanging banners and signs without grommets.
Extender bracket for connecting and locking sections.
Item
Banner Track Kit
Qty. 2 - 4' Sections of 1" wide rail
Qty. 1 - Connector
Qty. 4 - Slider/Thumbscrews
Qty. 2 - End Caps
Our Banner Track is perfect for:
Retail point of purchase displays. Also store brand product promotions.
Restaurants, hotels and convenience store signage.
Office buildings, government offices and federal building signage.
Stores, shopping centers also shopping mall graphics.
Sports arenas and music venues. Also, theatre stage banners.
Retail and clothing store signage.
Finally, interior and exterior way-finding signs.
Industries that benefit from our banner track:
Retail stores including clothing and grocery stores use our rails for POP displays. Resulting in beautifully displayed banners and graphics. Also, auto dealerships place our banners near vehicles to promote features and sales information. Additionally, Hotels, Universities and Museums also use our track for wayfinding signage.
GET ON THE RIGHT TRACK
Need more info on our banner track?  need a quote? Click Here to Contact Us today.  Let our banner display track expert find you the right kit for your project. Just let us know how many linear feet you need and if you are going to use the top and bottom track.