Our Heavy Duty Banner Stretching Frame is a functional and attractive way to display a banner. Easily change out banners for branding and promotion.
Standard aluminum finish or painted powder coated colors. Use for displaying indoor or outdoor banners.
Purchase frames only or complete kits with banner graphics.
Aluminum Wall Banner Stretching Frame
Display Clean Cut Banners and Easily Change Them Out.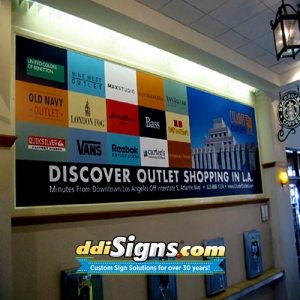 DDI Signs offers this innovative system that includes an aluminum base plate, an adhesive border tape, and most importantly an aluminum top plate that secures your banner in place.
We sell complete miter cut kits to your specs with banner graphics ready for you to install. Banner Frame Track can be purchased without the banner graphic cut to size or purchased in bulk for you to cut as needed.
Ways to purchase our Banner Stretching Frame
1. Basic Bulk Straight Cut- Comes in 8-foot and 12-foot lengths
For jobs that you want to cut on site for exact measurement. We recommend using a chop saw with a metal blade for cutting aluminum. Using this method may require additional freight shipping method because of size limits for shipping. This option is ideal for large building banners or odd configurations, for instance, wrapping around a door or window. Custom sized banners can also be included or customer can provide their own banner.
2. Frame only pre-cut to custom size
For customers that want to print or provide their own banner, this option is best. Already pre-mitered, ranging from 2 feet to 52 feet. Cost per foot is a little higher than Basic Bulk. This method may also save you on shipping because weight and size of the package may be reduced.
3. Frame pre-cut with printed banner
Our clients love this option, complete kits that are ready for on-site assembly with custom pre-cut frame and banner graphics. Shipping cost will vary based on finished size banner.
4. Replacement Banner Graphics Only
Customers can keep their graphics fresh with replacement banner advertising. DDI Signs prints high-resolution banner replacement graphics at an affordable price. Please contact us for a quote, we look forward to working with you.
Frame Your Creativity With DDI Signs
Creativity combined with state of the art products designed and manufactured to the highest quality. At DDI Signs, our sign frames, sign hardware, and banner displays push the boundaries of traditional advertising to command the attention that you seek.
To contact our team regarding your upcoming project, fill out our online form or call DDI Signs at 757.593.8580 today.
Here are some photos of our awesome Heavy Duty Banner Frame in use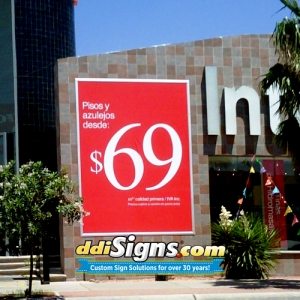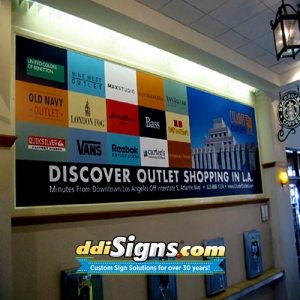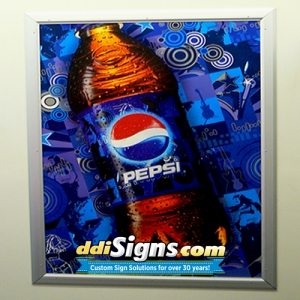 Close up of the banner frame system showing the base of frame with adhesive tape being peeled back to expose it. This conveniently hold the banner in place and is reusable.

Trimmed banner is placed on the frame and lined up straight. When aligned correctly the Aluminum top frame can be positioned, then secured with screws.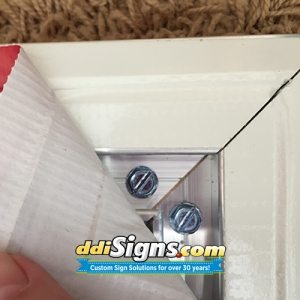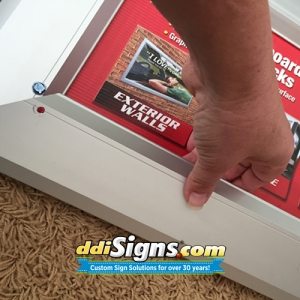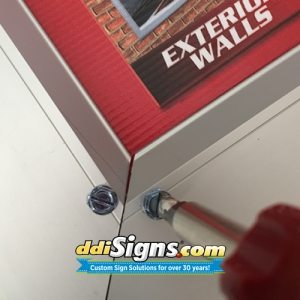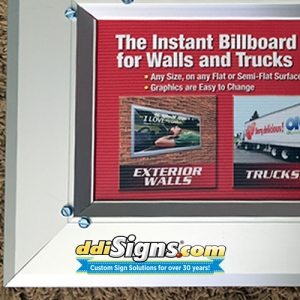 Pantone Color Matching
We match to your Pantone Colors to ensure your branding is consistent. For an additional fee, we can provide printed samples of the material your project will be produced for color matching. This ensures it is printed correctly the first time.
We prefer VECTOR files – Adobe Illustrator Ai, EPS or Corel Draw.
All File Must Be Submitted in CMYK.
Pantone Colors Must Be Indicated for Color Matching.
All files must have fonts converted to outlines.
For an additional fee, Printed Samples for color proofing can be provided.