Silicone Edge Frames display fabric graphics and prints with a smooth, wrinkle free finish.
Our Silicone Edge Frame Graphics are high resolution dye sublimated fabric prints with thin silicone sewn into the perimeter, then it is inserted into the groove of the aluminum frame. The fabric graphics are easily changed out and offer a sleek display option for photos and signage.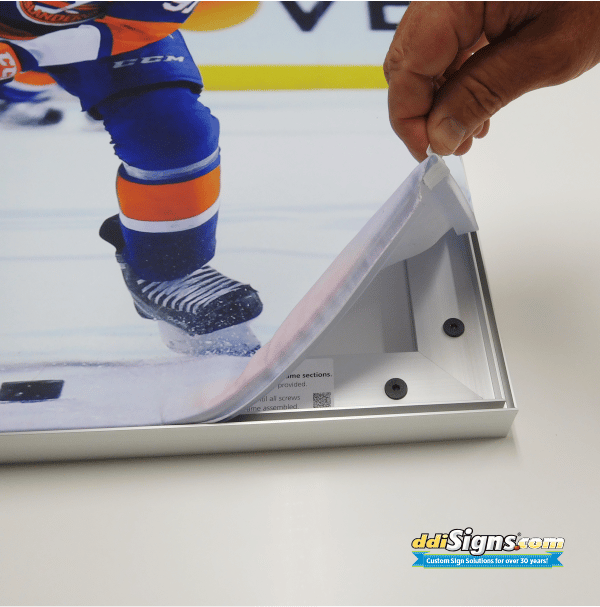 Our silicone edge frames provide a luxurious appearance at an affordable cost. Our SEG Fabric with aluminum frames holds your graphics tight. Can be installed on Walls, Hanging and Free-Standing displays are available. Also, our hanging and free-standing SEG Frames are available double sided, for twice the impact.
Silicone Edge Frames, Fabric Graphics with silicone strip stitched on the perimeter.
Innovative Display Fabric Frame that hold Graphics Tight.
The Silicone strip (green) gets stitched to the graphic's perimeter and inserted into the frame channel for a drum tight fit.
To ensure strength and stability, the wall thicknesses of our fabric frame profiles are substantial and exceed typical standards.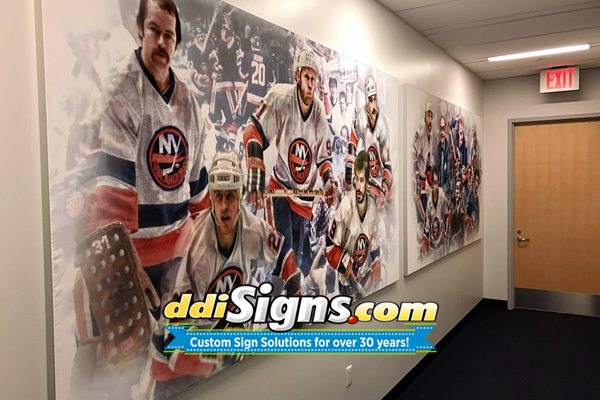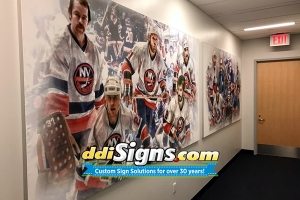 Our unique quick connect brackets make assembly fast and easy.
Mounting options include Wall, Ceiling or Floor- Free Standing

SEG FABRIC FRAMES CAN BE MADE TO ANY SIZE
Click here for a PDF Catalog of DDI Signs Silicone Edge Fabric Frames >
PDF info on available Sizes and Configurations
Silicone Edge Fabric Frame Assemblies >
Silicone Edge Fabric Frame Accessories >
Double-sided Silicone Edge Fabric Frame >
Single-sided Silicone Edge Fabric Frame >
Nuts-bolts of Silicone Edge Fabric Frame >
Spanner support bar for Silicone Edge Fabric Frame >
NEW! Slim Line of Silicone Edge Fabric Frame
Click here for info on our PDF of Slim Line Silicone Edge Fabric Frame >
Slim Line Sizes Available – Satin Silver Frames
XSM1 – 8 1/2″ x 11″
XSM2 – 11″ x 14″
XSM3 – 11″ x 17″
XSM4 – 14″ x 22″
XSM5 – 18″ x 24″
XSM6 – 22″ x 28″
XSM7 – 24″ x 36″
XSM8 – 30″ x 40″
XSM9 – 36″ x 48″
Please see our Submit Files page for complete file guidelines>
We prefer VECTOR files – Adobe Illustrator Ai, EPS or Corel Draw.
All files must have fonts converted to outlines.
Properly converted vector files are preferred because there is no image degradation when enlarged.
* If raster/bitmap images are submitted please make sure our resolution and file guidelines are followed.
Website images are not acceptable.