Lighted LED Silicone Edge Frames
Attractive Aluminum alloy case in etched or satin silver finish.
Fabric Light Boxes made in custom sizes. Can be Wall Mounted, Free Standing and Hang from ceilings.
Graphics are easily installed and changed out. Drum tight fit with a unique back-lit effect.
Available in single and double sided display.
Fabric Light Box SEG Frame
Silicone edge strip is sewn to the fabric graphic allowing for a drum tight fit to aluminum frame.
Our lighted fabric frames  can be displayed Hanging from ceilings, Wall Mounted, or Free Standing. Single or Double sided.
Silicone Edge Fabric Frame with silicone strip stitched on the perimeter. LED lights add illumination. MADE IN THE USA!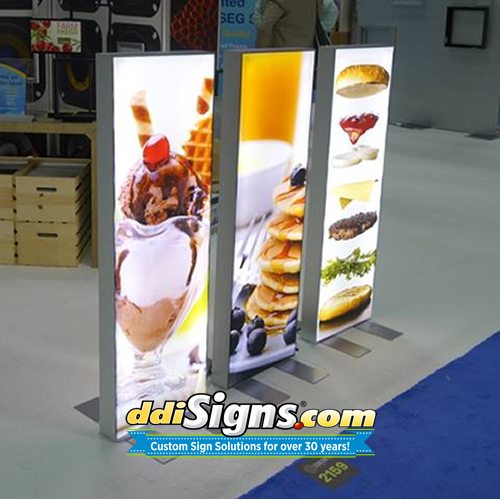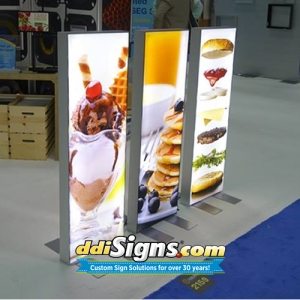 Innovative Display Fabric Frame that holds graphics tight.
Lighted with efficient LED strips.
The Silicone strip (green) gets stitched to the graphic's perimeter and inserted into the frame channel for a drum tight fit.
To ensure strength and stability, the wall thicknesses of our fabric frame profiles are substantial and exceed typical standards.
Our unique quick connect brackets make assembly fast and easy. Graphics are easily changed out which is perfect for retail promotions and advertising.
Mounting options include Wall, Ceiling or Floor- Free Standing.
Free standing and hanging fabric light box frames can be made double sided for a unique, professional looking display. You can use the same graphic on both sides or use different designs for space saving retail promotions or advertising.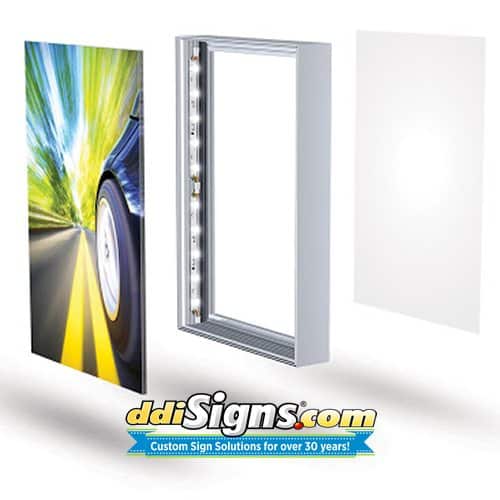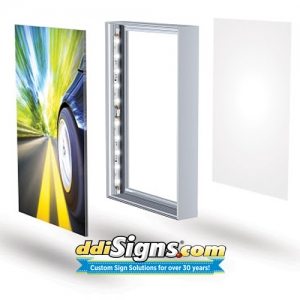 SEG SILICONE EDGE FABRIC LIGHTBOX FRAMES CAN BE CUSTOM MADE TO ANY SIZE!
Click here for a PDF with more Fabric Light Box details and examples >
Easy to assemble fabric light box kits with LED light strips. Insert corner brackets into the slots. Tighten screws to lock the corners. Daisy chain light strips together. Install graphics onto the frame.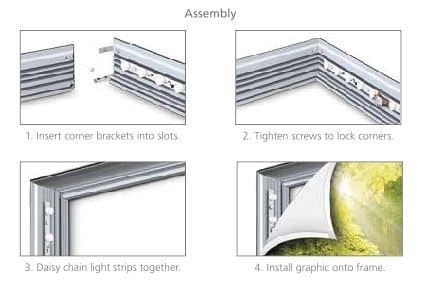 Our Fabric Light Box can be displayed Hanging from ceilings, Wall Mounted, or Free Standing. These displays are perfect for Retail Stores with their versatility and several displays and mounting options.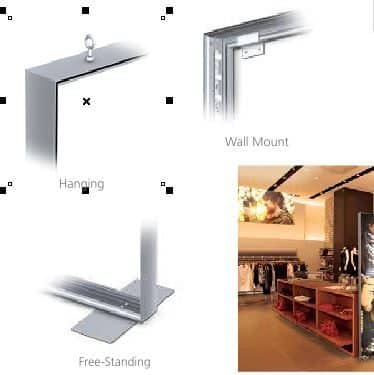 Our Fabric Light Box kits come disassembled with components packed in a compact corrugated carton. Assembly on site is fast and easy. Hard Cases are available. Easy to transport and store with lower shipping costs. Fabric graphic can be folded to take up less shipping space.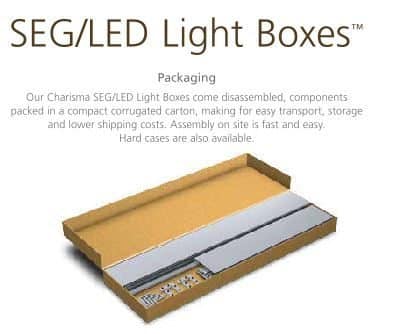 Click here for info on our SEG Fabric Frames that are not lighted >
Shine a light on your next retail signage project
Our backlit signs are custom made so fill out our online form to request a quote. We can also be reached by phone at 757-593-8580 or email [email protected]
File formats and submittal form
Please see our submit files page for proper set up of graphic art.