What is a DDI Signs® Lighted Silicone Edge Frame?

Our Fabric Light Box is a sleek and simply designed illuminated aluminum frame with a groove that accepts a fabric graphic that has a silicone strip sewn into the edges. When inserted in the frame it creates a drum tight fit. Bright LED lights around the inside perimeter illuminate the graphics.
Innovative Display Fabric Frame that holds graphics tight.
Backlit SEG Frame Features:
Lighted with efficient LED strips.
The Silicone strip (green) gets stitched to the graphic's perimeter and inserted into the frame channel for a drum tight fit.
To ensure strength and stability, the wall thicknesses of our fabric frame profiles are substantial and exceed typical standards.
Our unique quick connect brackets make assembly fast and easy. Graphics are easily changed out which is perfect for retail promotions and advertising.
Mounting options include Wall, Ceiling or Floor- Free Standing.
Free standing and hanging fabric light box frames can be made double sided for a unique, professional looking display. You can use the same graphic on both sides or use different designs for space saving retail promotions or advertising.
SEG SILICONE EDGE FABRIC LIGHTBOX FRAMES CAN BE CUSTOM MADE TO ANY SIZE!
Easy to assemble fabric light box kits with LED light strips. Insert corner brackets into the slots. Tighten screws to lock the corners. Daisy chain light strips together. Install graphics onto the frame.
Our Fabric Light Box can be displayed Hanging from ceilings, Wall Mounted, or Free Standing. These displays are perfect for Retail Stores with their versatility and several displays and mounting options.
Our Fabric Light Box kits come disassembled with components packed in a compact corrugated carton. Assembly on site is fast and easy. Hard Cases are available. Easy to transport and store with lower shipping costs. Fabric graphic can be folded to take up less shipping space.
We have several illuminated frames with fabric SEG graphics. Slim LED, Single Sided LED, LED Double Sided Frames, Inside and Outside Lighted Hanging Frames and 3D Cubes. Frames can be wall mounted, free standing or hanging from ceiling.

Slim LED Lighted SEG Frames >
Slim profile frame wall and hanging options.
Designed with a clean aesthetic in mind. They are a 3-1/8″ deep fabric light box with powerful edge lighting making it one of the thinnest light boxes in the industry.  This slim fabric light box is a great solution to create ambiance with lifestyle images for retail spaces, and to help set the mood.
Available sizes:
 36″ X 48″, 48″ X 72″, 48″ X 96″, 60″ X 96″, 72″ X 108, 96″ X 120″

Custom Sizes Available also upon request.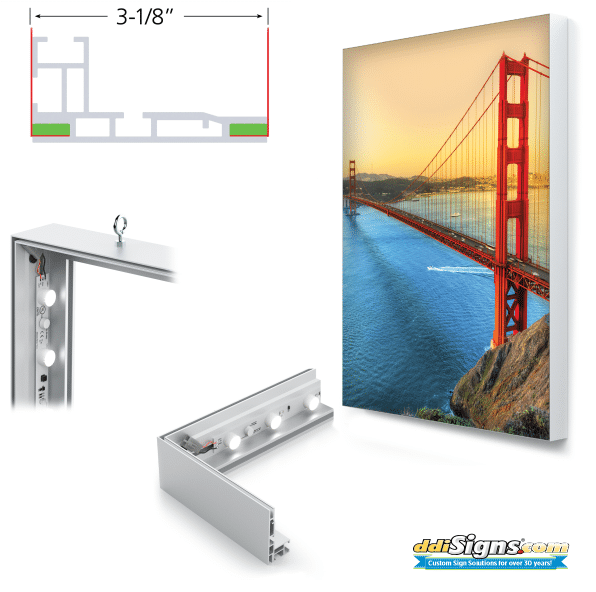 Single Sided Lighted SEG Frames >
Single sided wall, hanging and freestanding signage.
Our 4-3/4″ Deep SEG Single Sided Lightbox is popular for both lit and non-lit uses. The 4-3/4″ SEG frame includes an SEG channel on the front for your graphic, and an SEG channel on the back for a reflective backer. At nearly 5″ Deep, this SEG frame has a solid presence.
Available sizes:
36″ X 48″, 48″ X 72″, 48″ X 96″, 60′ X 96″, 72″ X 108″, 96″ X 120″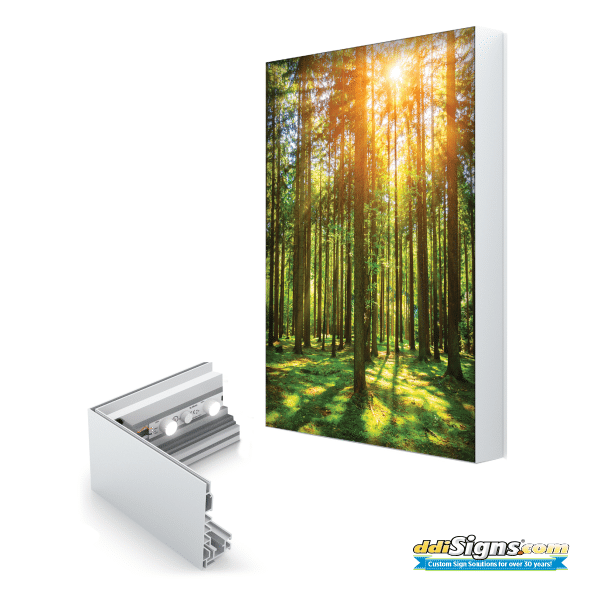 Double Sided Lighted SEG Frames >
Double sided wall, hanging and freestanding signage.
SEG Double Sided Lightbox are double sided Back LIT Frames designed to accept SEG graphics on two sides.  This time-tested SEG lightbox has been a winner for our customers for years and is UL Certified for indoor applications.  Longevity is one of the core attributes that keep customers coming back again and again.  Our SEG Double Sided light boxes are made from high-quality components built to last. 
The Double Sided Light box is extremely versatile. They deliver high impact dye sublimation printed SEG fabric graphics on two sides. These Edge Lit SEG lightboxes are show stoppers!
Available sizes:
36″ X 48″, 48″ X 72″, 48″ X 96″, 60′ X 96″, 72″ X 108″, 96″ X 120″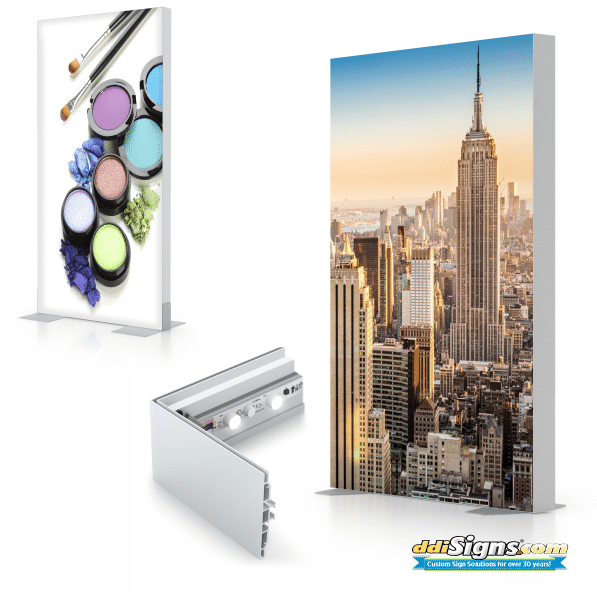 Lighted Inside and Outside of SEG Frames >
Illuminated on the outside and inside of square and rectangular  hanging structures.
In addition to providing a large-scale hanging lightbox unit,  Inside Outside Lightboxes can be designed to be portable in smaller sizes, used to create a divider wall, or as an SEG L Corner Unit. We also offer custom LIT hanging light box solutions.
Sizes:
8′ wide x 4′ deep x 2-1/2′ high
8′ wide x 12′ deep x 2-1/2′ high
10′ wide x 10′ deep x 2-1/2′ high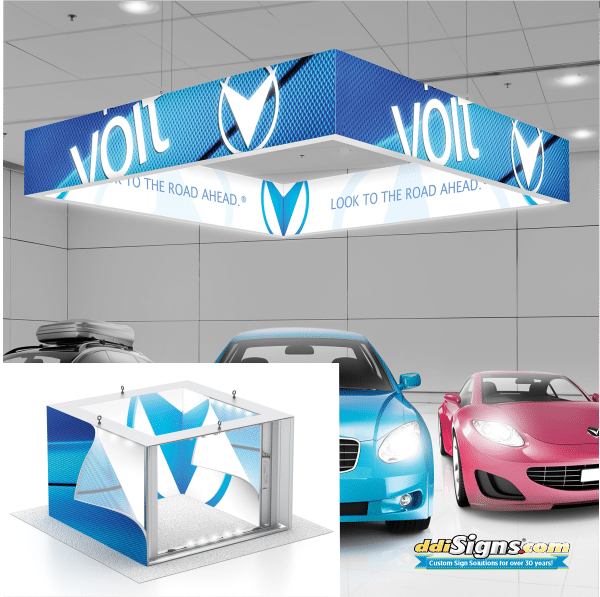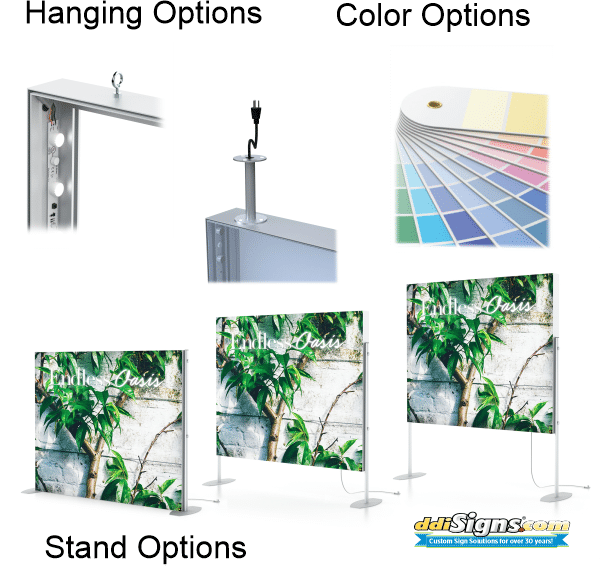 Finish – Satin silver aluminum anodized (standard). Custom powder coat colors quoted upon request.
Hanging Options: Eyebolt with cable or wire, Hollow Ceiling tube for hiding power cord.
Wall Mounted: Standard wall hanging option.
Elevated Stand Options:
Base plate floor feet, side legs for a raised off the floor display.
At DDI Signs® we are "Not Your Typical Sign Company!"