DasherAds™  Pro Decals
Professional quality dasher board graphics and Advertising decals for use on the boards surrounding ice arenas and hockey rinks. Best of all, designed with a specially formulated adhesive that stick's in freezing temperatures and harsh conditions.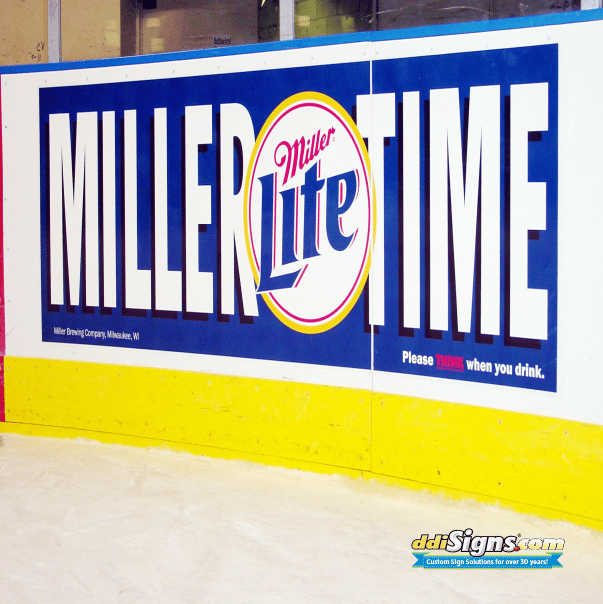 Providing Dasher Board Graphics, and ice rink signs for over 30 years!
The Original Dasher Ad™ Pro Decal – Dasher Board Graphics
Preferred by ice rink installers, hockey teams, and ice arenas.
DDI Signs has been producing dasher ads, dasher board graphics, and ice rink signs for over 30 years! In the beginning we started out providing graphics for semi-professional hockey teams and local ice skating facilities. As the years went by we expanded our services to professional hockey teams, schools, government, and corporate-owned rinks.
Using state of the art printing equipment, combined with custom manufactured materials, the result was Dasher Ads dasher board decals being born. A lot has changed over the years, yet DDI Signs has stayed upto date and remains a leader in Dasher Board Adverting Decals, above all maintaining the highest quality standards.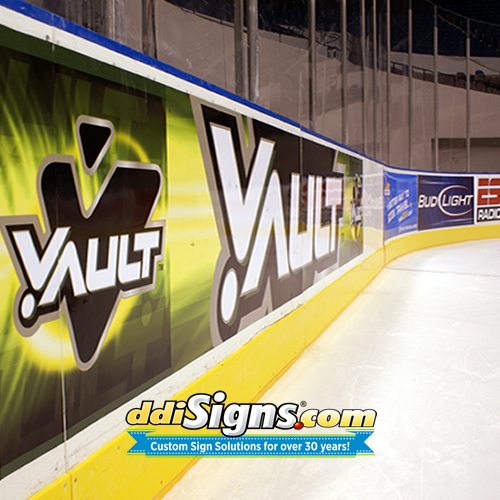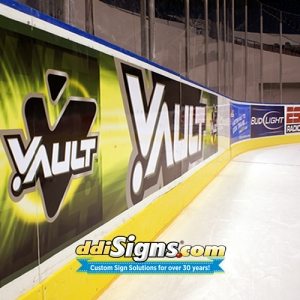 Facility ice rink staff can easily install Dasher Ads ™ Pro Advertising Ice Rink Decals. Best of all our decals can be removed leaving little or no glue residue behind, making your rink stand out.
Dasher Board Ad Decal Features:
Gloss flexible protective overlaminate
Premium vinyl decal
High-tack cold temperature adhesive
High-resolution printing
Vibrant ink colors
Pantone color matching
No minimum quantities
Our Dasher Board Decals are digitally printed using our state of the art equipment allowing unmatched quality, photographic resolution, and most importantly…there are no color limitations!
We care about your brand image and offer Pantone color matching, keeping your advertising consistent.
No minimum quantities, you can order 1 or 100. DDI Signs offers discounts for larger quantities, like entire rink packages or an advertiser that wants to ship to multiple locations.
Don't settle for low quality, cheap knockoffs of Dasher Ads ™ advertising decals – Buy Direct!
DASHER BOARD GRAPHIC SIZES
Are you a facility that needs custom sized dasher board graphics? DDI Signs specializes in custom dasher ads for outdoor community ice skating rinks that are not game regulation size or shape. Please contact our staff for a quote on your ice rink project, we are eager to price your job.
DasherAds™ PRO standard sizes:
Item
Size
Over Laminate
DAPRO48
30″ high x 48″ wide
3 Mil Conformable.
Protects from Puck and Stick marks.
DAPRO72
30″ high x 72″ wide
3 Mil Conformable.
Protects from Puck and Stick marks.
DAPRO96
30″ high x 96″ wide
3 Mil Conformable.
Protects from Puck and Stick marks.
DAPRO120
30″ high x 120″ wide
3 Mil Conformable.
Protects from Puck and Stick marks.
DAPRO144
30″ high x 144″ wide
3 Mil Conformable.
Protects from Puck and Stick marks.
DAPRO192
30″ high x 192″ wide
3 Mil Conformable.
Protects from Puck and Stick marks.
Need In Ice Logos for your rink? Check out our IceFab brand >
"Making Your Visions Come To Ice"™
Contact your Ice Rink Specialists for a quote on your dasher board graphics project. Shoot us an email or fill out our online form, or call us at 757-593-8580
What kind of art files do we need to produce your Dasher Board Graphics?
Please see our submit files page for more details >
The following file formats are preferred, because they result in higher quality decals, and do not result in file degradation when enlarged to full print size. Which is what we are trying to produce, perfect dasher board graphics!
Adobe Illustrator AI, EPS, CDR or PDF Vector Outline Line File
The above file formats listed are Vector line file formats. For dasher board graphics art, the files can include a bitmap image however, they need to be high enough resolution that when enlarged to finished print size the resolution must be at least 100-150 dpi.
Please convert all fonts to outlines.
When your Graphic Designer sets ups your files, it is very important that all files have their fonts converted to outlines, because it is not possible for DDI Signs to have all available fonts. Converting fonts to outlines ensures that your dasher graphics print the way you want them too.
Using fonts in your art probably is something you'll do automatically. Everybody uses them. You just need these fonts to be converted to outlines. However, we noticed that lots of people do not do this when setting up art files. That makes  it hard to set up printer RIP files, especially if we do not have the font on our system, which is virtually impossible as their are thousands of them. That's why it is best to convert your fonts into outlines.