Paper Pounce Patterns for Hand Painting Signs, Logos and Murals.
DDI Signs ® Paper Pounce Patterns are digitally printed and reusable.
Our stencils and paper pounce patterns are used to hand paint logos, lettering and graphics onto walls, floors and other surfaces.
Paint your school's mascot all over campus, paint a building mural or paint a logo on your basketball court or ice rink.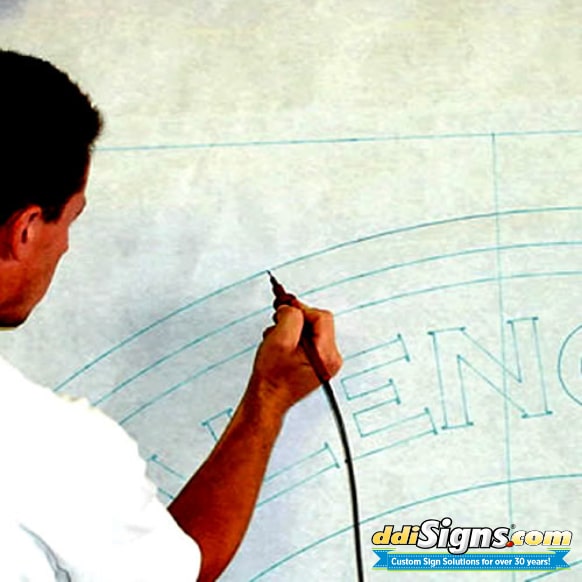 Paper Pounce Patterns and Mural Pounce Stencil
Pounce Patterns that transfer images to wall and floor surfaces for hand painting. Paint large logos, graphics, wall murals and signage.
DDI Signs Paper Pounce Patterns are used by Sign Painters, Mural Artists, and Professional Painters around the world. Our perforated prints make it easy to transfer large artwork designs, logos and images to surfaces. Patterns are taped in place and a chalk bag is used to force the chalk thru the perforation and onto the surface. When the paper print is removed a chalk outline is left for the painter to follow.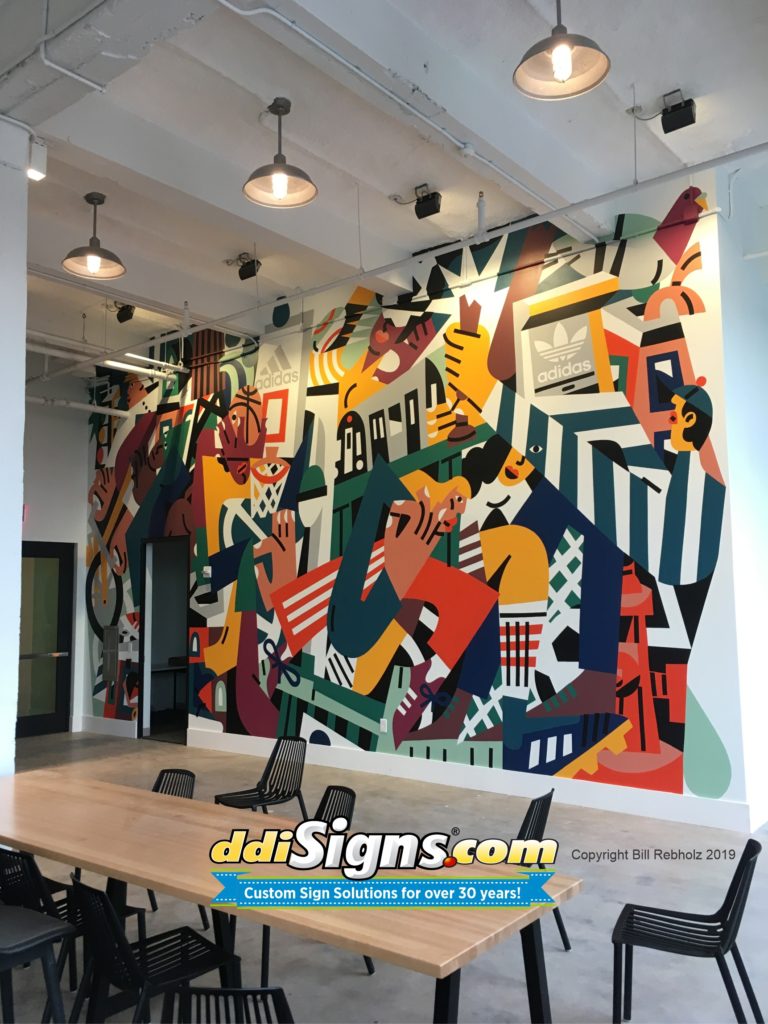 Above photo is the finished work of artist Bill Rebholz. He used our paper pounce pattern to transfer an outline onto the wall so he could hand paint it.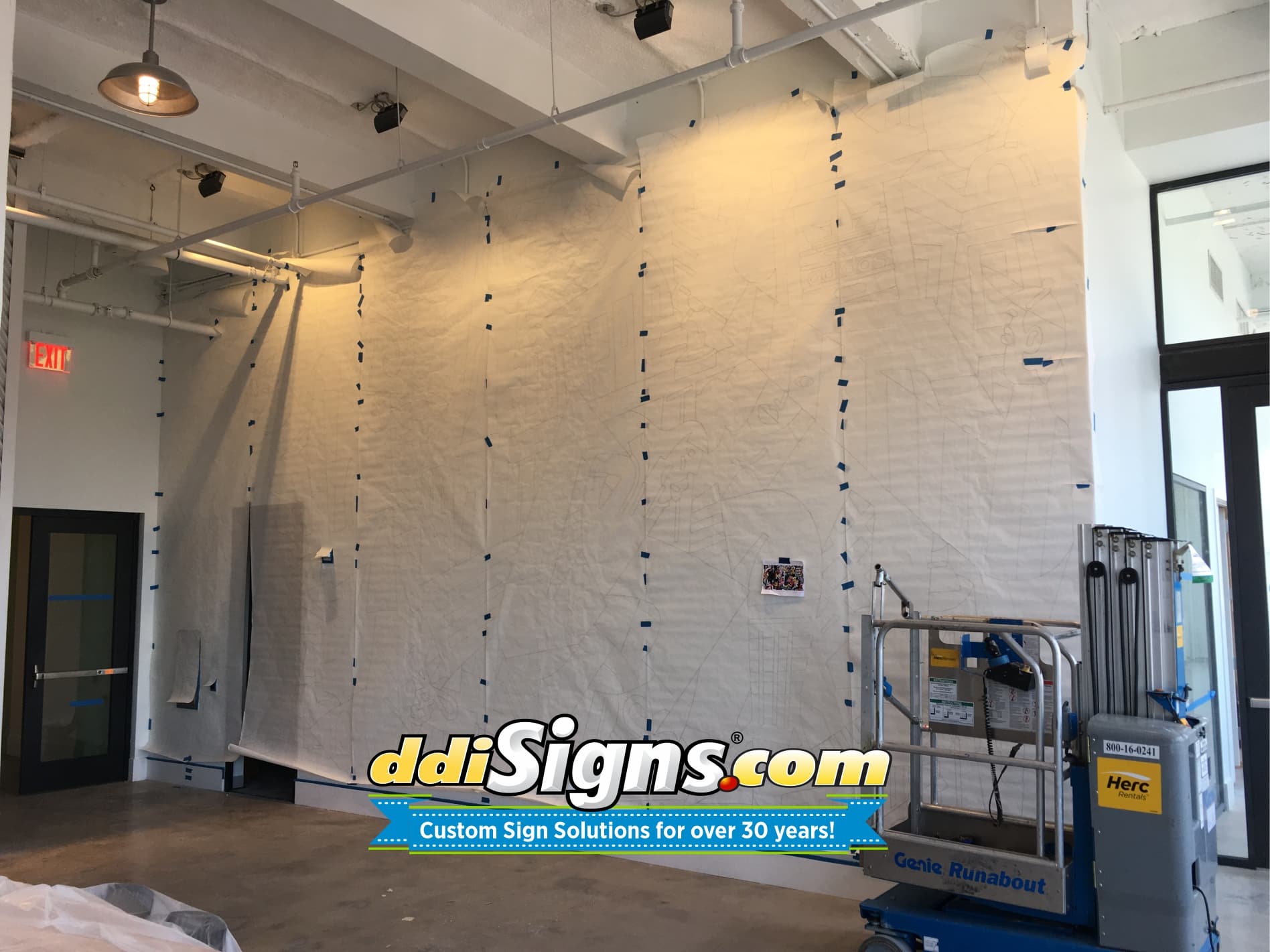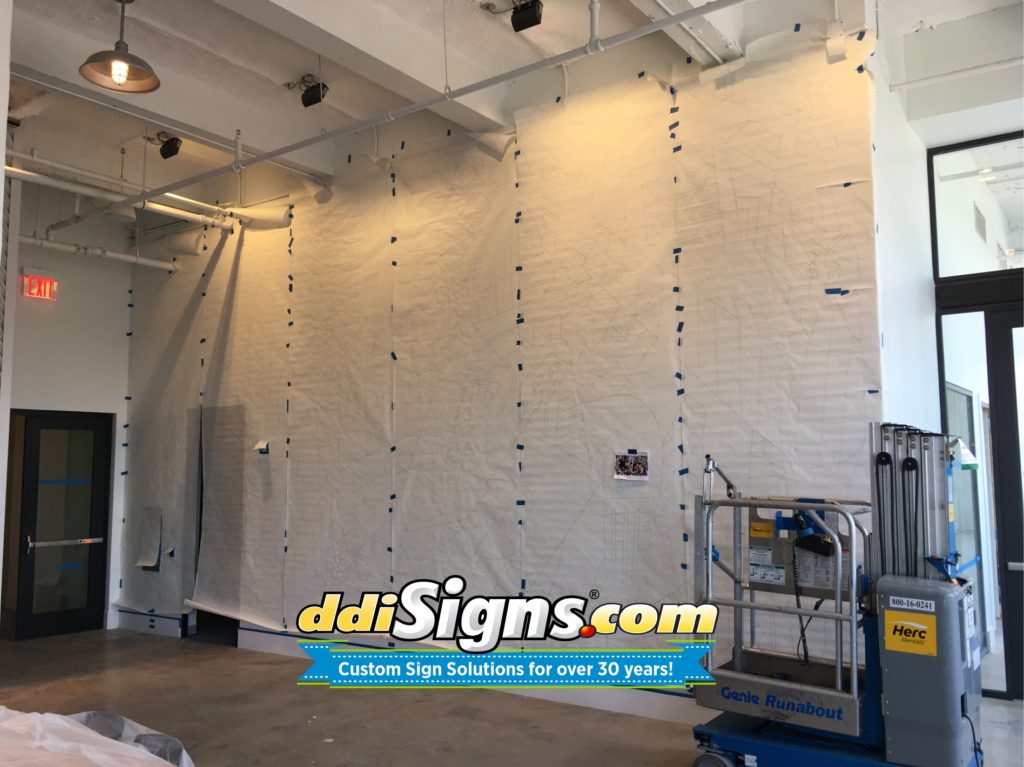 58″ wide panels are taped in place. Then the pattern is pounced with a chalk bag.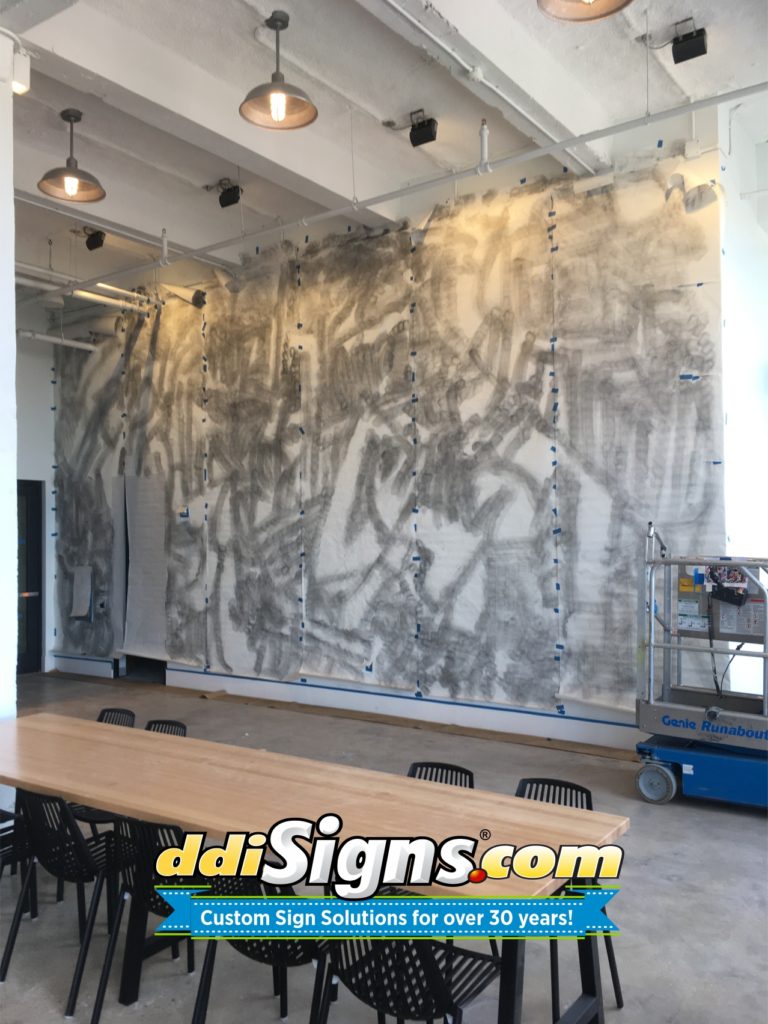 Advantages of DDI Signs® Paper Pounce Patterns:
Digitally printed – not hand drawn.
High quality pounce paper – NOT BROWN KRAFT PAPER.
Pounce patterns are REUSABLE.
We print a grid on our patterns for easy alignment of tiled panels.
No size limit – large logos printed in tiled panels.
Used to paint logos on multiple surfaces and wall murals.
Light weight and easy to handle.
We provide a color print out to assist installers handling the painting.
Also, a to scale layout proof is provided before production for approval.
Fast turn around and delivery.
Finally, best of all they are AFFORDABLE!
Now available up to 60″ wide tiled panels.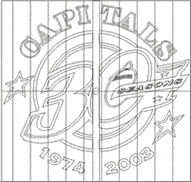 What is a paper pounce pattern?
Sign Painters have used pounce patterns for decades. Most notably as a way to transfer images, logos and lettering onto surfaces for hand painting.
Innovation and old school techniques
Even with all of today's technologies sometimes it is still better to paint a job by hand. The painting will last longer and for some applications it is the only way to produce it in a cost-effective way.
Also, before inkjet printers, Sign Painters used this method for almost every kind of sign they produced from giant billboards to window lettering and small office signs.
Schools use our patterns to paint logos and mascots thru out there building. Also, paper pounce patterns make it easy to paint large wall murals, building signs, window lettering and floor logos.
The process for making and using a paper pounce pattern to hand paint logos and lettering.
For example, a school wants to paint their logo or mascot all over the school grounds, cinder block walls in the gymnasium, on the basketball court floor for a center faceoff circle logo.
The customer supplies the desired logo, wording or mascot in a digital file that is Vector. This means the file is a line file and not a bitmap or raster file.
Then the file is sized in graphic software to the finished size to be printed out. Also we include a grid pattern on this for easy alignment.
Next, we digitally print the file out on to the paper.
The image is perforated with an electric pounce that burns tiny holes in the paper that follow the image that was printed.
Then the paper pounce pattern is taken to the job site and positioned where you want to paint. Tape the pattern into position and use the chalk bags to tap on the pattern where the perforated holes are. Do this for the entire pattern making sure you do not miss an area. When you a re sure this has been done, remove the Paper Pounce Pattern.
There will be a ghost image from the chalk outlining your logo, lettering or mascot.
Finally, it is time to hand paint your graphics. Pattern can be reused so you can paint the same image on different surfaces.
How to submit your files for pounce patterns.
Please see our Submit Files page for complete file guidelines.
We need VECTOR files – Adobe Illustrator Ai, EPS or Corel Draw.
Also, all files must have fonts converted to outlines.
* NO raster/bitmap images. Website images are not acceptable.
Experience, Knowledge and Innovation
At DDI Signs ® we are not just a digital print company; we actually hand paint sports logos and ice logos. Also, we understand the process and the need for high quality materials.