DDI Signs®specializes in Hand Painted Basketball Court Logos and floor graphics for wooden sports flooring.
We hand paint your Team logo or school name then graphics are sealed with a clear.
Hand Painted Basketball Floor Graphics.
Our hand painted logos are a permanent way to display your school mascot or team name.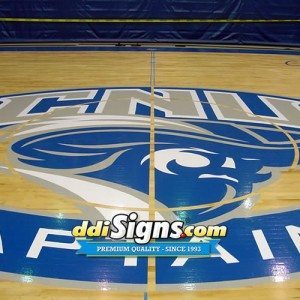 Hand Painted Basketball Floor Logos
DDI Signs® has over 30 years of experience in the sign industry.  When we started out we were skilled in hand lettering and hand drawn designs. Having this old school background gives us an advantage over other companies. We understand how to display your logo or brand in the most effective way using proper design guidelines.
If you want to paint your logos yourself we offer:
Paper Pounce Stencils – These are reusable so you can paint your team or school logo all over campus.
Cut Vinyl Stencils – For Hand Painting logos and team names. These are not reusable but offer a clean sharp logo or lettering.
or we offer Floor Graphic Decals for temporary use >
Please see our Submit Files page for complete file guidelines.
We prefer VECTOR files – Adobe Illustrator Ai, EPS or Corel Draw.
All files must have fonts converted to outlines.
Properly converted vector line files are preferred because there is no image degradation when enlarged.
* If raster/bitmap images are submitted please make sure our resolution and file guidelines are followed. Website images are not acceptable.