Painted Basketball Floor Logos, Advertising and Lettering for Courts.
For over 30 years DDI Signs has been offering hand painted signs and team logos. Custom Basketball Court lettering and graphics that jump out at you. We understand how to display your logo or brand in the most effective way using proper design guidelines.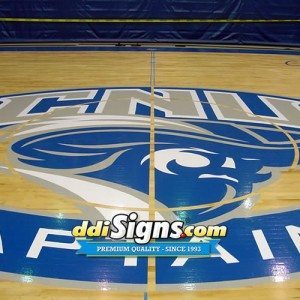 Painted Basketball Floor Logos
Vinyl Cut Stencils or Paper Pounce Patterns for hand painting logos and advertising on Basketball Court Floors.
In the past, court signage was pretty much limited to hand painted logos. While other decal options are available, sometimes it is still better to hand paint them.  DDI Signs Painted Basketball Floor Logos combine our Old School Knowledge with Modern Day Techniques.
If you want to paint your logos yourself, we offer:
Paper Pounce Stencils – These are reusable so you can paint your team or school logo all over campus. Paper Pounce Painted Basketball Floor Logos are a cost-effective way to make you court stand out. Pounce patterns allow you to transfer logos and lettering to the court surface with chalk, then you follow the lines to paint.
Cut Vinyl Stencils – For Hand Painting logos and team names. These are not reusable but offer a clean sharp logo or lettering.
or we offer Floor Graphic Decals for temporary use >
Please see our Submit Files page for complete file guidelines.
We prefer VECTOR files – Adobe Illustrator Ai, EPS or Corel Draw.
All files must have fonts converted to outlines.
Properly converted vector line files are preferred because there is no image degradation when enlarged.
* If raster/bitmap images are submitted please make sure our resolution and file guidelines are followed. Website images are not acceptable.