Why choose DDI Signs® for Your Sports Related Floor Decals & Graphics?
We have been providing Custom Sports Floor Graphics and Decals solutions since 1993. Our Sign Experts can help you with the correct product for your needs.
DDI Signs ® is a leader in providing innovative and creative solutions to the Sports Industry. Offering a complete line of products specifically designed for sports floor logo markings and basketball court graphics. Our floor graphics decals are ideal for use on sports arena floors, gymnasium floors, hallways, fitness center floors, rec center graphics, arena steps, concourse walkways, concrete floors, basketball center court logos and sponsor ad graphics and many types of sports floors.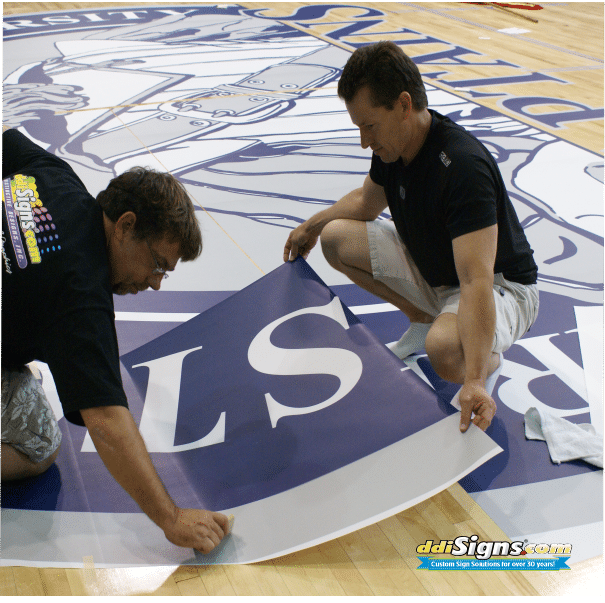 Indoor Sports Floor Decals and Floor Graphic Advertising:
Perfect for Court logos, Graphics and Sponsor Ad Decals!
Removable leaving little or no adhesive residue.
UL approved slip resistant over laminate.
Digitally printed – full color and high resolution.
No color limitations – photographic quality.
Installation is easy and clean.
Floor decals can be printed on a clear or white vinyl.
Custom contour cut to any shape floor graphic.
Can be applied to variety of smooth sports surfaces.
No limit on quantities or size.
Larger floor decals are tiled in easy to install sections.
Explore some examples of our custom ground imaging decals for indoor and outdoor uses.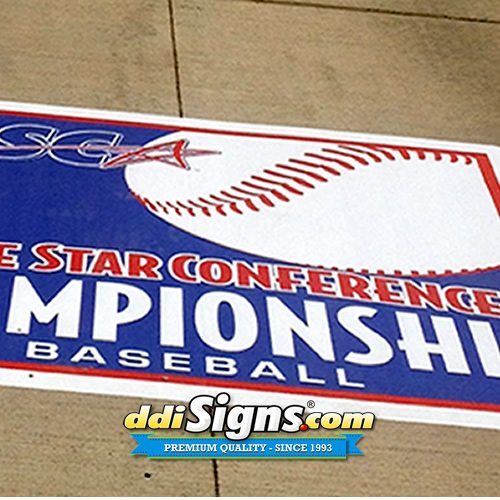 Ultimate Outdoor Sports Ground Decals
An Innovative Ground Imaging Decal that is Aluminum Foil Based and has a non-slip Glass Bead top coat. Perfect solution for Road Races and Outdoor Sporting Events.
Floor Graphics that adhere to Asphalt, Brick, Concrete, Pavement, Sidewalk and Tile Surfaces. Our aluminum-based floor decal is totally green and can be recycled with normal aluminum at recycling centers.
These specially formulated aluminum asphalt & concrete decals are foil-based floor graphics. They can be applied to and form to uneven and rough surfaces.
The innovative coating provides excellent anti-skid performance under wet and dry conditions. Perfect for Pool Decks!
Lasts 6 months to 1 year under normal pedestrian traffic.
Made in the USA!
Click here for more info about our Outdoor Ground Decals >
Contact DDI Signs® today and our Sports Floor Graphics and Team Logos Experts will help you put together custom signage to suit your needs!
At DDI Signs® we are "Not Your Typical Sign Company!"