What are some creative placement and uses of our Custom Floor Decals, Floor Signs and Floor Graphics?
All of our floor decals are removable and we have several materials that adhere to multiple surfaces. We have custom floor decals that will stick to indoor and outdoor smooth surfaces, low pile carpeting, concrete, asphalt, pavement, and tile. Additionally, we can custom contour cut decals to shapes. For rough and uneven surfaces we offer our Eco-friendly Aluminum Foil Based Decals.
Make your decals stand out with custom border contoured graphics. Stunning graphics that will not be overlooked.
Below are some creative uses of our floor graphic decals, with ground graphics at your feet the branding possibilities are endless.
Retail Store Floor Sponsor Ads
Put your brand directly at your customer's feet. Grab their attention while they shop, then finish the sale with Retail POP Floor Graphics. Find out more about increasing your brand awareness. Click here for more info >
Wayfinding Floor Direction and Footprint Decals
Footprint Floor Decals are a unique way to direct people where to go. Follow me and point me arrow location decals added to other wayfinding signage offers a complete waymarking solution. More info >
Selfie Spot Floor Decals
Mark the spot with a custom Selfie Spot Decal. Target your brand to the millennial's and younger crowd by expanding on the selfie craze. More Info > 
Sporting and Special Event Waymarking
Place decals along the path of a race so participants know where to go. Or are motivate them to perform their best. In addition, Sponsor ads can be positioned at events to promote your brand. Other sports related floor decal uses include Basketball Court Logos and Sponsor ads, Arena Indoor and Outdoor Floor Branding, and Multi Court Floor Logos. Sports Floor Decals  >
Special Occasion Floor Decals
Celebrate your special day with Custom Floor Decals. Whether it is your wedding, anniversary, or birthday floor graphic offer a unique way to decorate with a special logo and colors. More on special event floor decals >
Asphalt, Pavement, and Sidewalk Branding
Innovative foil based decals that stick to outdoor surfaces like concrete, asphalt, pavement, streets and sidewalks.
Step on over to innovative signage solutions by DDI Signs®

We specialize in providing premium quality custom floor decals. Contact us today by  email  or 757-593-8580 and we will help you select the right Floor Decal solution for your project.
What kind of custom floor materials are available for your next ground branding project?

We have several kinds of Indoor and Outdoor materials that we print our custom floor decals for businesses, retail, corporate or personal home use. At DDI Signs® we are floor signage experts! We can help you figure out what floor decals solution is right for your project.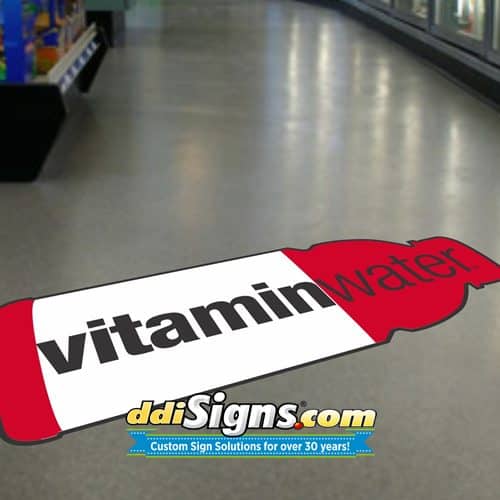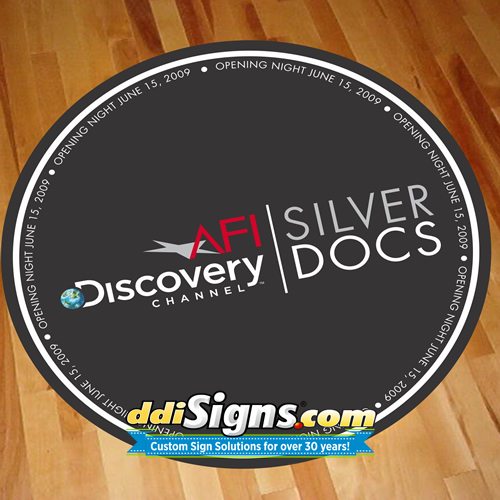 Indoor Custom Floor Graphic Decals
White or Clear Custom Floor Decals and Graphics with a Removable Adhesive. Non-slip over laminate. Contour cut to shape.
This is our most popular floor graphic material. A 3 Mil specially formulated adhesive vinyl made to adhere to smooth flooring.  UL approved nonslip over laminate. Also, we contour cut to virtually any shape for unique floor ads.
Indoor Custom Floor Decals features:
Premium quality vinyl decal with removable adhesive.
Slip resistant protective over laminate top layer.
Printed on state of the art equipment resulting in high-resolution photo quality decals.
UV protective inks with vibrant colors.
Our print technicians match your Pantone branding colors.
Floor decal material available in White or Clear.
Additionally, we have the ability to print white ink on clear floor decal material.
Custom contour cut to almost any shape.
Easy to Install and are removable, leaving little or no glue residue.
Also applied to a variety of smooth surfaces.
No minimum quantity limits.
Finally, Larger floor decals are printed in tiled panels for easy installation.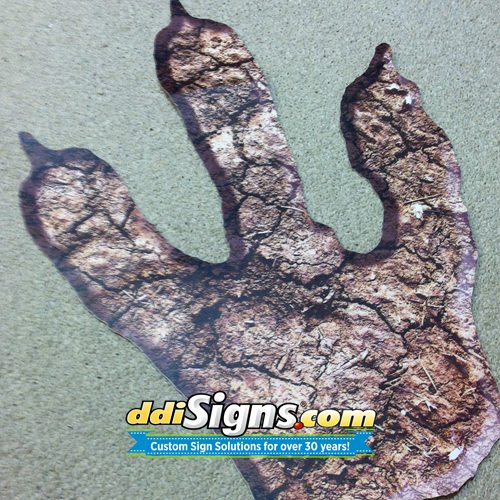 White Carpet Floor Decals with High Tack Adhesive
Special adhesive for low pile carpeting for displaying at events and special occasions.
Temporary decals for carpeting. 3 Mil specially formulated adhesive vinyl made to adhere to low pile carpeting.  UL approved nonslip over laminate. Additionally, we contour cut to virtually any shape for unique carpet ads.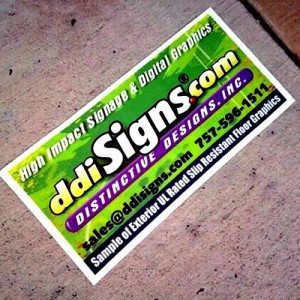 Outdoor Sidewalk and Concrete Custom Floor Decals
White Outdoor Custom Floor Decals with a special adhesive that sticks to the pavement.
Specially formulated decal that adheres to smooth tile, asphalt, and concrete. Used for special event graphics and is an ideal solution for wayfinding uses. Decal is protected with a slip resistant top layer. Also, are easily removed with little or no glue residue left behind.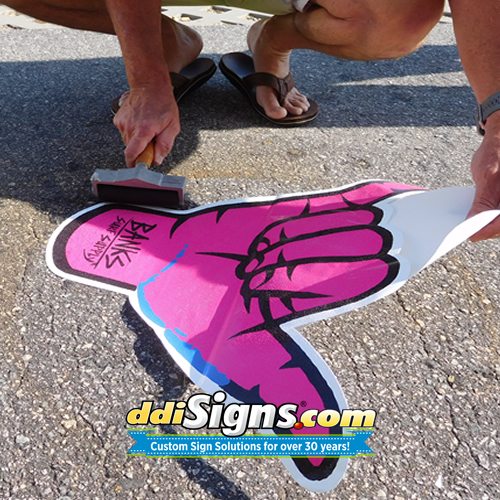 Aluminum Asphalt, Pavement & Sidewalk Decals
Aluminum foil based decal with the addition of glass beads embedded in the nonslip surface. Especially relevant is that we can contour cut the decals to shapes. An eco-friendly decal that can be recycled.
White specially formulated decal. Has an Aluminum Foil Base. Adheres to brick, asphalt, tile, and rough concrete. Innovative top coat for slip resistant surface. Used for special event graphics. NOTE: To remove simply pull up from the corner. AF formula holds together for easy removal. Graphics can be recycled.  
Floor Imaging Decal Uses:
Many businesses and corporations use our aluminum asphalt and concrete decals to bring their branding to life!
Outdoor Special Events
Sports Venues& Events
Road Races & Marathons
Parking Lot Signage
Path Finding Signs
Pool Deck & Tile Signs
Markets & Street Events
Warehouse Safety Signs
Warehouse Way-finding
Path Marking
Street Graphics
Road Signage
Cinder Block Wall Signs
Entrance Sidewalk Signs
Concrete Pole Signage
Brick Wall Murals & Signs
Walkway Directional Signs
City & Government Signs
Retail Store Branding
Exterior Floor Graphics
Outdoor Floor Decals
School Playground Games
Hopscotch Game Graphics
Fitness Facilities Floor Graphics
Selfie Spot Decals
Destination Road Markings
Take a step forward with Floor Imaging that puts your brand in the visual pathway ahead!
At DDI Signs® we are "Not Your Typical Sign Company!"