Custom Floor Decals placed on flooring for wayfinding, special events, promotions or advertising.
Step up you're advertising and brand recognition with custom floor decals and graphics.  An innovative way to display your design, photo, brand or logo ad at your customer's feet.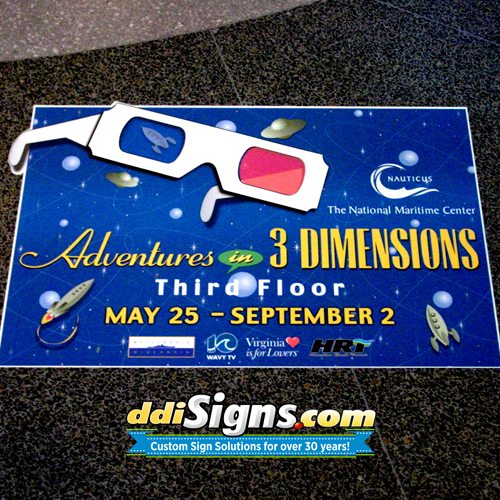 DDI Signs has been offering custom floor decals and graphics for over 30 years. We stay up to date on the latest materials and research innovative ways to display floor decals. Click here for our Floor It blog post >
Custom Floor Decals
Retail Floor Graphics, Carpet Decals, Pavement Stickers, Asphalt Decals and Sidewalk Graphics.
What better way to get your message across with this unique form of advertising. Used by businesses, museums, retail stores, office complexes, schools, universities, and corporations. Additionally, they are perfect for  wayfinding directional signs, event promotion, retail sponsor advertising, and floor decoration.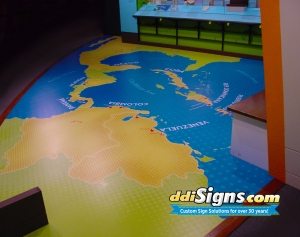 Also, all of our floor decals are removable and we have several materials that adhere to multiple surfaces. We have custom floor decals that will stick to indoor and outdoor smooth surfaces, low pile carpeting, concrete, asphalt, pavement, and tile. Additionally, we can custom contour cut decals to shapes.
For rough and uneven surfaces we offer our Eco-friendly Aluminum Foil Based Decals.
Make your decals stand out with custom border contoured graphics. Also, resulting in stunning graphics that will not be overlooked.
Below are some creative uses of our floor graphic decals
Retail Store Floor Sponsor Ads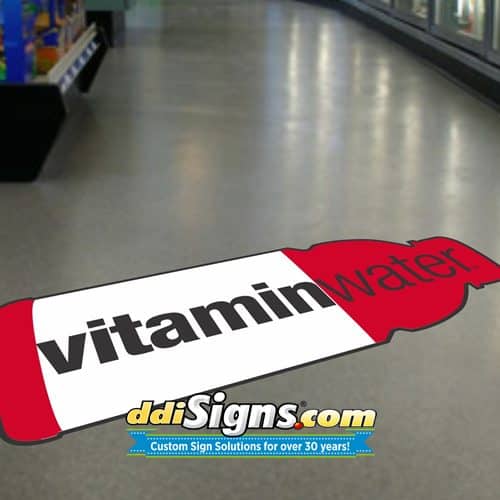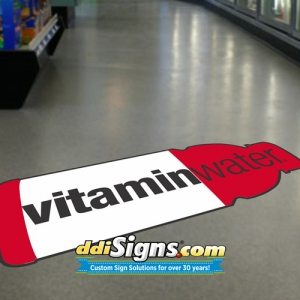 Put your brand directly at your customer's feet. Grab their attention while they shop, then finish the sale with Retail POP Floor Graphics. Find out more about increasing your brand awareness. Click here for more info >
Wayfinding Floor Direction and Footprint Decals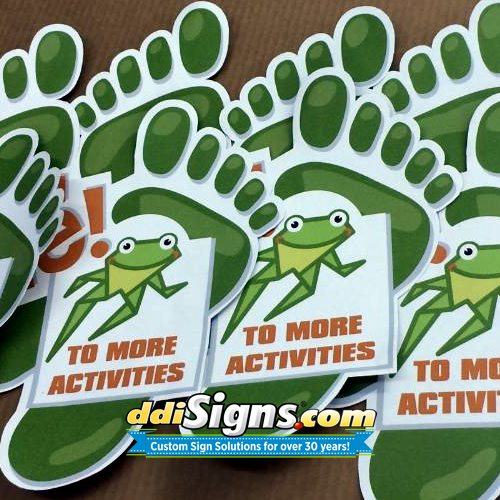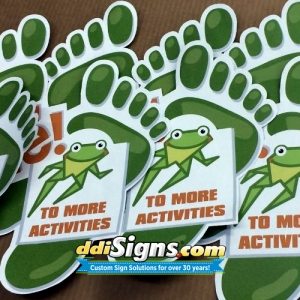 Footprint Floor Decals are a unique way to direct people where to go. Follow me and point me arrow location decals added to other wayfinding signage offers a complete waymarking solution. More info >
Selfie Spot Floor Decals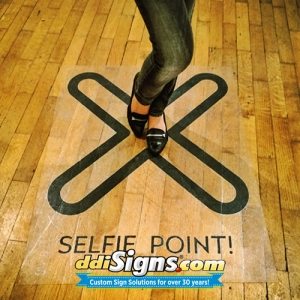 Mark the spot with a custom Selfie Spot Decal. Target your brand to the millennial's and younger crowd by expanding on the selfie craze. More Info > 
Sporting and Special Event Waymarking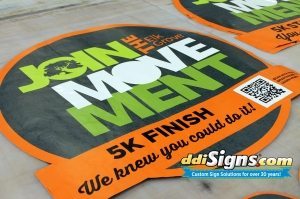 Place decals along the path of a race so participants know where to go. Or are motivate them to perform their best. In addition, Sponsor ads can be positioned at events to promote your brand. Other sports related floor decal uses include Basketball Court Logos and Sponsor ads, Arena Indoor and Outdoor Floor Branding, and Multi Court Floor Logos. Sports Floor Decals  >
Special Occasion Floor Decals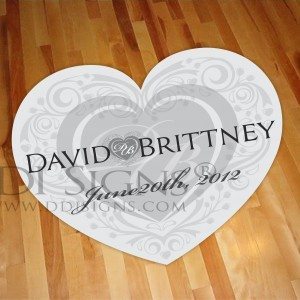 Celebrate your special day with Custom Floor Decals. Whether it is your wedding, anniversary, or birthday floor graphic offer a unique way to decorate with a special logo and colors. More on special event floor decals >
Asphalt, Pavement, and Sidewalk Branding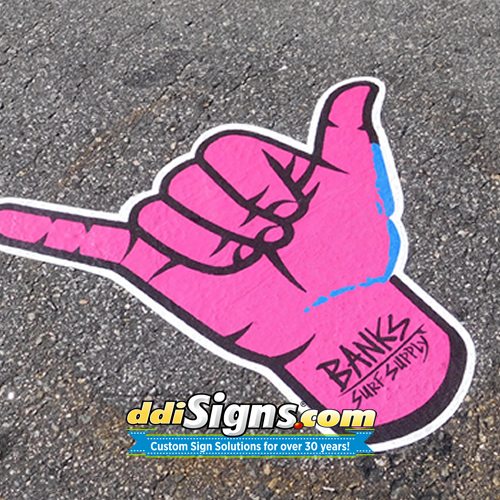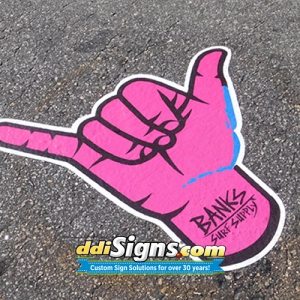 Innovative foil based decals that stick to outdoor surfaces like concrete, asphalt, pavement, streets and sidewalks.
Step on over to innovative signage solutions
DDI Signs specializes in providing premium quality custom floor decals. Contact us today by  email  or 757-593-8580 and we will help you select the right Floor Decal solution for your project.
Available Custom Floor Decals Materials
Custom floor decals used in businesses, retail, corporate or personal home use. Removable for special events like birthdays and weddings.
Indoor Custom Floor Graphic Decals
White or Clear Custom Floor Decals and Graphics with a Removable Adhesive. Non-slip over laminate. Contour cut to shape.
This is our most popular floor graphic material. 3 Mil specially formulated adhesive vinyl made to adhere to smooth flooring.  UL approved nonslip over laminate. Also, we contour cut to virtually any shape for unique floor ads.
Indoor Custom Floor Decals features:
Premium quality vinyl decal with removable adhesive.
Slip resistant protective over laminate top layer.
Printed on state of the art equipment resulting in high-resolution photo quality decals.
UV protective inks with vibrant colors.
Our print technicians match your Pantone branding colors.
Floor decal material available in White or Clear.
Additionally, we have the ability to print white ink on clear floor decal material.
Custom contour cut to almost any shape.
Easy to Install and are removable, leaving little or no glue residue.
Also applied to a variety of smooth surfaces.
No minimum quantity limits.
Finally, Larger floor decals are printed in tiled panels for easy installation.
White Carpet Floor Decals with High Tack Adhesive
Special adhesive for low pile carpeting for displaying at events and special occasions.
Temporary decals for carpeting. 3 Mil specially formulated adhesive vinyl made to adhere to low pile carpeting.  UL approved nonslip over laminate. Additionally, we contour cut to virtually any shape for unique carpet ads. Click here for more info >
Outdoor Sidewalk and Concrete Custom Floor Decals
White Outdoor Custom Floor Decals with a special adhesive that sticks to the pavement.
Specially formulated decal that adheres to smooth tile, asphalt, and concrete. Used for special event graphics and is an ideal solution for wayfinding uses. Decal is protected with a slip resistant top layer. Also, are easily removed with little or no glue residue left behind. Click here for more info >
Ultimate Custom Floor Decals AF
Aluminum foil based decal with the addition of glass beads embedded in the nonslip surface. Especially relevant is that we can contour cut the decals to shapes. An eco-friendly decal that can be recycled.
White specially formulated decal. Has an Aluminum Foil Base. Adheres to brick, asphalt, tile, and rough concrete. Innovative top coat for slip resistant surface. Used for special event graphics. NOTE: To remove simply pull up from the corner. AF formula holds together for easy removal. Graphics can be recycled.  Click here for more info >
Who uses our floor graphic decals:
Grocery Stores, Convenience Stores, Restaurants, Retail Stores, Sports Teams, Musicians and Bands, Universities and Colleges, High Schools, Sports Arenas and Venues, Theater and Stage Companies, Restaurants and Food Industry, Wine and Spirits Industry, Casinos and Gaming, Hotels and Lodging, Celebrity Press Interview, Municipalities and Government, Corporations and Business, Entertainment Industry, Record and Music Industry, Movie Companies, Television Shows, Retail Stores and Shops, Special Event Industry, Marketing, and Ad Agencies.
Pantone Color Matching
We match to your Pantone Colors to ensure your branding is consistent. For an additional fee, we can provide printed samples of the material your project will be produced for color matching. This ensures it is printed correctly the first time.
We prefer VECTOR files – Adobe Illustrator Ai, EPS or Corel Draw.
All File Must Be Submitted in CMYK.
Pantone Colors Must Be Indicated for Color Matching.
All files must have fonts converted to outlines.
For an additional fee, Printed Samples for color proofing can be provided.