A new twist on the Selfie Photos craze!
You know you take them, admit it. Well why not use selfie spot decals to promote your brand, business or event. Mark the spot you want patrons to take photos with a decal at their feet. Your logos, backdrop or landmark you will get exposure on social media.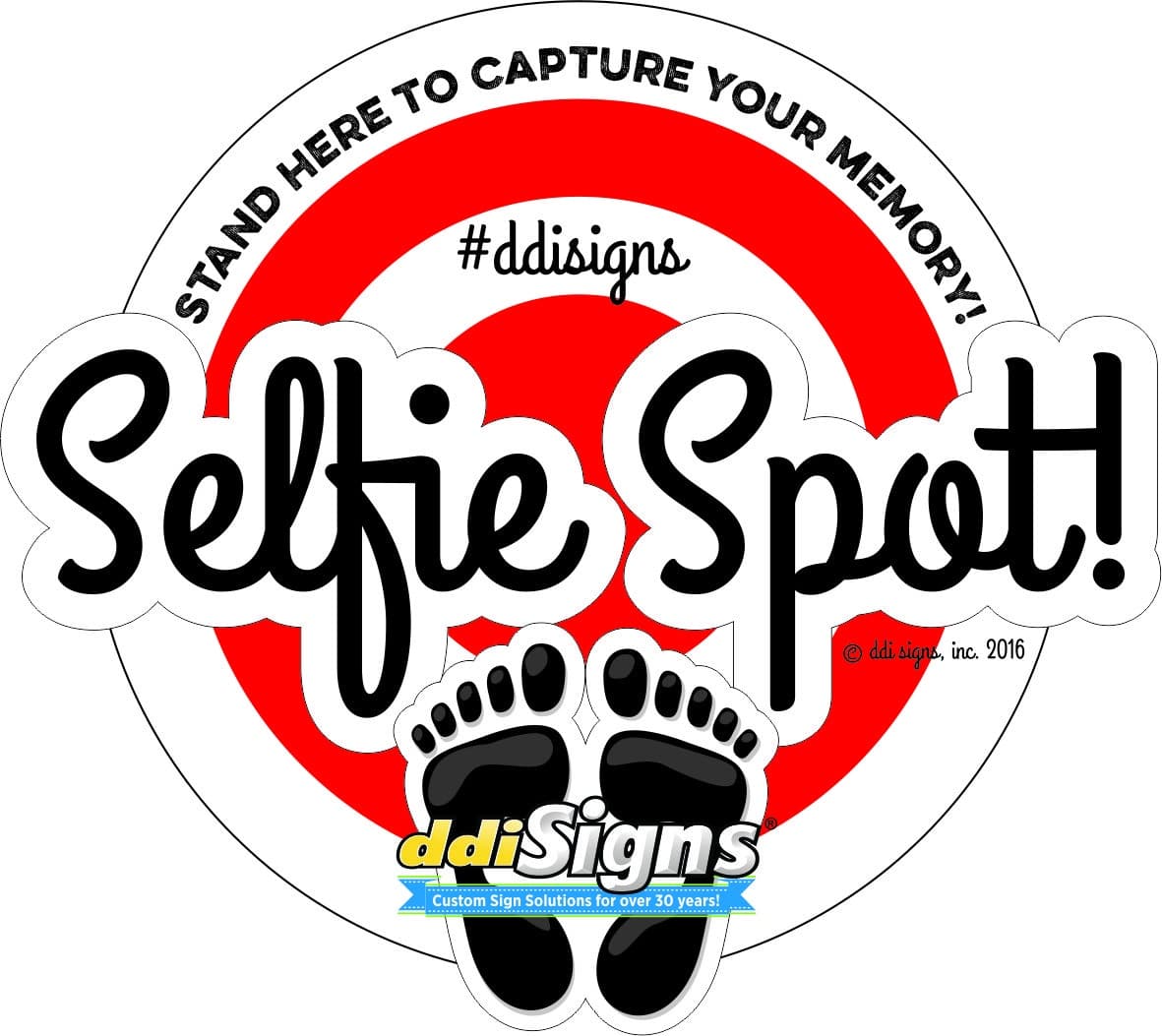 Custom Selfie Spot Decals
Innovative and cost plus way to promote your brand thru social media.
Seems like almost everyone is taking them. So why shouldn't you capitalize on the selfie photo craze today. DDI Signs is always looking for new and especially relevant ways to get your logo, business or brand in the spot light. Selfie Spot Decals are our newest most notable brand innovation.
Direct perspective customers or fans to a location using a selfie graphic. Let them know to stand here and capture a photo memory.  Your logo, brand or business is emphasized in the background. Finally, sit back and wait for the social media exposure and benefits.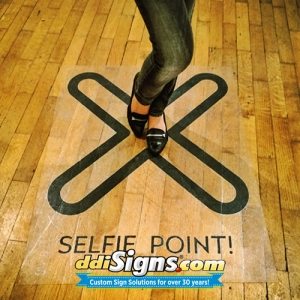 A Cafe owner wanted to increase traffic to her business. She placed a selfie decal in front of her shop window. The window has her logo and website on it. Also she placed a hashtag on the decal. When selfies are taken people can post images and tag them. Resulting in an increase of exposure and shop traffic. Creating instant social media content.
Or maybe you have an event and you want to direct people where to stand for a meet-and-greet . Using our selfie decals in addition to a backdrop banner offers the perfect solution. Additionally, combine this unique idea with our way-finding directional footprint decals for an awesome fan experience.
Selfie Spot Decals for asphalt, concrete, carpeting and flooring.
Eco-friendly and recyclable aluminum based floor decals.
Outdoor concrete, sidewalk and asphalt decals.
Indoor removable floor and carpet graphics.
Temporary event decals and graphics.
TAKE A STEP IN THE RIGHT DIRECTION
To request a quote for your project, complete our [email protected] today. We also encourage you to submit files, so that our sign experts can provide the right solution and materials for your project.