Short Term Carpet Decal Graphics for special events and wayfinding.
Our innovative carpet decals have a special adhesive that will stick to low pile carpet. This allows you to temporarily place advertising on carpet surfaces. Additionally, these carpet stickers can be used for wayfinding at special events. Made from premium quality materials and they have a non-slip top layer surface.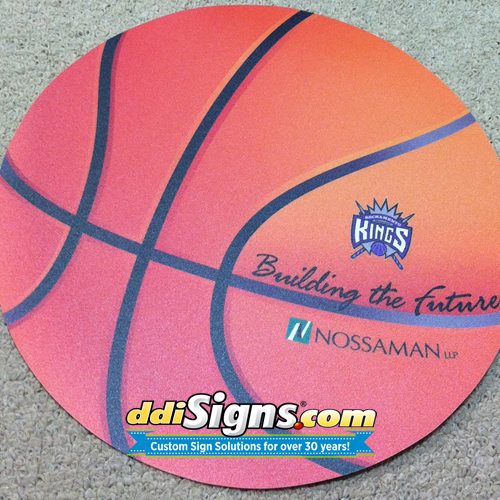 Carpet Decals & Stickers for Special Events
Key features of our Carpet Decals and Carpet Stickers for events and wayfinding: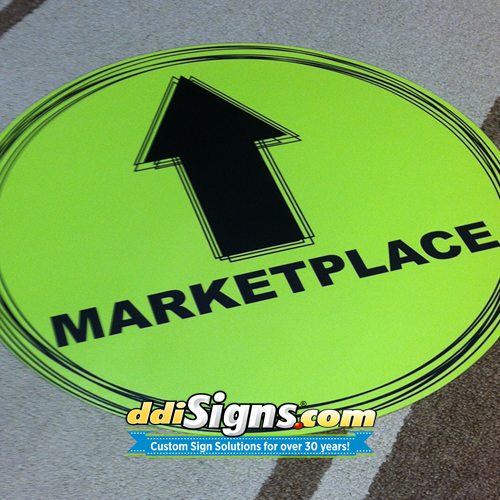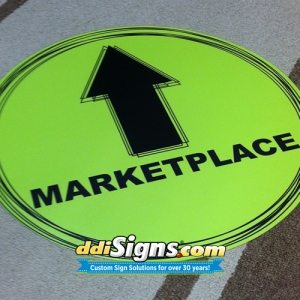 Temporary advertising that can be placed on carpeting
DDI Signs carpet decals are designed for use as temporary floor signs, decals, and point of purchase advertising. Made for commercial carpets with a short nap and a tight weave containing minimal texture. Carpet must be clean and free of debris before installation. Additionally, the carpeting must be attached to the sub-floor under it.
Non-slip top surface
Our carpet stickers have a U.L. rated overlaminate surface for additional safety. This is a textured top layer that provides a non-slip surface.
Contour cut carpet decals to just about any shape
State of the art equipment allows us to cut your decals into almost any shape.
Brand Logo Pantone Color Matching
We match to your Pantone Colors to ensure your branding is consistent. Also, for an additional fee, we can provide printed samples of the decals for color matching
Removable Carpet Decals
The combination of vinyl and adhesive allows removability of the film from most common commercial carpets under normal exposure conditions.  We recommend that you test our decal on your carpeting before using for an event.
Professional Design Services
If you do not have design services available to you, our graphic designers can create unique graphics for your carpet ad decals. DDI Signs has been making and designing floor advertising graphics for over 30 years. We offer unique carpet signs used for Trade Shows, Special Event, Point of Purchase Retail and Commercial events.
So if you are looking for a temporary decal that sticks to carpet, we have you covered.
Related Floor Graphic Products
Stepping on to Innovation
Contact DDI Signs for a free quote on your event carpet sticker decals. We are "Floor Sign Experts" and have been providing custom floor graphic solutions for over 30 years. We can be reached at 757-593-8580 or email us.
Click here to see our Submit Files page for complete file guidelines.
We prefer VECTOR files – Adobe Illustrator Ai, EPS or Corel Draw.
All File Must Be Submitted in CMYK.
Pantone Colors Must Be Indicated for Color Matching.
All files must have fonts converted to outlines.
For an additional fee, Printed Samples for color proofing can be provided.