What is a Floor Decal and Floor Graphic Wraps?
Great question! We simply take our floor graphic wraps material printed in tiled panels and wrap or cover smooth, clean flooring for a complete floor graphic or photo image flooring. We also offer Floor Decals if you do not need to completely cover your flooring.
We can wrap flooring indoors and outdoor using logos, graphics or photo images.
We can create unique floor graphics designs and decorations to emphasize your brand or special event. Enhance your homes decor with custom floor stickers!
There is no quantity or size limits, we install large graphics in tiled panels so you can wrap an entire room if desired. Our floor wraps have been installed in Museums, Retail Stores, Trade Shows, Airports, Sports Arenas and Entertainment Venues.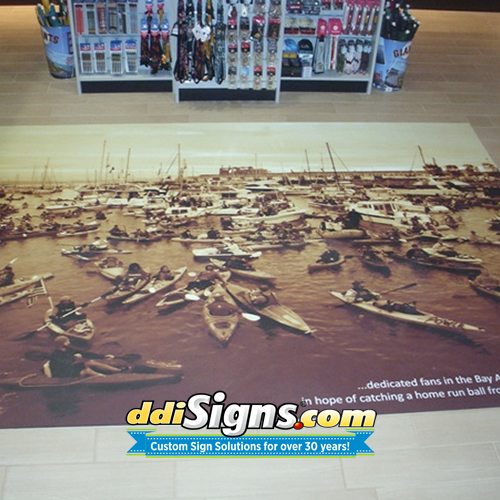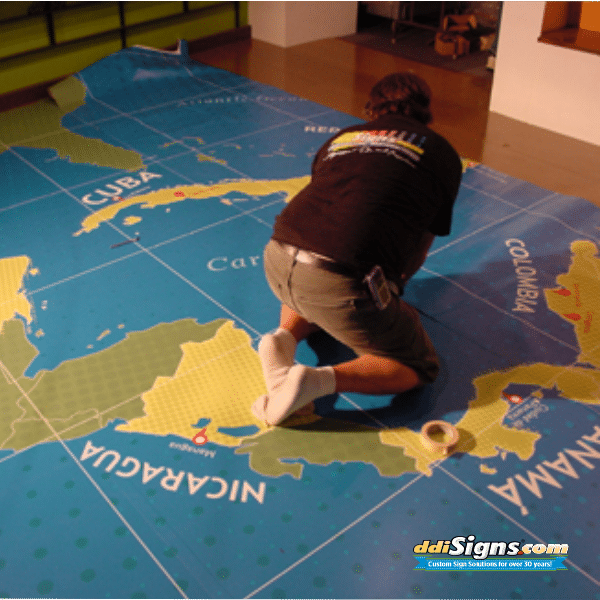 What kinds of materials are available for Floor Graphic Wraps?
We have several kinds from indoor removable floor decals to asphalt and concrete outdoor decals that stick to tile, pavement and sidewalks.
Indoor Removable Adhesive with Protective Over Laminate

We use a high quality floor decal material with a UL approved non slip over laminate.
Perfect for retail, business, restaurants, museums and anywhere you need a floor graphic.
Floor Graphics are an innovative way to get your customers attention, direct attendees to a special event or advertise your brand. Floor Graphics have been proven to increase sales in retail applications.
Complete your brand imaging with a giant logo wrapping your floor. Combine with signage for uniform promotion of your logo and brand.
Don't limit your next floor graphic project to plain design. Floor graphic decals can be designed to have a three-dimensional appearance that really draws people to them.
Create one of a kind hallway or path graphics. Our floor graphic wraps can be photographic images used to cover larger areas to give the appearance of being water, grass or any other surface.
Aluminum Foil Based Exterior Ground Imaging Decals
Innovative floor graphic materials that forms to asphalt, concrete, pavement, sidewalks and tile surfaces.
Wrap outdoor ground areas with giant decals and graphics. These heavy duty ground decals are specially made to withstand exterior conditions. Top layer is a glass bead texture for a non slip surface.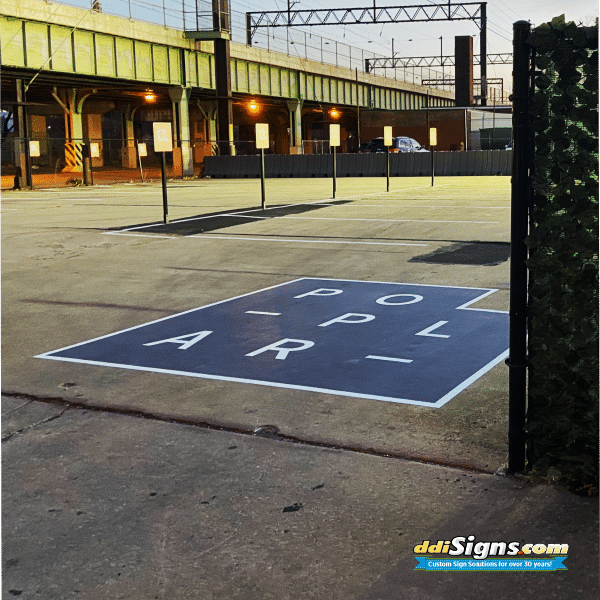 At DDI Signs® we are "Not Your Typical Sign Company!"