DDI Signs® creates amazing signage using durable PVC sheets that are directly printed with logos and branding.
Additionally, these Printed PVC Signs can be routed into shapes, logos and lettering then mounted together to create beautiful dimensional signage for indoor and outdoor uses.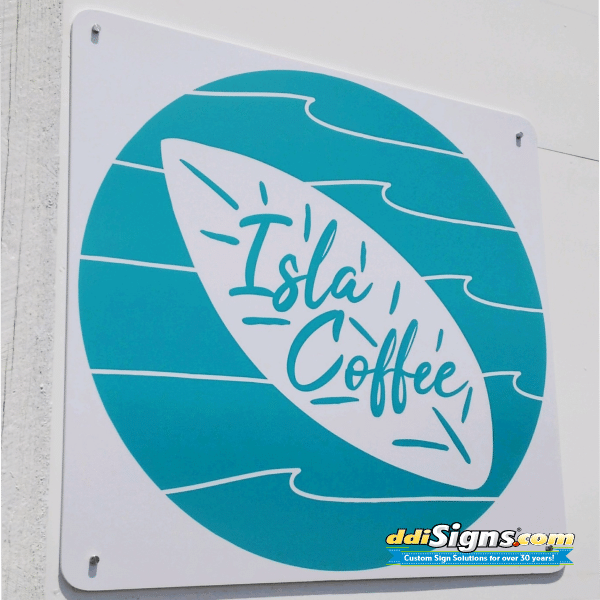 Custom routed shapes and logos from Printed PVC Signs.
PVC printed signs are a durable, rot resistant signage material option. We add a clear UV protective layer.
The sign on the left is an example of a 6MM Printed PVC panels with rounded corners and is an exterior sign. The same logo on the right is contour cut to the leaf shape and was used as an interior coffee shop sign.
Several thicknesses available
We offer standard thicknesses of 3mm and 6mm, however many other thicknesses are available.
Printed Routed Letters & Logos
DDI Signs can contour cut to just about any shape or logo. We can print vibrantly colored lettering then individually cut them out for raised lettering on signage and walls.
Flat printed PVC Panels
Maybe you just need graphics printed on to flat PVC panels. We can make signs up to 4′ x 8′ on a single panel. Larger signs can be produced in sections.
PVC Printed Signs are perfect for Wayfinding Signage Solutions.
Printing directly onto PVC offers unlimited options from multiple colors to images and wording with fading and highly detailed logos.
PVC sign materials is lightweight, yet durable wayfinding option.
We offer consistent branding and offer Pantone Color Matching.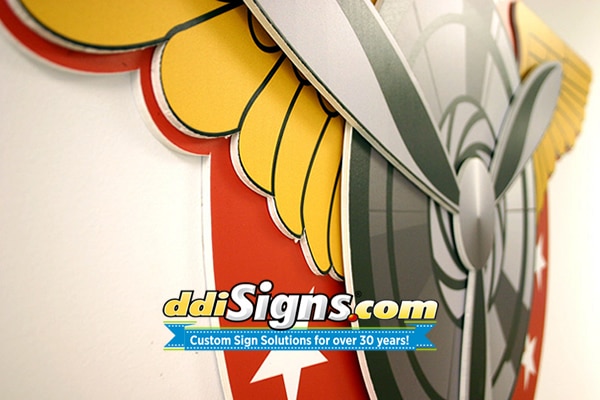 Bring your signage to another dimension by combining digitally printed graphics and routed designs.
Take logos and graphics and create added depth to your signage. Make flat graphics pop with multiple layers. Contact DDI Signs today and our sign experts can bring awesome help with your project!
Contact DDI Signs® today and our Printed PVC Sign Experts will help you with your project!
At DDI Signs® we are "Not Your Typical Sign Company!"