Custom Acrylic Signage
Clearly the most beautiful interior signs you will ever see. Graphics are reverse printed on clear acrylic panels adding depth and protection.
Our Printed Acrylic Signs offer a professional sleek sign solution for Offices, Buildings, Arenas and Entertainment Venues.
Innovative Acrylic Signage
DDI Signs® Interior Wall Mounted Acrylic Panels take your signs to the next level. Digitally printed on the reverse side with vibrant inks. Mounted on the wall surface offset with classy puck hardware for added dimension.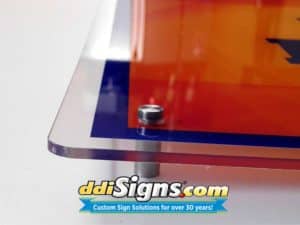 Our printed acrylic signs clearly offers an attractive solution designed to help your graphics shine. Vibrant Custom Signage !
Contact DDI Signs today for a quote on your interior acrylic sign project. Email us at [email protected] or phone us at 757-593-8580.