Why choose DDI Signs® Custom Printed  Acrylic Signs for your office project?

We combine vibrant digital printing and acrylic panels to create unique interior office and lobby signage. Our custom printed acrylic signs are polished, clean graphics that re-defines your workplace.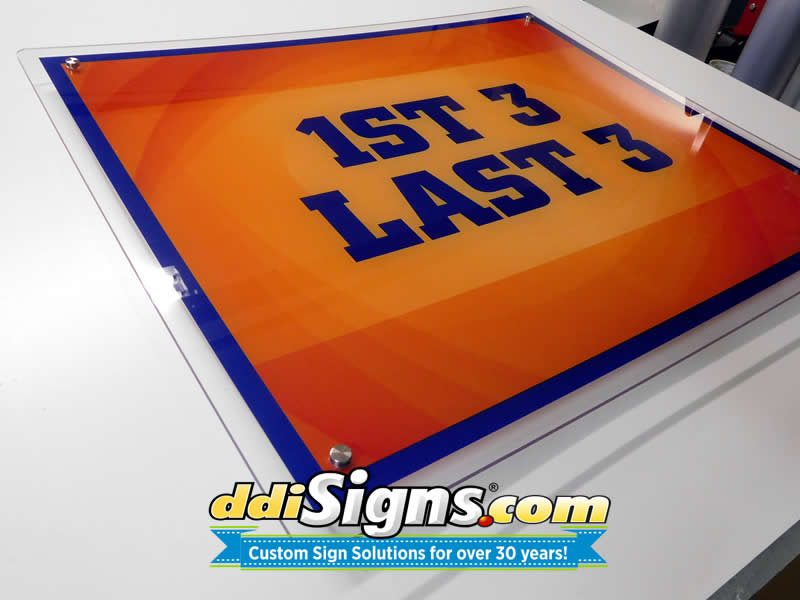 Our printed acrylic signs clearly offer an attractive solution designed to help your graphics shine. Vibrant Custom Signage!
If stunning signage is what you are looking for, these panels fit the bill. Moreover, our acrylic panels can be routed into custom shapes or logos, providing a unique emblem. Several thicknesses of material are available. Let one of our Sign Experts help you find the suitable depth for your project.
Imagine your office, building, or retail walls decorated with unique clear signage that jumps out to your visitors.
You are not just looking to buy a sign. You are buying a signage solution that will bring excitement and energy to your space. Our printed acrylic signs do just that, and more!
Our stylish metal stand off wall hardware works great with our printed acrylic panels. The metal spacer offsets the sign from the wall approximately 1″ then screw the face cap or puck into place to secure the sign at the corners.
Stand off hardware is available is several sizes and metal materials. This is just one option for wall mounting acrylic signage. Our Sign Experts can help you find the right hanging hardware for your situation.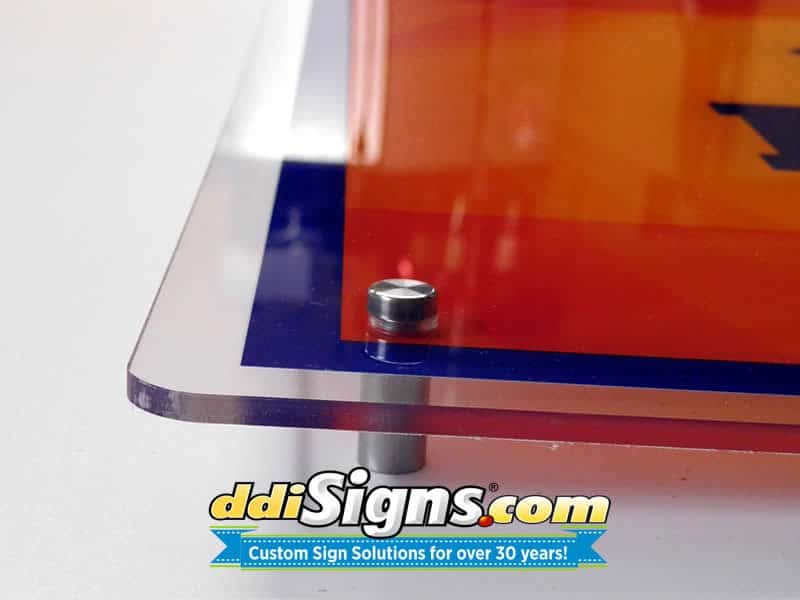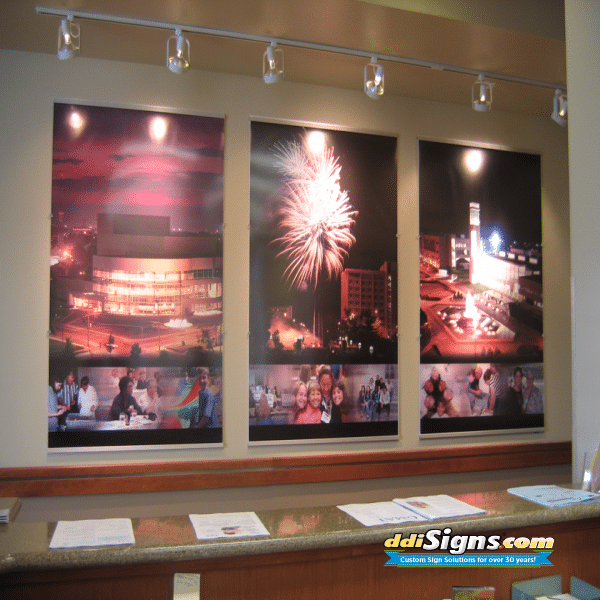 Acrylic Prints Displayed using our Photo Hanging Rails
Another innovative way to display your acrylic printed graphics is to use our Picture Wall Hanging Rail.  Sleek aluminum track that the printed graphics slide into from the side. We can print graphics that are up to 4′ x 8′ and our photo track is custom cut to desired size.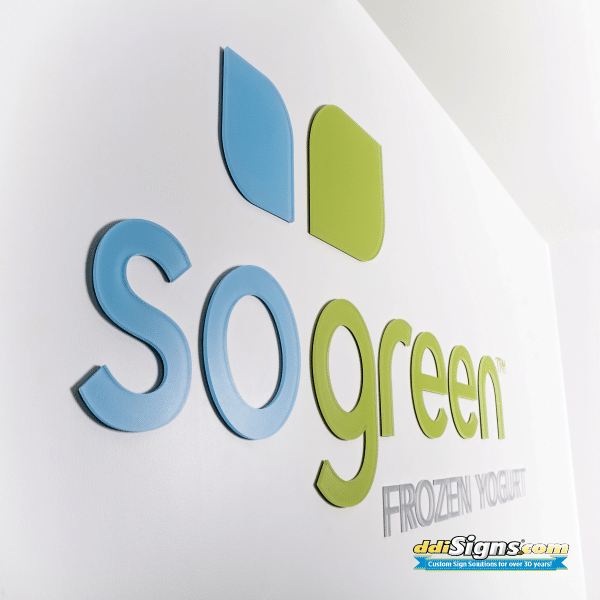 Custom Routed Acrylic Logos & Letters
Flat cut acrylic is customizable for almost any application. Starting with acrylic sheets, we laser cut your design with exacting precision and create a sharp and beautiful finished product.
Lightweight and easy install
Wide spectrum of standard colors
Custom painting & high resolution printing
Sizes from 1″ to 6′ tall
Thicknesses from ⅛" to 1-½"
Contact our Sign Experts with your Logo or Lettering Signage Project.
Innovative Acrylic Signage
Attract attention while feeding your customers with visually beautiful printed acrylic signs. Exceptional image quality and likewise a sleek finish. Innovative style and class mark these custom imprinted acrylic signs, therefore your office walls will shine.
Re-define the workspace with beautifully imprinted graphics.
DDI Signs® interior wall mounted acrylic panels take your branding to the next level and beyond. Digitally printed on the reverse side with vibrant inks. Adds depth and provides protection from damage. Mounted to the wall surface with classy puck hardware resulting in a beautiful offset sign with added dimension.
Expression leading to outstanding branding.
Do not limit yourself to dull signage let DDI Signs ® bring dimension to your signage, graphics and logos!
Contact us today for a quote on your interior acrylic sign project. Email us at [email protected] or phone us at 757-593-8580.
Contact DDI Signs® today and our Printed Acrylic Sign Experts will help you with your project!
At DDI Signs® we are "Not Your Typical Sign Company!"