DDI Signs® Interior Routed Way-finding Signs
We offer several kinds of routed signs used for wayfinding. Materials include Metal, PVC, Sign Foam, and HDU Sign Foam.
High quality way-finding signs and architectural signage.
Do not limit yourself to flat faced signage let DDI Signs ® bring dimension to your signage with routed graphics and logos!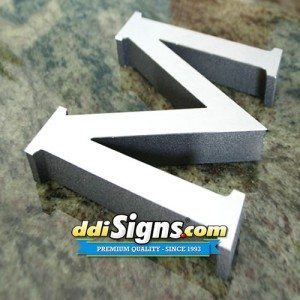 DDI Signs® Interior Routed Waymarking Signs
These types of waymarking signs are great for Office Signage, Event Signage, Directional Signs, Sign Identities, Set Graphics, Doctors Offices, Lawyers Offices, CPA Offices, Hotel Lobbies, Restaurant and Business Entrance Signs and Room Identity Signage.
Custom Foam Wall Signs and Logos for Indoor Wall Signs.
Our Routed Foam letters and wall logos have a metallic laminate applied to the surface. This gives the effect of solid metal letters. Our routed foam letters and logos can also be painted to give you a light weight wall sign.
Foam the letters are light weight and easy to install. Our dimensional letters are routed foam letters that are installed with industrial double sided tape.
For more detailed logos we can combine the routed image with a digital print for unique looking signage.
Other available Wayfinding Sign Solutions
Modular Wayfinding Sign System >
Wayfinding Floor Graphic Decals >
Interior Routed  Wayfinding Signs >
Custom Interior Wayfinding Signs >
Backlit Signs for Wayfinding Projects >
Wayfinding Metal A-Frame Signs >
Sign Track System >
Exterior Routed Wayfinding Signs >
Wayfinding Banner Solutions >
Industries that use our Interior Routed Wayfinding Signs
Aviation and Airports
Automotive and Car Dealerships
Cities and Governments
Civic and Institutions
Education and Schools
Health Care and Hospitals
Entertainment, Arenas, and Venues
Museums and Zoo's
Parks and Recreation Facilities
Sports Arenas and Stadiums
Retail and Corporate
Office Buildings and Apartments
Hotels, Motels, and Resorts
Restaurants and Grocery Stores
Shopping Centers and Malls
We Understand Deadlines.
We understand the tight deadlines that the industry faces and have proven that we can stand up to the challenge. We offer quick turnaround with reliable Nationwide Shipping.
Interior Routed Wayfinding Signs for Business, Retail and Corporate Offices.
We ship our Interior Routed Wayfinding Signs Nationwide.

ddiSigns.com ships Ice Logos Nationwide from the East Coast to the West Coast. USA and Canada. We regularly ship to New York NYC, Washington DC, Virginia, North Carolina, South Carolina, Florida, Minnesota, Indiana, Iowa, Missouri, Chicago Illinois , Dallas Texas, Las Vegas Nevada, Seattle Washington, Alaska, Los Angeles California and anywhere in between.
Please see our Submit Files page for complete file guidelines.
We prefer VECTOR files – Adobe Illustrator Ai, EPS or Corel Draw.
All files must have fonts converted to outlines.
Properly converted vector files are preferred because there is no image degradation when enlarged.
* If raster/bitmap images are submitted please make sure our resolution and file guidelines are followed. Website images are not acceptable.