DDI Signs ® offers interior and exterior wayfinding modular signs.
Our modular wayfinding sign system can be combined to create a custom wayfinding signage solution. Likewise, we have several standard sizes to choose from.
Easily change out graphic panels for a versatile waymarking product. Also you can print your own graphics if desired.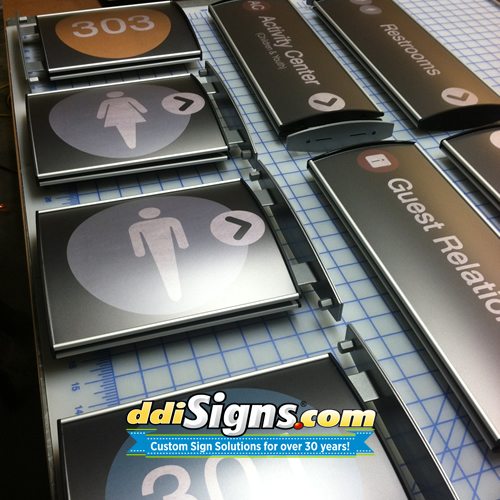 Modular Wayfinding Sign System
Component wayfinding sign system that allows you to create custom configurations.
Modular components that are made from extruded aluminum, plastic, and a protective lens. This unique sign system allows for the custom configuration of your wayfinding signage. Also, you can choose from our large selection of standard way-finding sign products. Additionally, we have curved and flat modular sign systems available.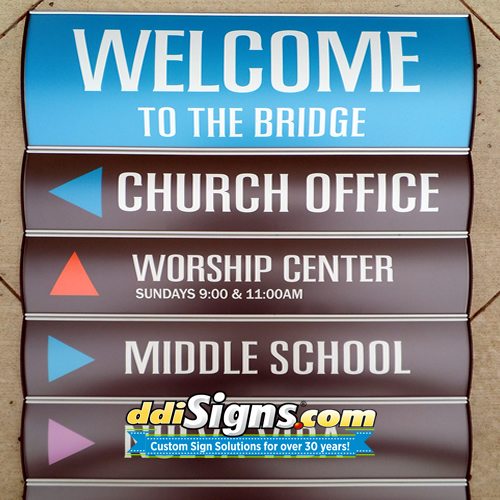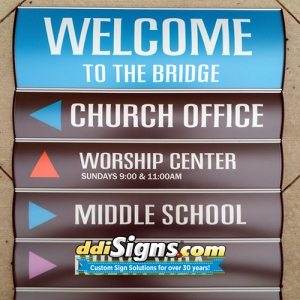 Our Modular Wayfinding Sign System is 100% Manufactured in the USA.
Fast Nationwide Shipping!
Standard sizes and styles available include:
Wall frames and projecting wall brackets.
Ceiling suspended wayfinding signs.
Post pylons, double sided, and triangle pylon signs.
Main building directories, including free standing and wall mounted.
Back lighted sign systems and lighted towers.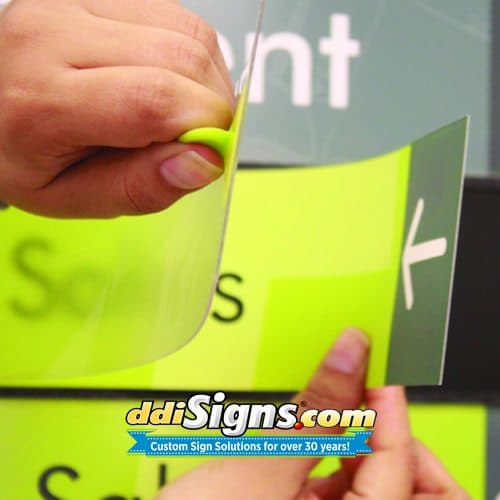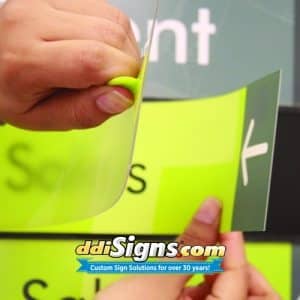 Changeable Graphic Inserts
This sign system is designed for easy installation. Likewise, changing out of the graphic inserts is a breeze. Also, DDI Signs® can provide the graphic inserts or you can print your own. Most importantly, these are professional and sleek looking way marking signs. Additionally, they are made from satin silver anodized aluminum and extremely high-quality materials.
Our wayfinding signs offer an attractive directional solution. Designed to help your visitors find their way by following the path of great signage!
Contact DDI Signs today for a quote on your wayfinding project. Email us at [email protected] or phone us at 757-593-8580.
Types, Styles, and uses for our Modular Wayfinding System
Wall Mounted Wayfinding Signs and Directories
Place our modular wayfinding wall mounted signs next doors or entrances. Allowing you to clearly identify rooms. This system is ideal for offices, arenas, hotels, hospitals and complexes. Additionally, they can be configured so room names are easily changed.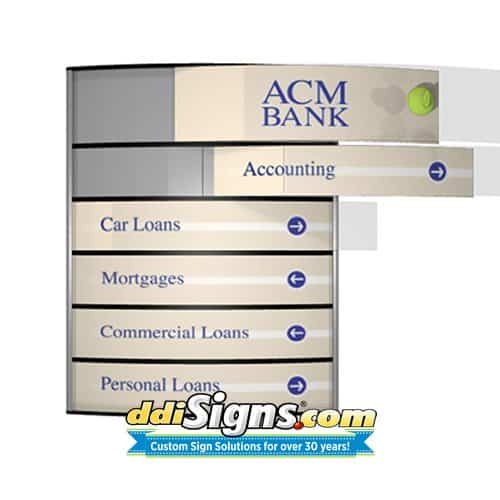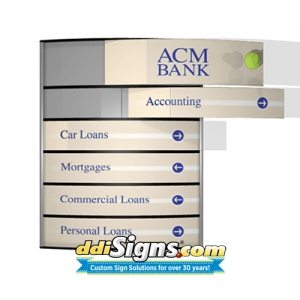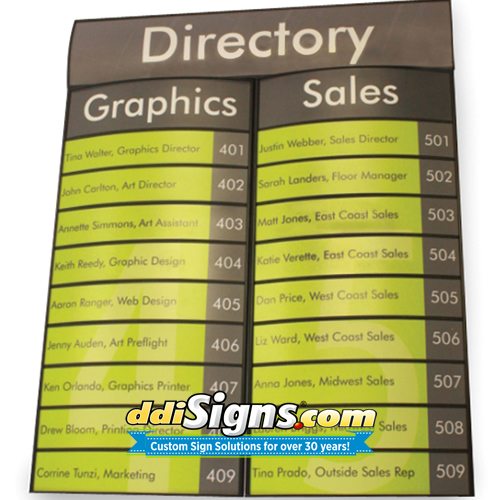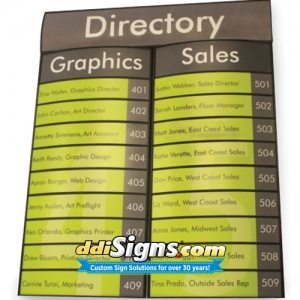 ---
Wall Projecting Wayfinding Signs
With a clever mounting bracket, our Wall Projecting Signs provide clear and visual direction. Additionally can be used for identification of Restrooms, Entrances, and Office Doors. Create visually stunning waymarking with digitally printed graphics.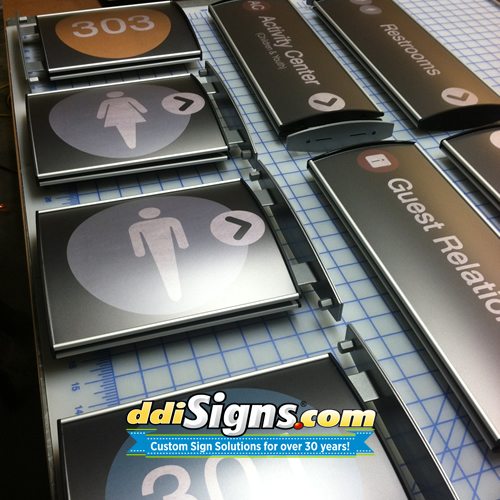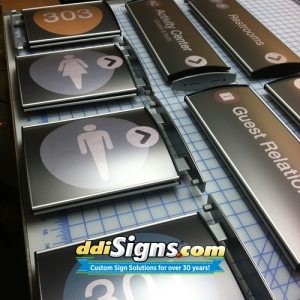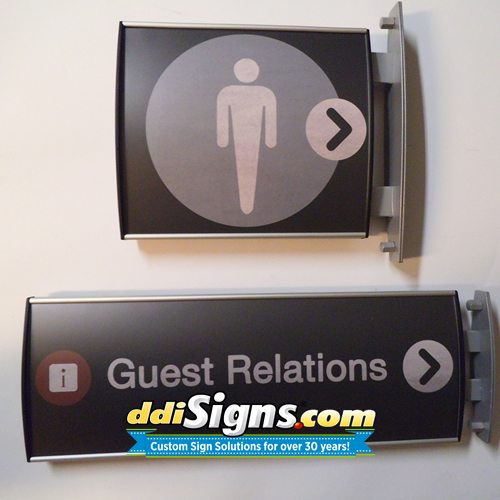 ---
Suspended Wayfinding Signs
Hang your directional signage from the ceiling out of reach, yet visible from distances. Finally, a sign system that is a cut above.
---
Free Standing Wayfinding Signage
For in your face impact, our free standing wayfinding it the answer. Ideal for Malls, Hotels, Retail, Office, and Shopping Centers. Creating stunning directional signage that is in the line of eye site.
---
Room Signs and Nameplates
We also offer custom designed durable wayfinding signs. Likewise, is an ADA wall frame sign systems that are ideal for room numbering identification that is easy to change and update. Additionally, the options and combinations are limitless!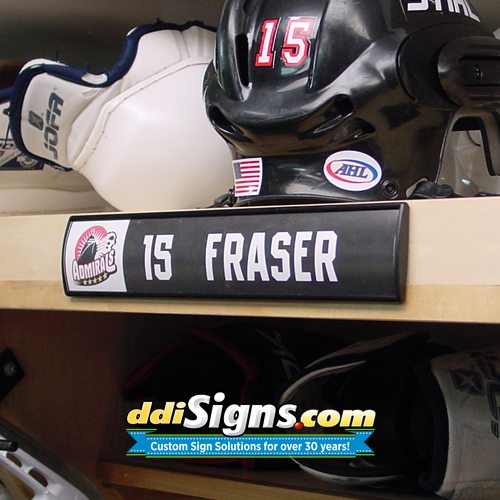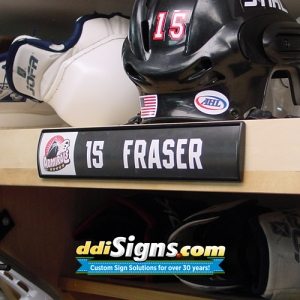 We also offer custom designed durable wayfinding signs and ADA wall frame sign systems. Ideal for room numbering identification. Additionally, they are easy to change and update.
Industries that use our Modular Wayfinding Sign System
Aviation and Airports.
Automotive and Car Dealerships.
Cities, Town's, also Governments.
Civic and Institutions.
Colleges, Universities, Education also Schools.
Churches, Private Schools, also Venues
Health Care and Hospitals.
Entertainment, Arenas, also Music Venues.
Museums and Zoo's.
Parks and Recreation Facilities.
Sports Arenas, Stadiums, also Ice Rinks.
Retail and Corporate.
Office Buildings and Apartments.
Hotels, Motels, also Resorts.
Restaurants and Grocery Stores.
Finally, Shopping Centers and Malls.