Follow the Foot Prints to the Special Event. Custom Foot Print Follow Me Floor Graphics
Custom foot print floor decals and graphics offer a innovative way to display your brand or logo ad.
DDI Signs ® floor graphic decals can be used for wayfinding, for example in retail stores or sports arenas to direct traffic or promote a special event.
Floor advertising can be used to supplement other forms of signage and branding to provide a complete advertising package.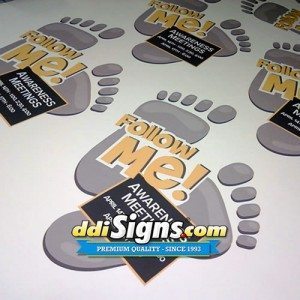 Foot Print Floor Graphic Decals.
For Special Events. Follow Me!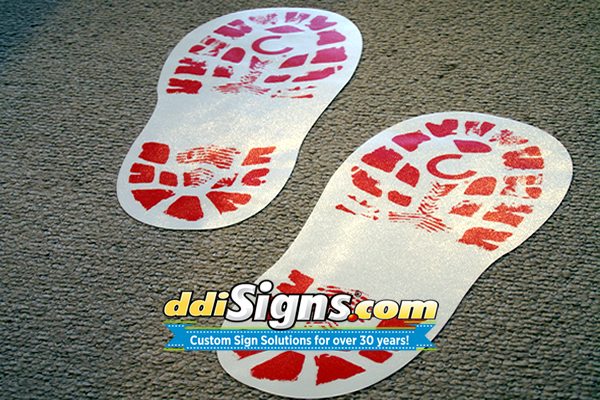 DDI Signs ® offers custom contour cut footprint floor graphics. These digitally printed floor decals offer a unique form of advertising to reach your customers and grab their attention to follow the feet.
Features of our Special Event Floor Graphics
Premium Quality Adhesive Vinyl.
UL Approved Slip Resistant Over Laminate.
Digitally Printed – Vivid Colors – Vibrant Floor Graphics.
High Resolution – Photographic Quality Images.
No Color Limitation – Full Color Digitally Printed.
Printed on either White Vinyl or Clear Vinyl.
Custom Cut to Shapes – Contour Cut, Die Cut to any shape.
Easy to Install – Removable leaving little or no glue residue.
Applies to Variety of Smooth Surfaces.
No Limit on Quantities or Size.
Perfect for Wayfinding Sign and Directional Applications
Short Term Foot Print Floor Graphic Decals for Carpeting
Designed for use as temporary floor signs.
Removable from most common commercial carpeting.
For use on short nap carpeting with a tight weave and little texture.
Carpet must be clean before installing.
Carpet must be attached to the subfloor.
UL Rated Slip Resistant Over Laminate.
Contour cut to almost any shape.
Unique floor advertising used for Trade Shows, Special Event, Point of Purchase Retail and commercial events.
DDI Signs ® floor graphics decals are made from a premium vinyl material with a special adhesive that is designed to adhere to floor surface yet are removable leaving little or no glue residue. Decals are printed with vibrant inks and are finished with a special UL approved skid resistant over laminate. DDI Signs ® can provide professional design services or we can print from provided files.
Our floor decals are custom contour cut so we can make them in any shape. Our most popular design is the "Foot Print" floor decals used as Wayfinding Floor Graphics and Directional Floor Decals.
Please see our Submit Files page for complete file guidelines.
We prefer VECTOR files – Adobe Illustrator Ai, EPS or Corel Draw.
All files must have fonts converted to outlines.
Properly converted vector files are preferred because there is no image degradation when enlarged.
* If raster/bitmap images are submitted please make sure our resolution and file guidelines are followed.
Website images are not acceptable.