What is a Follow Me Decal?
A follow me decal can be amny things. Our most popular is our Foot Print Decals. This can be shoe foot prints, bare feet, animal paw prints, hand gesturing and arrows for example. They are simply ground and carpet decals that direct traffic to main areas of events.
We can create custom Follow Me Floor Graphics that are contour cut to just about any shape, even Dinosaur Prints!
There is no quantity or size limits. Museums, Retail Stores, Trade Shows, Airports, Sports Arenas, Schools and Entertainment Venues are some examples of customers that have used our Follow Me Decals.
What are some examples of Follow Me Decals?
DDI Signs ® can contour cut to just about any shape, paw or foot print, below are some examples: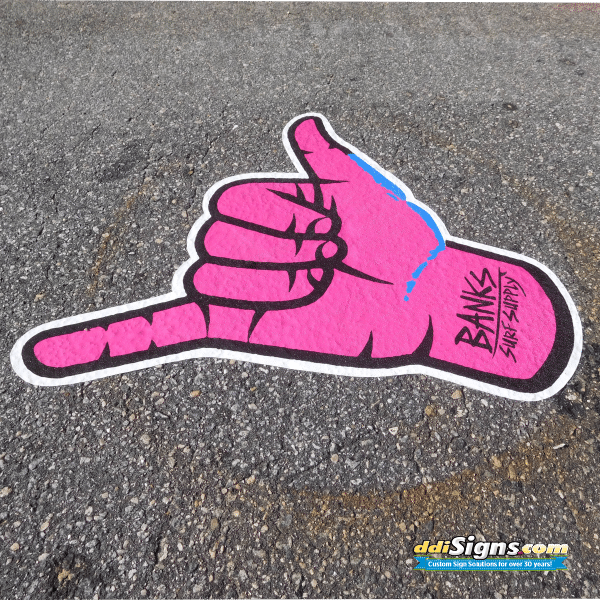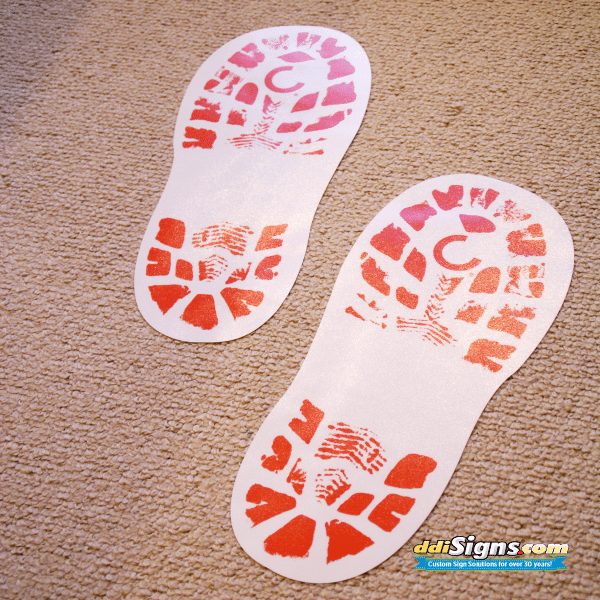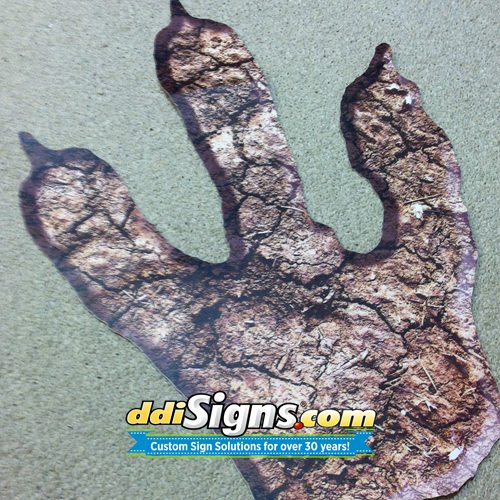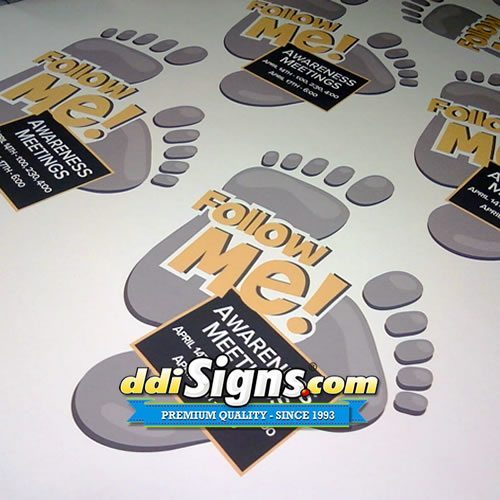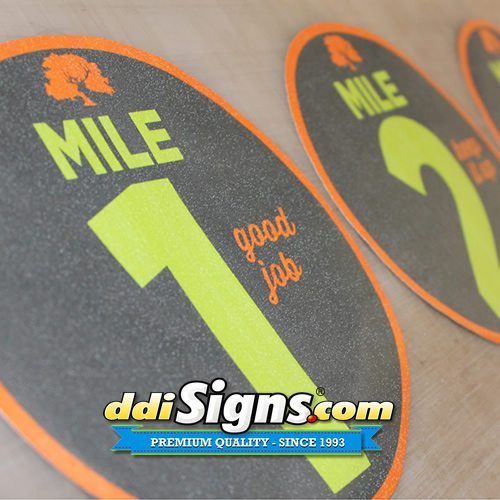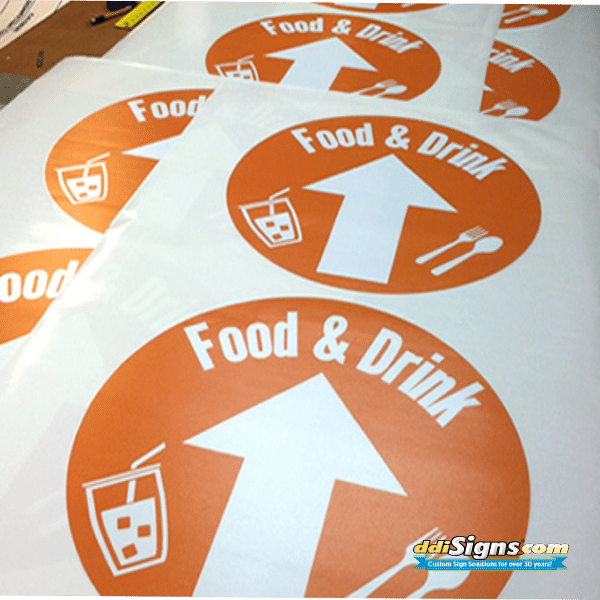 What kind of surfaces can I place Follow Me Decals?
DDI Signs ® offers several kinds of floor graphic materials for indoor and outdoor use, below are your options: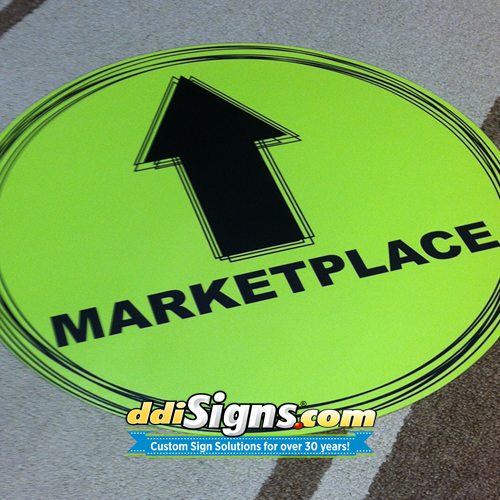 Ground Stickers for Carpeting
Temporary event floor decals on low pile carpeting.
Designed for use as temporary floor signs.
Removable from most common commercial carpeting.
For use on short nap carpeting with a tight weave and little texture.
Carpet must be clean before installing.
Carpet must be attached to the subfloor.
UL Rated Slip Resistant Over Laminate.
Contour cut to almost any shape.
Unique floor advertising used for Trade Shows, Special Event, Point of Purchase Retail and commercial events.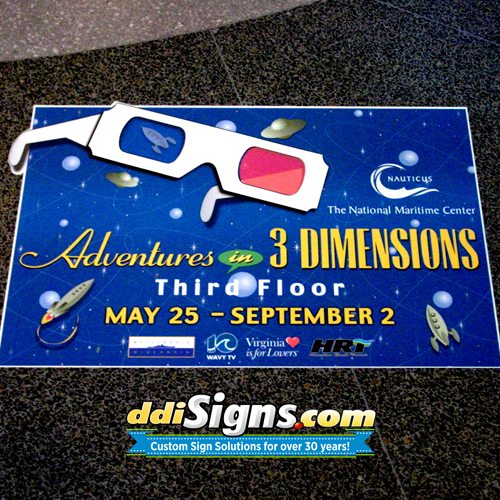 Interior Floor Graphic Decals
Features of our Interior Floor Graphics
Premium Quality Adhesive Vinyl.
UL Approved Slip Resistant Over Laminate.
Digitally Printed – Vivid Colors – Vibrant Floor Graphics.
High Resolution – Photographic Quality Images.
No Color Limitation – Full Color Digitally Printed.
Custom Cut to Shapes – Contour Cut, Die Cut to any shape.
Easy to Install – Removable leaving little or no glue residue.
Applies to Variety of Smooth Surfaces.
No Limit on Quantities or Size.
Perfect for Wayfinding Sign and Directional Applications.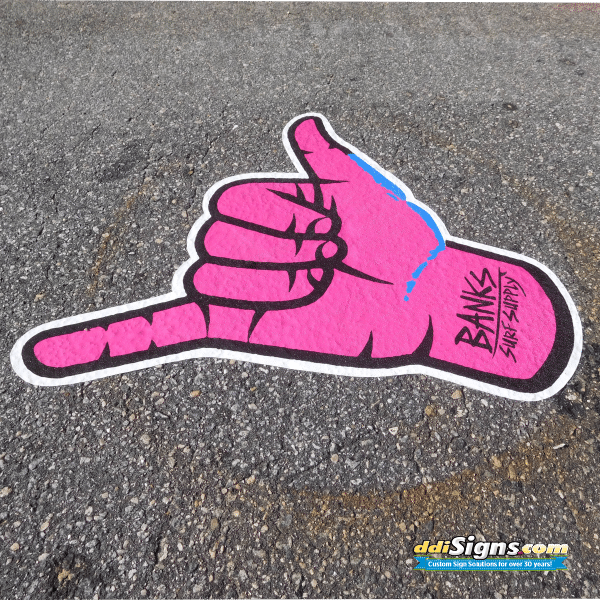 Asphalt Decals for Outdoor Follow Me Decals
Aluminum foil based with a glass bead non slip surface. Forms to rough surfaces. Exterior ground wayfinding solutions.
This innovative ground imaging solution is perfect for foot print and follow me decals. Hold up under normal pedestrian traffic up to a year.
Perfect for road races for street direction arrows and race path marking. Place decals on parking lots, sidewalks leading into a special event or trade show.
What kind of files do we need to produce your signs?
If you are submitting your own artwork for us to produce your signs, we prefer to receive them as VECTOR LINE FILES. This file type offers the highest resolution for large graphics.
All files must have all fonts converted to outlines. Please see our Submit Files page for more details on submission guidelines.
If you are unsure if you have the correct file or need professional design services please contact us and we will help.
At DDI Signs® we are "Not Your Typical Sign Company!"