Custom Digitally Printed Outdoor Floor Graphics.
DDI Signs ® has been providing premium quality floor graphic and decals for over 30 years. Our outdoor floor graphics are large format digitally printed and can be custom cut to any shape.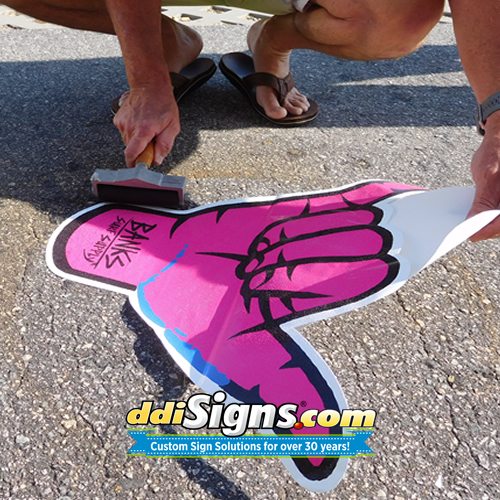 Outdoor Floor Graphics for Sidewalk's, Streets, Pavement, Asphalt, Concrete and Parking Lots
DDI Signs ® – Your Digitally Printed Sign and Decal Specialist!
Outdoor floor graphics are an innovative way to get your customers attention. Directing attendees to a special event or advertising your brand. Our Asphalt decals will increase your sales in retail applications and most importantly promote brand awareness.
Our Outdoor Floor Graphics are used for Sidewalk Advertising, Street Graphics, Pavement Decal, Wayfinding Signage and Asphalt Graphics. Resulting in unique advertising at your feet for special events!
What makes our exterior floor graphics superior compared to other decals available? Foil Based, Durability, Conformable and also are Eco-friendly!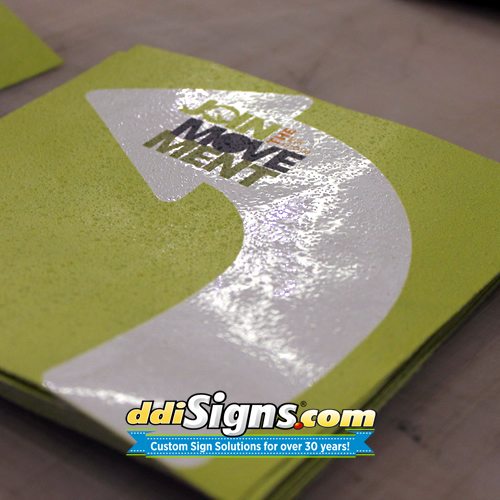 DDI Signs ® offers custom digitally printed sidewalk floor decals. Printed with vibrant colors that pop. What makes our street decals different is the aluminum foil base layer. This layer provides superior durability, and is Eco friendly. Additionally, the decals can be placed on very rough surfaces. As a result, your branding graphics form to imperfections like no other decal can.
The top layer is not the normal floor graphic lamination, but a textured glass bead. Providing a tough and non slip surface, also added floor decal top layer texture.
Our street graphics have an aggressive adhesive. Therefore the decals adhere to imperfect surface like pavement, asphalt, sidewalks, streets, tile, concrete and several wall surfaces. Resulting in an outdoor floor graphic that stay's in place.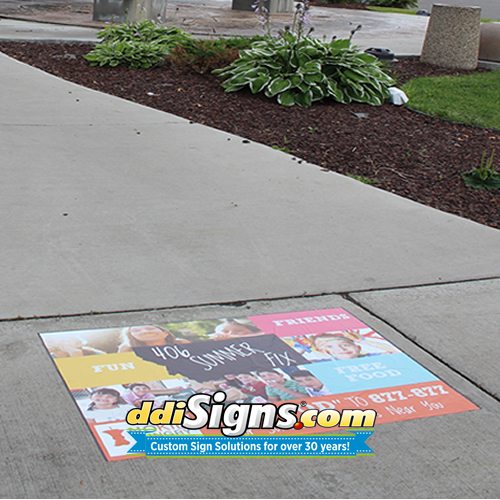 With up to 6 months of exterior use, these decals offer extended life compared to standard pavement decals.
For a larger outdoor floor graphic, we print in tiled panels for easier handling during installation.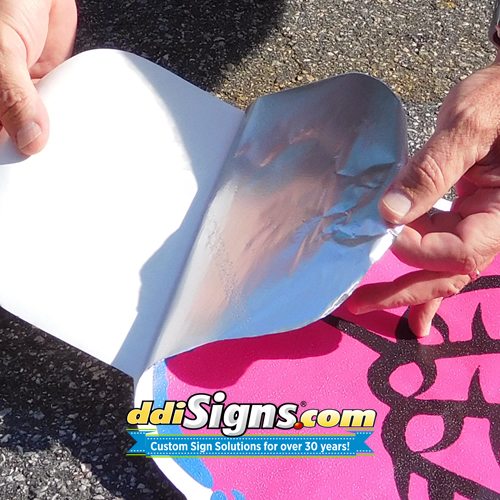 KEY FEATURES:
Heavy duty aluminum foil based decals.
Non-slip glass bead top layer.
Digitally printed graphics with vibrant ink colors.
High resolution photographic quality images.
We match Pantone colors for accurate branding.
Contour cut to almost any shape.
Also sticks to variety of surfaces, including rough and uneven ones.
No ordering limits on quantities or finished size.
Additionally, decals are perfect for way-finding sign and directional applications.
For more detailed information on our durable eco-friendly outdoor floor graphic solution, check out our aluminum foil based decals product page >
Innovative uses for our outdoor floor graphic decals:
Schools, colleges and universities use our foil asphalt decals to alert students that are texting, to look up and pay attention. Also, these street decals can be contour cut to the shape of the graphic.
Our pavement decals were placed on sidewalks, cross walks, and busy intersections all around campus. Resulting in a safer environment for pedestrians, cyclists and vehicle traffic.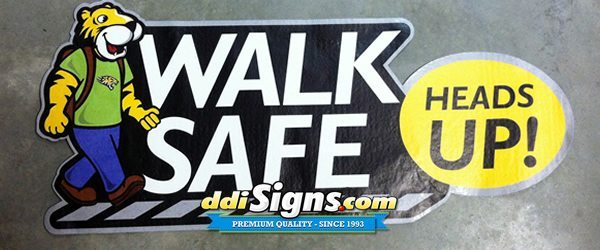 Playground games and Hopscotch Decals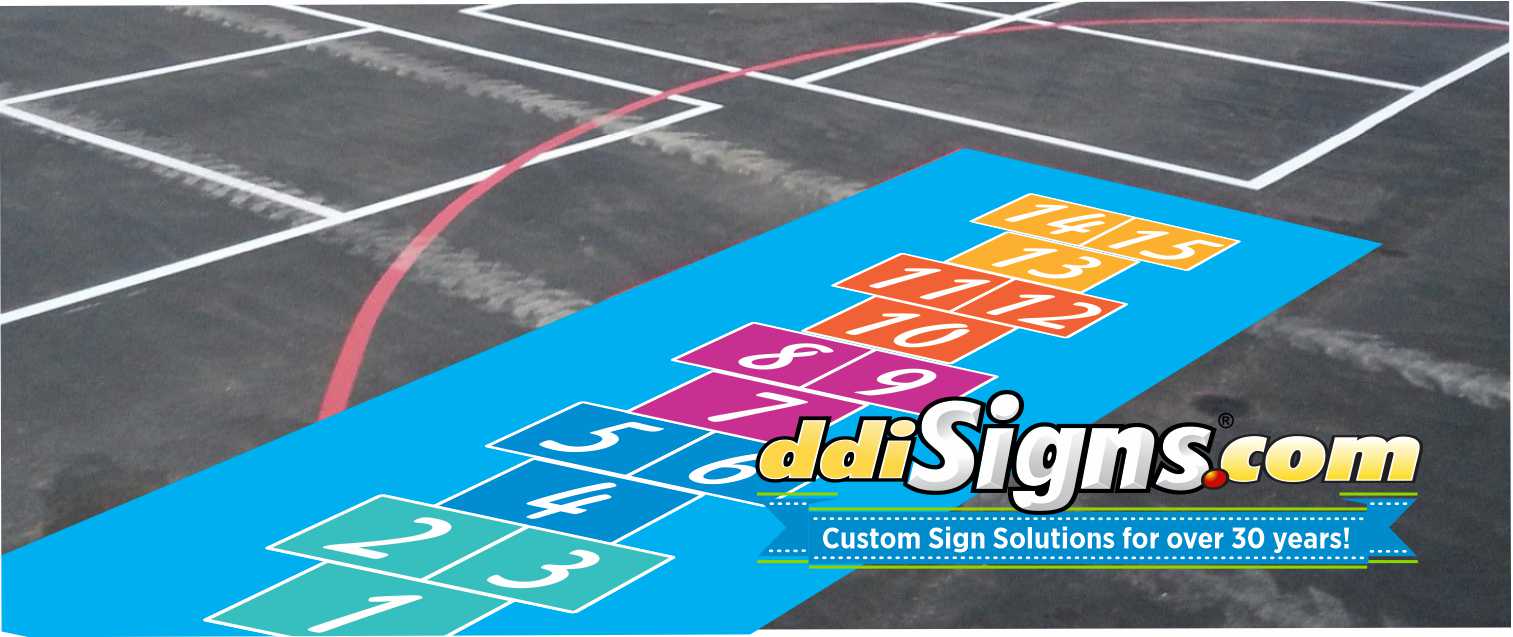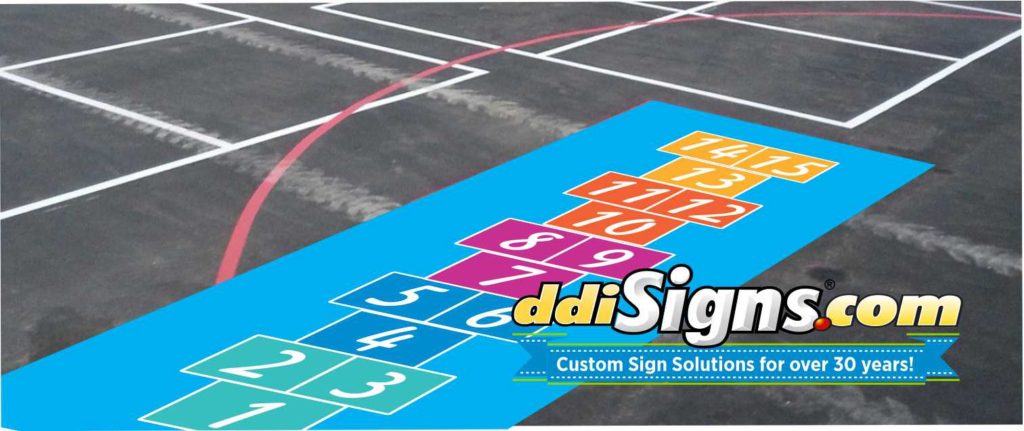 Our foil asphalt decals are perfect for playground games like hopscotch. We can print your design or create a custom design incorporating school or branding colors and logos.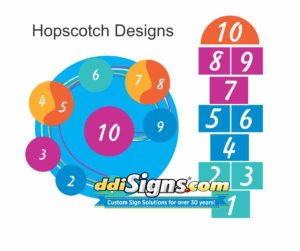 Other notable applications include:
Retail floor graphics. Stores and retail locations use our foil outdoor floor graphics to promote a brand or displaying an advertisement for a product. Additionally, this is done in store and on the sidewalk or pavement surfaces near the entrance. Resulting in increased sales and product promotion.
Way-finding floor graphics. Our outdoor floor graphics are perfect for directing traffic at special events. One example of this is our popular footprint floor graphics, make pathfinding signage that directs foot traffic where you want them to go. These can look like a boot or shoe print or bare feet. Animal paw prints are another popular design.
Sports events and races. Our aluminum asphalt decals are ideal for marathons, triathlons, and street races. Place course directions along the event path from start to finish, marking the way for entrants. Likewise, our foil decals can be used for sponsor finish line graphics and logos. The below decals have QR codes printed on them that when scanned takes participants to the race website for more information.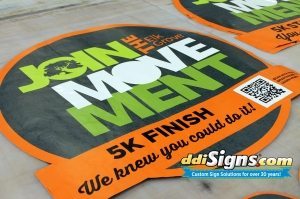 In conclusion, our outdoor floor graphics are the perfect solution for promoting your special event, brand or sponsor advertising.
Step up your branding and get traffic flowing
We are always looking at new and innovation signage solutions. Take a step in the right direction and let our sign experts help you with your next "foil outdoor floor graphics" project.