Floor It! Kick Your Marketing Into High Gear With Custom Floor Decals & Graphics
Think about the last time you saw an advertisement. Were you surprised to come across it? Chances are, probably not. This is because the places where we find ads are often as predictable as the messages themselves.
Generally speaking, businesses and retail stores use walls as marketing opportunities. Though they can still be very effective, these advertisements are something that passersby expect to see.
There is, however, an entire arena that's often overlooked: the floor.
At DDI Signs, our floor graphics and floor decals quickly demand attention, garnering the intrigue and appeal that's needed to help you promote your message—and take the floor.
A New Spin on The Selfie
Emotion is the driving force of action. As a signage industry leader, we understand that your sign needs to do more than just stand there and look pretty; it needs to be relevant and something that individuals can relate to.
This was the thought process behind our "Selfie Spot Decals." When guests stand on these decals and take a selfie in front of a backdrop banner display, a landmark or business appears in the background.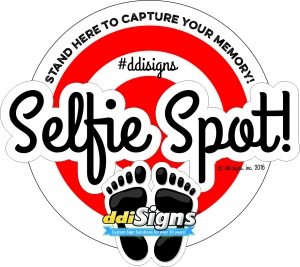 Selfies are about more than just taking a photograph: they're a way to bring people together and find common ground through an activity that's become as common as a handshake. When you're planning an event and looking for ways to help guests break the ice, the "Selfie Spot" will be front and center to get the party started.
As they frequent retail stores, customers want to feel like it's less about the business, and more about them. What better way to do this than by encouraging people to take selfies? Coffee shops, clothing stores, pizzerias—any retail business can cater to the selfie. Put your signage, logo or even your employees in the background, and watch your business gain new traction as the selfies explode on social media.
Looking for a way to put your event in the spotlight? From musician meet-and-greets to sporting events, guests will gravitate toward the photo op without thinking twice. It's a win-win situation for all: they're capturing a moment to remember, and you are making your event the place to be.
In times when the selfie trumps all things social, there's simply no better way to get folks enthused about your brand. Prove to customers and guests that you care enough to put their enjoyment first—and discover the positive results for your business and event that will follow.
A Step in the Right (And Safe) Direction
Apart from being a source of entertainment, floor graphics can meet more tactical objectives, too.
For example, cellphones take priority at schools and universities, to the point where many students are completely oblivious to their surroundings. With a "Heads Up!" floor decal, students will become alert as they pass through high-traffic areas or construction zones. It's a small change, but it's one that can make all the difference for long-term safety.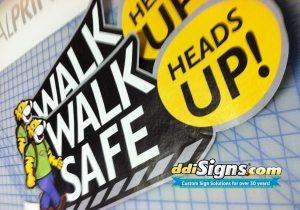 In larger facilities, there are few things that frustrate customers more than feeling lost. Instead, you can make it easier for them with Wayfinding Floor Graphics. Take a break from standard signage with "Foot Print" decals and customized "This Way" arrows. It's another great way to show customers that you care, and boost business in the process.
Customize & Suit Your Style
Our design experts are honored to lead the way toward innovative, customized solutions. When you need a team to go to the wall for you (as we work on your floor), we tailor our services to help make your event an extraordinary one.
DDI Signs offers several varieties of custom floor graphics and decals, including:
Eco-friendly Aluminum Foil Based Floor Decals
Outdoor Concrete, Sidewalk and Asphalt Decals
Indoor Removable Floor Graphics
Temporary Carpet Decals
Footprint Follow Me Decals
Wayfinding Directional Floor Decals
Retail Floor Graphics
Floor Graphic Mats
Floor Graphic Wraps
Special Event Floor Graphics
Unleash Your Creativity with DDI Signs
Cutting-edge promotions are those that challenge viewers' expectations in the most positive and effective way possible. At DDI Signs, our floor graphics, decals and backdrop displays push the boundaries of traditional advertising to command the attention that you seek.
To contact our team regarding your upcoming project, email us or call DDI Signs at 757.593.8580 today.