Custom Digitally Printed Wind Mesh Banners.
DDI Signs® offers custom mesh banner printing. Our wind mesh vinyl is a flexible and porous material. Making it ideal for large outdoor banners, fence banners, street banners, grand format building banners, stage banners and band banners. Available with hem & grommets or pole pockets.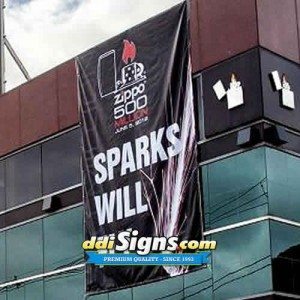 Custom Mesh Banner Printing for over 30 years!
Wind Mesh Banner Printing Options
Building Mesh Banners that allow the air and wind to flow through.

Wind Mesh Banner & Mesh Graphics
DDI Signs Wind Mesh Banners are used for outdoor events where a banner is needed that allows air to pass thru it, reducing the wind resistance. Also, this helps with preventing sagging that traditional banner material have.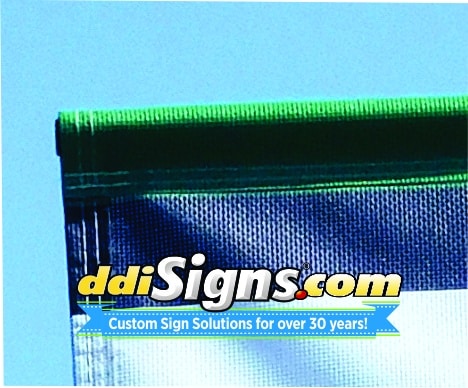 The open mesh pattern is superior to cutting wind slits in regular banner material. Because the slits tend to tear the banner easier. Also does not look as good as mesh because it distorts the graphic image. Wind mesh banners allow some visibility and light through, depending on the mesh used.
Common uses are for special events, stage banners, building banners, store front banners, street pole banners and fence banners.
Finishing Options
Reinforced web hems and grommets every 2 feet around the perimeter.
Also pole pockets on the top and bottom.
Wind Mesh Banner Printing Material Options
8 oz. Mesh Banner Material
Mesh open hole pattern suited for large graphics. Allowing maximum 37% air flow through banner. Wind mesh banner material widths up to 196″.
10 oz. Mesh Banner Material
Open hole pattern suited for large graphics. Allowing 30% air flow through banner. Wind mesh banner material widths up to 196″.
Heavier Duty Wind Mesh Banner Materials for giant building banners.
Let us know about your building banner project and we will suggest the best mesh material to use.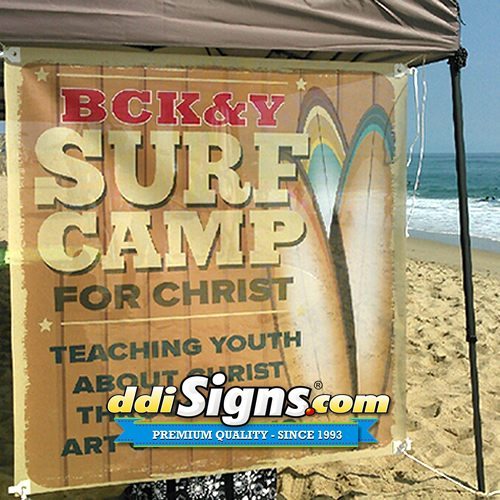 Wind Mesh Stage and Band Banners
Grand format speaker mesh banners and stage graphics.
Speaker mesh is a 7 oz. PVC coated polyester mesh. It is printable on two-sides. The large, holed mesh allows 70% air flow through. Best suited for acoustical applications. Also, building and stadium wraps, murals, protective barriers for scaffolding. Additionally, it is well-suited for theatrical and TV backdrops. Available widths up to 196".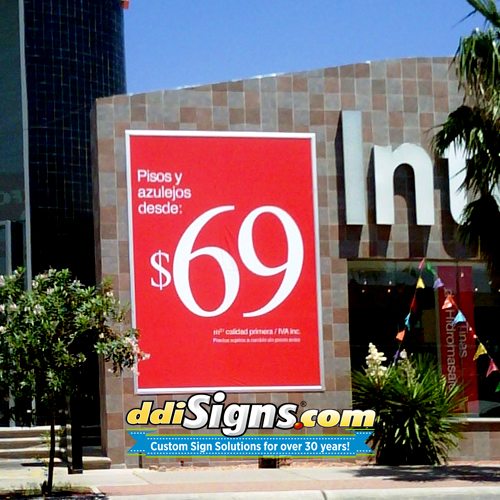 Banner frame kits for displaying building banners
Heavy duty banner frame for vinyl and mesh banners
Custom cut frame sizes for the installation of giant building banners. Aluminum frames for indoor and outdoor use.
More info on Banner Frame kits >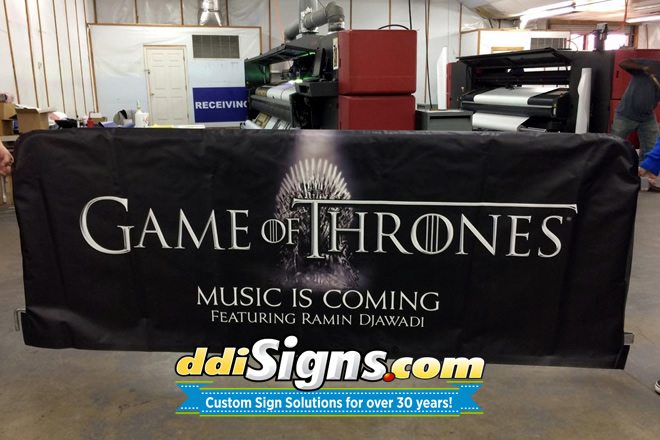 Mesh Barrier Covers & Fence Banners
Wind Banners displaying sponsor logos or branding.
Wind mesh is perfect for use on event barrier covers. Additionally, construction projects place fence banners to cover up messy sites. Also, special events companies and sports teams hang sponsor branding on existing fences.
Innovative printing products & signage solutions
We are  always looking at new and innovation signage solutions. Take a step in the right direction and let our sign experts help you with your next "Wind Mesh Banner Printing" project. Call us at 757-593-8580 or fill out our contact form.